Bible Verses about 'Tongue'
«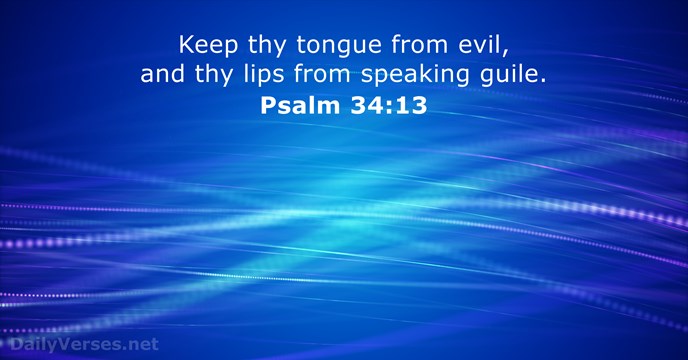 »
Keep thy tongue from evil,
and thy lips from speaking guile.
I cried unto him with my mouth,
and he was extolled with my tongue.
A wholesome tongue is a tree of life:
but perverseness therein is a breach in the spirit.
For there is not a word in my tongue,
but, lo, O L

ord

, thou knowest it altogether.
Deliver my soul, O L

ord

,
from lying lips,
and from a deceitful tongue.
The tongue of the just is as choice silver:
the heart of the wicked is little worth.
Death and life are in the power of the tongue:
and they that love it shall eat the fruit thereof.

And that every tongue should confess that Jesus Christ is Lord, to the glory of God the Father.

For it is written, As I live, saith the Lord, every knee shall bow to me, and every tongue shall confess to God.

My little children, let us not love in word, neither in tongue; but in deed and in truth.

For he that will love life, and see good days, let him refrain his tongue from evil, and his lips that they speak no guile: Let him eschew evil, and do good; let him seek peace, and ensue it.

He that walketh uprightly,
and worketh righteousness,
and speaketh the truth in his heart.
He that backbiteth not with his tongue,
nor doeth evil to his neighbour,
nor taketh up a reproach against his neighbour.
No weapon that is formed against thee shall prosper; and every tongue that shall rise against thee in judgment thou shalt condemn. This is the heritage of the servants of the L

ord

, and their righteousness is of me, saith the L

ord

.

And in hell he lift up his eyes, being in torments, and seeth Abraham afar off, and Lazarus in his bosom. And he cried and said, Father Abraham, have mercy on me, and send Lazarus, that he may dip the tip of his finger in water, and cool my tongue; for I am tormented in this flame.

And there appeared unto them cloven tongues like as of fire, and it sat upon each of them. And they were all filled with the Holy Ghost, and began to speak with other tongues, as the Spirit gave them utterance.

Though I speak with the tongues of men and of angels, and have not charity, I am become as sounding brass, or a tinkling cymbal.

When they heard this, they were baptized in the name of the Lord Jesus. And when Paul had laid his hands upon them, the Holy Ghost came on them; and they spake with tongues, and prophesied.

In the multitude of words there wanteth not sin:
but he that refraineth his lips is wise.
Even a fool, when he holdeth his peace, is counted wise:
and he that shutteth his lips is esteemed a man of understanding.
Lead me in thy truth, and teach me: for thou art the God of my salvation; on thee do I wait all the day.
Personal Bible reading plan
Create an account to configure your Bible reading plan and you will see your progress and the next chapter to read here!
Read more...