Bible Verses about 'Where'
«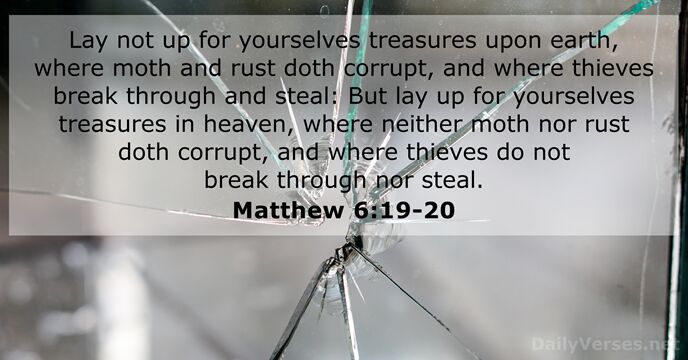 »
Lay not up for yourselves treasures upon earth, where moth and rust doth corrupt, and where thieves break through and steal: But lay up for yourselves treasures in heaven, where neither moth nor rust doth corrupt, and where thieves do not break through nor steal.

Não ajunteis tesouros na terra, onde a traça e a ferrugem tudo consomem, e onde os ladrões minam e roubam. Mas ajuntai tesouros no céu, onde nem a traça nem a ferrugem consomem, e onde os ladrões não minam, nem roubam.

For where your treasure is, there will your heart be also.

Porque onde estiver o vosso tesouro, aí estará também o vosso coração.

What and if ye shall see the Son of man ascend up where he was before?

Que seria, pois, se vísseis subir o Filho do Homem para onde primeiro estava?

For where envying and strife is, there is confusion and every evil work.

Porque, onde há inveja e espírito faccioso, aí há perturbação e toda obra perversa.

For where two or three are gathered together in my name, there am I in the midst of them.

Porque onde estiverem dois ou três reunidos em meu nome, aí estou eu no meio deles.

Now the Lord is that Spirit: and where the Spirit of the Lord is, there is liberty.

Ora, o Senhor é Espírito; e onde está o Espírito do Senhor, aí há liberdade.

If any man serve me, let him follow me; and where I am, there shall also my servant be: if any man serve me, him will my Father honour.

Se alguém me serve, siga-me; e, onde eu estiver, ali estará também o meu servo. E, se alguém me servir, meu Pai o honrará.

O God, thou art my God; early will I seek thee: my soul thirsteth for thee, my flesh longeth for thee in a dry and thirsty land, where no water is.

Ó Deus, tu és o meu Deus; de madrugada te buscarei; a minha alma tem sede de ti; a minha carne te deseja muito em uma terra seca e cansada, onde não há água.

And he saith unto them, Be not affrighted: Ye seek Jesus of Nazareth, which was crucified: he is risen; he is not here: behold the place where they laid him.

Porém ele disse-lhes: Não vos assusteis; buscais a Jesus, o Nazareno, que foi crucificado; já ressuscitou, não está aqui; eis aqui o lugar onde o puseram.

Whither shall I go from thy spirit? or whither shall I flee from thy presence? If I ascend up into heaven, thou art there: if I make my bed in hell, behold, thou art there.

Para onde me irei do teu Espírito ou para onde fugirei da tua face? Se subir ao céu, tu aí estás; se fizer no Seol a minha cama, eis que tu ali estás também.

Father, I will that they also, whom thou hast given me, be with me where I am; that they may behold my glory, which thou hast given me: for thou lovedst me before the foundation of the world.

Pai, aqueles que me deste quero que, onde eu estiver, também eles estejam comigo, para que vejam a minha glória que me deste; porque tu me hás amado antes da criação do mundo.

And the times of this ignorance God winked at; but now commandeth all men every where to repent.

Mas Deus, não tendo em conta os tempos da ignorância, anuncia agora a todos os homens, em todo lugar, que se arrependam.

And the angel answered and said unto the women, Fear not ye: for I know that ye seek Jesus, which was crucified. He is not here: for he is risen, as he said. Come, see the place where the Lord lay.

Mas o anjo, respondendo, disse às mulheres: Não tenhais medo; pois eu sei que buscai a Jesus, que foi crucificado. Ele não está aqui, porque já ressuscitou, como tinha dito. Vinde e vede o lugar onde o Senhor jazia.

Thus saith the L

ord

, Stand ye in the ways, and see, and ask for the old paths, where is the good way, and walk therein, and ye shall find rest for your souls. But they said, We will not walk therein.
Assim diz o S

enhor

: Ponde-vos nos caminhos, e vede, e perguntai pelas veredas antigas, qual é o bom caminho, e andai por ele; e achareis descanso para a vossa alma; mas eles dizem: Não andaremos.

And when they had prayed, the place was shaken where they were assembled together; and they were all filled with the Holy Ghost, and they spake the word of God with boldness.

E, tendo eles orado, moveu-se o lugar em que estavam reunidos; e todos foram cheios do Espírito Santo e anunciavam com ousadia a palavra de Deus.

And when the day of Pentecost was fully come, they were all with one accord in one place. And suddenly there came a sound from heaven as of a rushing mighty wind, and it filled all the house where they were sitting.

Cumprindo-se o dia de Pentecostes, estavam todos reunidos no mesmo lugar; e, de repente, veio do céu um som, como de um vento veemente e impetuoso, e encheu toda a casa em que estavam assentados.

Now when Jesus was born in Bethlehem of Judaea in the days of Herod the king, behold, there came wise men from the east to Jerusalem, Saying, Where is he that is born King of the Jews? for we have seen his star in the east, and are come to worship him.

E, tendo nascido Jesus em Belém da Judeia, no tempo do rei Herodes, eis que uns magos vieram do Oriente a Jerusalém, e perguntaram: Onde está aquele que é nascido rei dos judeus? Porque vimos a sua estrela no Oriente e viemos a adorá-lo.

I know both how to be abased, and I know how to abound: every where and in all things I am instructed both to be full and to be hungry, both to abound and to suffer need.

Sei estar abatido e sei também ter abundância; em toda a maneira e em todas as coisas, estou instruído, tanto a ter fartura como a ter fome, tanto a ter abundância como a padecer necessidade.
I will lift up mine eyes unto the hills, from whence cometh my help. My help cometh from the L

ord

, which made heaven and earth.
Elevo os olhos para os montes: de onde me virá o socorro? O meu socorro vem do S

enhor

, que fez o céu e a terra.

Only by pride cometh contention: but with the well advised is wisdom.

Da soberba só provém a contenda, mas com os que se aconselham se acha a sabedoria.

And Jesus being full of the Holy Ghost returned from Jordan, and was led by the Spirit into the wilderness, Being forty days tempted of the devil. And in those days he did eat nothing: and when they were ended, he afterward hungered.

E Jesus, cheio do Espírito Santo, voltou do Jordão e foi levado pelo Espírito ao deserto. E quarenta dias foi tentado pelo diabo, e, naqueles dias, não comeu coisa alguma, e, terminados eles, teve fome.

And in hell he lift up his eyes, being in torments, and seeth Abraham afar off, and Lazarus in his bosom. And he cried and said, Father Abraham, have mercy on me, and send Lazarus, that he may dip the tip of his finger in water, and cool my tongue; for I am tormented in this flame.

E, no Hades, ergueu os olhos, estando em tormentos, e viu ao longe Abraão e Lázaro, no seu seio. E, clamando, disse: Abraão, meu pai, tem misericórdia de mim e manda a Lázaro que molhe na água a ponta do seu dedo e me refresque a língua, porque estou atormentado nesta chama.
Beware of false prophets, which come to you in sheep's clothing, but inwardly they are ravening wolves.
Personal Bible reading plan
Create an account to configure your Bible reading plan and you will see your progress and the next chapter to read here!
Read more...