Bible Verses about 'Wise'
«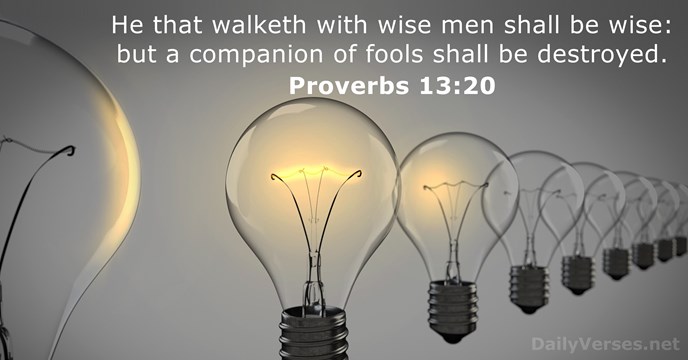 »
He that walketh with wise men shall be wise: but a companion of fools shall be destroyed.

Anda com os sábios e serás sábio, mas o companheiro dos tolos será afligido.

Let no man deceive himself. If any man among you seemeth to be wise in this world, let him become a fool, that he may be wise.

Ninguém se engane a si mesmo: se alguém dentre vós se tem por sábio neste mundo, faça-se louco para ser sábio.

My son, if thine heart be wise, my heart shall rejoice, even mine.

Filho meu, se o teu coração for sábio, alegrar-se-á o meu coração, sim, o meu próprio.

A fool uttereth all his mind: but a wise man keepeth it in till afterwards.

Um tolo expande toda a sua ira, mas o sábio a encobre e reprime.

The wise in heart will receive commandments: but a prating fool shall fall.

O sábio de coração aceita os mandamentos, mas o louco palrador será transtornado.

A wise son maketh a glad father: but a foolish son is the heaviness of his mother.

O filho sábio alegra a seu pai, mas o filho louco é a tristeza de sua mãe.

The words of a wise man's mouth are gracious; but the lips of a fool will swallow up himself.

Nas palavras da boca do sábio, há favor, mas os lábios do tolo o devoram.

The father of the righteous shall greatly rejoice: and he that begetteth a wise child shall have joy of him.

Grandemente se regozijará o pai do justo, e o que gerar a um sábio se alegrará nele.

Even a fool, when he holdeth his peace, is counted wise: and he that shutteth his lips is esteemed a man of understanding.

Até o tolo, quando se cala, será reputado por sábio; e o que cerrar os seus lábios, por sábio.
The law of the L

ord

is perfect, converting the soul: the testimony of the L

ord

is sure, making wise the simple.
A lei do S

enhor

é perfeita e refrigera a alma; o testemunho do S

enhor

é fiel e dá sabedoria aos símplices.

See then that ye walk circumspectly, not as fools, but as wise, Redeeming the time, because the days are evil.

Portanto, vede prudentemente como andais, não como néscios, mas como sábios, remindo o tempo, porquanto os dias são maus.

Who is a wise man and endued with knowledge among you? let him shew out of a good conversation his works with meekness of wisdom.

Quem dentre vós é sábio e inteligente? Mostre, pelo seu bom trato, as suas obras em mansidão de sabedoria.

Therefore whosoever heareth these sayings of mine, and doeth them, I will liken him unto a wise man, which built his house upon a rock.

Todo aquele, pois, que escuta estas minhas palavras e as pratica, assemelhá-lo-ei ao homem prudente, que edificou a sua casa sobre a rocha.

Be not wise in thine own eyes: fear the L

ord

, and depart from evil. It shall be health to thy navel, and marrow to thy bones.
Não sejas sábio a teus próprios olhos; teme ao S

enhor

e aparta-te do mal. Isso será remédio para o teu umbigo e medula para os teus ossos.

Many shall be purified, and made white, and tried; but the wicked shall do wickedly: and none of the wicked shall understand; but the wise shall understand.

Muitos serão purificados, e embranquecidos, e provados; mas os ímpios procederão impiamente, e nenhum dos ímpios entenderá, mas os sábios entenderão.

In the multitude of words there wanteth not sin: but he that refraineth his lips is wise.

Na multidão de palavras não falta transgressão, mas o que modera os seus lábios é prudente.

Be of the same mind one toward another. Mind not high things, but condescend to men of low estate. Be not wise in your own conceits.

Sede unânimes entre vós; não ambicioneis coisas altas, mas acomodai-vos às humildes; não sejais sábios em vós mesmos.

Now unto the King eternal, immortal, invisible, the only wise God, be honour and glory for ever and ever. Amen.

Ora, ao Rei dos séculos, imortal, invisível, ao único Deus seja honra e glória para todo o sempre. Amém!

Now when Jesus was born in Bethlehem of Judaea in the days of Herod the king, behold, there came wise men from the east to Jerusalem, Saying, Where is he that is born King of the Jews? for we have seen his star in the east, and are come to worship him.

E, tendo nascido Jesus em Belém da Judeia, no tempo do rei Herodes, eis que uns magos vieram do Oriente a Jerusalém, e perguntaram: Onde está aquele que é nascido rei dos judeus? Porque vimos a sua estrela no Oriente e viemos a adorá-lo.

For verily I say unto you, Till heaven and earth pass, one jot or one tittle shall in no wise pass from the law, till all be fulfilled.

Porque em verdade vos digo que, até que o céu e a terra passem, nem um jota ou um til se omitirá da lei sem que tudo seja cumprido.

Now the birth of Jesus Christ was on this wise: When as his mother Mary was espoused to Joseph, before they came together, she was found with child of the Holy Ghost.

Ora, o nascimento de Jesus Cristo foi assim: Estando Maria, sua mãe, desposada com José, antes de se ajuntarem, achou-se ter concebido do Espírito Santo.

Say not thou, What is the cause that the former days were better than these? for thou dost not enquire wisely concerning this.

Nunca digas: Por que foram os dias passados melhores do que estes? Porque nunca com sabedoria isso perguntarias.

Thou shalt not hate thy brother in thine heart: thou shalt in any wise rebuke thy neighbour, and not suffer sin upon him. Thou shalt not avenge, nor bear any grudge against the children of thy people, but thou shalt love thy neighbour as thyself: I am the L

ord

.
Não aborrecerás a teu irmão no teu coração; não deixarás de repreender o teu próximo e nele não sofrerás pecado. Não te vingarás, nem guardarás ira contra os filhos do teu povo; mas amarás o teu próximo como a ti mesmo. Eu sou o S

enhor

.

Ye shall not afflict any widow, or fatherless child. If thou afflict them in any wise, and they cry at all unto me, I will surely hear their cry; And my wrath shall wax hot, and I will kill you with the sword; and your wives shall be widows, and your children fatherless.

A nenhuma viúva nem órfão afligireis. Se de alguma maneira os afligirdes, e eles clamarem a mim, eu certamente ouvirei o seu clamor, e a minha ira se acenderá, e vos matarei à espada; e vossas mulheres ficarão viúvas, e vossos filhos, órfãos.

Walk in wisdom toward them that are without, redeeming the time. Let your speech be always with grace, seasoned with salt, that ye may know how ye ought to answer every man.

Andai com sabedoria para com os que estão de fora, remindo o tempo. A vossa palavra seja sempre agradável, temperada com sal, para que saibais como vos convém responder a cada um.
Beware of false prophets, which come to you in sheep's clothing, but inwardly they are ravening wolves.
Personal Bible reading plan
Create an account to configure your Bible reading plan and you will see your progress and the next chapter to read here!
Read more...