Bible Verses about 'Yea'
«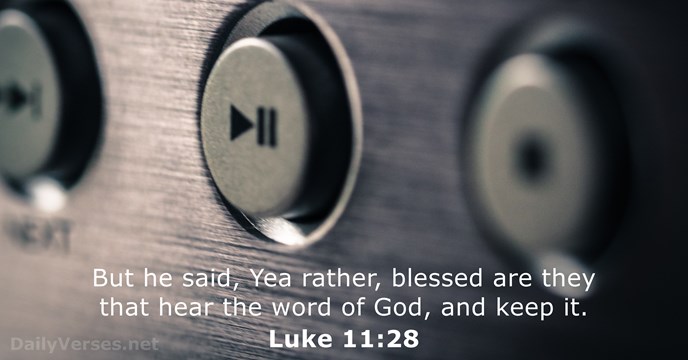 »
But he said, Yea rather, blessed are they that hear the word of God, and keep it.

Mas ele disse: Antes, bem-aventurados os que ouvem a palavra de Deus e a guardam.

Yea, and all that will live godly in Christ Jesus shall suffer persecution.

E também todos os que piamente querem viver em Cristo Jesus padecerão perseguições.

Fear thou not; for I am with thee: be not dismayed; for I am thy God: I will strengthen thee; yea, I will help thee; yea, I will uphold thee with the right hand of my righteousness.

Não temas, porque eu sou contigo; não te assombres, porque eu sou o teu Deus; eu te esforço, e te ajudo, e te sustento com a destra da minha justiça.

But above all things, my brethren, swear not, neither by heaven, neither by the earth, neither by any other oath: but let your yea be yea; and your nay, nay; lest ye fall into condemnation.

Mas, sobretudo, meus irmãos, não jureis nem pelo céu nem pela terra, nem façais qualquer outro juramento; mas que a vossa palavra seja sim, sim e não, não, para que não caiais em condenação.

Then shalt thou understand righteousness, and judgment, and equity; yea, every good path.

Então, entenderás justiça, e juízo, e equidade, e todas as boas veredas.

Yea, though I walk through the valley of the shadow of death, I will fear no evil: for thou art with me; thy rod and thy staff they comfort me.

Ainda que eu andasse pelo vale da sombra da morte, não temeria mal algum, porque tu estás comigo; a tua vara e o teu cajado me consolam.

But God hath revealed them unto us by his Spirit: for the Spirit searcheth all things, yea, the deep things of God.

Mas Deus no-las revelou pelo seu Espírito; porque o Espírito penetra todas as coisas, ainda as profundezas de Deus.

Yea, in the way of thy judgments, O L

ord

, have we waited for thee; the desire of our soul is to thy name, and to the remembrance of thee.
Até no caminho dos teus juízos, S

enhor

, te esperamos; no teu nome e na tua memória está o desejo da nossa alma.
And let the beauty of the L

ord

our God be upon us: and establish thou the work of our hands upon us; yea, the work of our hands establish thou it.

E seja sobre nós a graça do Senhor, nosso Deus; e confirma sobre nós a obra das nossas mãos; sim, confirma a obra das nossas mãos.

But I will sing of thy power; yea, I will sing aloud of thy mercy in the morning: for thou hast been my defence and refuge in the day of my trouble.

Eu, porém, cantarei a tua força; pela manhã, louvarei com alegria a tua misericórdia, porquanto tu foste o meu alto refúgio e proteção no dia da minha angústia.

Who art thou that judgest another man's servant? to his own master he standeth or falleth. Yea, he shall be holden up: for God is able to make him stand.

Quem és tu que julgas o servo alheio? Para seu próprio senhor ele está em pé ou cai; mas estará firme, porque poderoso é Deus para o firmar.

And base things of the world, and things which are despised, hath God chosen, yea, and things which are not, to bring to nought things that are: That no flesh should glory in his presence.

E Deus escolheu as coisas vis deste mundo, e as desprezíveis, e as que não são para aniquilar as que são; para que nenhuma carne se glorie perante ele.

With my soul have I desired thee in the night; yea, with my spirit within me will I seek thee early: for when thy judgments are in the earth, the inhabitants of the world will learn righteousness.

Com minha alma te desejei de noite e, com o meu espírito, que está dentro de mim, madrugarei a buscar-te; porque, havendo os teus juízos na terra, os moradores do mundo aprendem justiça.

But, beloved, be not ignorant of this one thing, that one day is with the Lord as a thousand years, and a thousand years as one day.

Mas, amados, não ignoreis uma coisa: que um dia para o Senhor é como mil anos, e mil anos, como um dia.

Can a woman forget her sucking child, that she should not have compassion on the son of her womb? yea, they may forget, yet will I not forget thee. Behold, I have graven thee upon the palms of my hands; thy walls are continually before me.

Pode uma mulher esquecer-se tanto do filho que cria, que se não compadeça dele, do filho do seu ventre? Mas, ainda que esta se esquecesse, eu, todavia, me não esquecerei de ti. Eis que, na palma das minhas mãos, te tenho gravado; os teus muros estão continuamente perante mim.
If ye will not hear, and if ye will not lay it to heart, to give glory unto my name, saith the L

ord

of hosts, I will even send a curse upon you, and I will curse your blessings: yea, I have cursed them already, because ye do not lay it to heart.
Se o não ouvirdes e se não propuserdes no vosso coração dar honra ao meu nome, diz o S

enhor

dos Exércitos, enviarei a maldição contra vós e amaldiçoarei as vossas bênçãos; e já as tenho amaldiçoado, porque vós não pondes isso no coração.

Hear, O my son, and receive my sayings; and the years of thy life shall be many.

Ouve, filho meu, e aceita as minhas palavras, e se te multiplicarão os anos de vida.

For a thousand years in thy sight are but as yesterday when it is past, and as a watch in the night.

Porque mil anos são aos teus olhos como o dia de ontem que passou, e como a vigília da noite.

Remember now thy Creator in the days of thy youth, while the evil days come not, nor the years draw nigh, when thou shalt say, I have no pleasure in them.

Lembra-te do teu Criador nos dias da tua mocidade, antes que venham os maus dias, e cheguem os anos dos quais venhas a dizer: Não tenho neles contentamento.

Blessed and holy is he that hath part in the first resurrection: on such the second death hath no power, but they shall be priests of God and of Christ, and shall reign with him a thousand years.

Bem-aventurado e santo aquele que tem parte na primeira ressurreição; sobre estes não tem poder a segunda morte, mas serão sacerdotes de Deus e de Cristo e reinarão com ele mil anos.

When a man hath taken a new wife, he shall not go out to war, neither shall he be charged with any business: but he shall be free at home one year, and shall cheer up his wife which he hath taken.

Quando algum homem tomar uma mulher nova, não sairá à guerra, nem se lhe imporá carga alguma; por um ano inteiro ficará livre na sua casa e alegrará a sua mulher, que tomou.

Blessed is the man that trusteth in the L

ord

, and whose hope the L

ord

is. For he shall be as a tree planted by the waters, and that spreadeth out her roots by the river, and shall not see when heat cometh, but her leaf shall be green; and shall not be careful in the year of drought, neither shall cease from yielding fruit.
Bendito o varão que confia no S

enhor

, e cuja esperança é o S

enhor

. Porque ele será como a árvore plantada junto às águas, que estende as suas raízes para o ribeiro e não receia quando vem o calor, mas a sua folha fica verde; e, no ano de sequidão, não se afadiga nem deixa de dar fruto.

And he was teaching in one of the synagogues on the sabbath. And, behold, there was a woman which had a spirit of infirmity eighteen years, and was bowed together, and could in no wise lift up herself. And when Jesus saw her, he called her to him, and said unto her, Woman, thou art loosed from thine infirmity. And he laid his hands on her: and immediately she was made straight, and glorified God. And the ruler of the synagogue answered with indignation, because that Jesus had healed on the sabbath day, and said unto the people, There are six days in which men ought to work: in them therefore come and be healed, and not on the sabbath day. The Lord then answered him, and said, Thou hypocrite, doth not each one of you on the sabbath loose his ox or his ass from the stall, and lead him away to watering? And ought not this woman, being a daughter of Abraham, whom Satan hath bound, lo, these eighteen years, be loosed from this bond on the sabbath day? And when he had said these things, all his adversaries were ashamed: and all the people rejoiced for all the glorious things that were done by him.

E ensinava no sábado, numa das sinagogas. E eis que estava ali uma mulher que tinha um espírito de enfermidade havia já dezoito anos; e andava curvada e não podia de modo algum endireitar-se. E, vendo-a Jesus, chamou-a a si, e disse-lhe: Mulher, estás livre da tua enfermidade. E impôs as mãos sobre ela, e logo se endireitou e glorificava a Deus. E, tomando a palavra o príncipe da sinagoga, indignado porque Jesus curava no sábado, disse à multidão: Seis dias há em que é mister trabalhar; nestes, pois, vinde para serdes curados e não no dia de sábado. Respondeu-lhe, porém, o Senhor e disse: Hipócrita, no sábado não desprende da manjedoura cada um de vós o seu boi ou jumento e não o leva a beber água? E não convinha soltar desta prisão, no dia de sábado, esta filha de Abraão, a qual há dezoito anos Satanás mantinha presa? E, dizendo ele isso, todos os seus adversários ficaram envergonhados, e todo o povo se alegrava por todas as coisas gloriosas que eram feitas por ele.
And though I have the gift of prophecy, and understand all mysteries, and all knowledge; and though I have all faith, so that I could remove mountains, and have not charity, I am nothing.
Personal Bible reading plan
Create an account to configure your Bible reading plan and you will see your progress and the next chapter to read here!
Read more...