Bible Verses about Self-control
«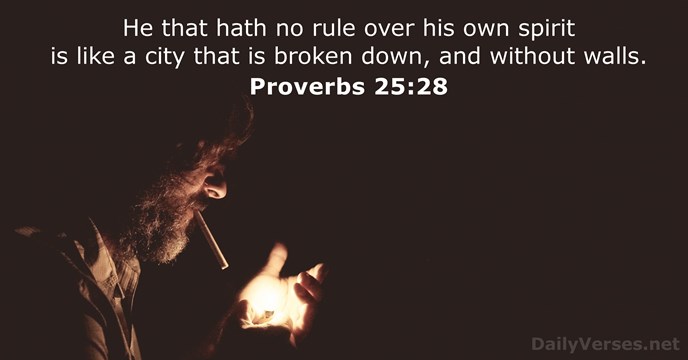 »
| | |
| --- | --- |
| He that hath no rule over his own spirit is like a city that is broken down, and without walls. | Iemand die snel kwaad is, wordt makkelijk aangevallen, net als een stad met slechte muren. |
| For God hath not given us the spirit of fear; but of power, and of love, and of a sound mind. | God heeft ons zijn Geest gegeven. Niet om bange mensen van ons te maken, maar moedige mensen, vol liefde en geduld. |
| He that is slow to anger is better than the mighty; and he that ruleth his spirit than he that taketh a city. | Je kunt beter geduldig zijn dan sterk, je kunt beter rustig blijven dan iemand aanvallen. |
| And beside this, giving all diligence, add to your faith virtue; and to virtue knowledge; And to knowledge temperance; and to temperance patience; and to patience godliness; And to godliness brotherly kindness; and to brotherly kindness charity. | Daarom moeten jullie je uiterste best doen om je geloof te laten groeien. Je geloof zal groeien als je volmaakt wordt. Je wordt volmaakt als je meer begrijpt van het geloof. Je begrijpt meer van het geloof als je geduldig bent. Je wordt geduldig als je volhoudt in moeilijkheden. Je kunt volhouden in moeilijkheden als je God eert. Je eert God als je van elkaar houdt als broers en zussen. En je kunt pas van elkaar houden als je van alle mensen houdt. |
| But the fruit of the Spirit is love, joy, peace, longsuffering, gentleness, goodness, faith, Meekness, temperance: against such there is no law. | Mensen die zich laten leiden door de heilige Geest, leven heel anders. Zij houden van elkaar. Ze zijn blij en leven in vrede. Ze hebben geduld en zijn goed voor elkaar. Ze geloven in Christus. Ze zijn vriendelijk en gedragen zich goed. Als je zo leeft, doe je precies wat de wet eigenlijk wil. |
| Death and life are in the power of the tongue: and they that love it shall eat the fruit thereof. | Woorden kunnen goed doen of kwaad doen. Denk dus goed na voordat je iets zegt. |
| Wherefore, my beloved brethren, let every man be swift to hear, slow to speak, slow to wrath. | Vrienden, bedenk dit goed: Je moet altijd bereid zijn om naar een ander te luisteren. Maar denk eerst goed na voordat je iets terugzegt. En word vooral niet meteen kwaad. |
| There hath no temptation taken you but such as is common to man: but God is faithful, who will not suffer you to be tempted above that ye are able; but will with the temptation also make a way to escape, that ye may be able to bear it. | Satan zal zeker proberen jullie te laten zondigen, net zoals hij dat bij alle mensen probeert. Maar God is trouw. Hij zal jullie altijd helpen. En hij zal ervoor zorgen dat jullie het kunnen volhouden, en dat jullie geen verkeerde keuzes maken. |
| Therefore let us not sleep, as do others; but let us watch and be sober. | Maar, vrienden, jullie zullen niet plotseling overvallen worden door de komst van de Heer. Want jullie geloven in hem. Jullie horen bij het licht, niet bij het donker. Wij horen niet bij de nacht en het donker, wij horen bij de dag. We moeten dus dingen doen die passen bij de dag. We moeten goed opletten en helder blijven denken. Andere mensen horen bij de nacht. Zij denken niet aan wat er gaat gebeuren. Het lijkt alsof ze slapen, of dronken zijn. |
| A fool's wrath is presently known: but a prudent man covereth shame. | Als dwaze mensen boos zijn, laten ze dat meteen merken, maar als wijze mensen beledigd worden, zwijgen ze. |
| For the grace of God that bringeth salvation hath appeared to all men, Teaching us that, denying ungodliness and worldly lusts, we should live soberly, righteously, and godly, in this present world. | God heeft laten zien dat hij goed is, en dat hij alle mensen wil redden. Zijn goedheid helpt ons om betere mensen te worden. Zodat we nee kunnen zeggen tegen een leven zonder God en tegen onze slechte verlangens. Dan kunnen we in deze wereld een wijs en eerlijk leven leiden, zoals God het wil. |
| But I keep under my body, and bring it into subjection: lest that by any means, when I have preached to others, I myself should be a castaway. | En daarom ben ik streng voor mezelf, en verdraag ik alles wat me overkomt. Want ik wil niet alleen dat anderen door mijn werk het eeuwige leven krijgen. Nee, ik wil ook zelf het eeuwige leven krijgen! |
| And be not conformed to this world: but be ye transformed by the renewing of your mind, that ye may prove what is that good, and acceptable, and perfect, will of God. | Doe niet zoals de mensen die zonder God leven, maar leef als nieuwe mensen. Want God geeft jullie de wijsheid om zijn wil te kennen. Daardoor weten jullie wat goed en volmaakt is, en waar God blij mee is. |
| A fool uttereth all his mind: but a wise man keepeth it in till afterwards. | Dwaze mensen worden meteen woedend, maar wijze mensen blijven altijd rustig. |
| And every man that striveth for the mastery is temperate in all things. Now they do it to obtain a corruptible crown; but we an incorruptible. | Je kunt christenen vergelijken met hardlopers die meedoen aan een wedstrijd. Net zoals hardlopers moeten wij veel opgeven in ons leven. En net zoals hardlopers hebben ook wij er alles voor over om de eerste prijs te winnen. Maar wij willen geen gewone prijs. Voor ons is de prijs het eeuwige leven. |
| For we wrestle not against flesh and blood, but against principalities, against powers, against the rulers of the darkness of this world, against spiritual wickedness in high places. | Want we vechten niet tegen mensen, maar tegen machten en krachten die over de wereld willen heersen. We vechten tegen de leiders van de duisternis, tegen de hoogste kwade machten. |
| I made a covenant with mine eyes; why then should I think upon a maid? | Ik heb nooit naar jonge vrouwen gekeken, dat had ik mezelf plechtig beloofd. |
| Look to yourselves, that we lose not those things which we have wrought, but that we receive a full reward. | We hebben ons uiterste best gedaan om het eeuwige leven te krijgen dat God aan de mensen wil geven. Zorg er nu dus voor dat jullie het eeuwige leven niet verliezen! Maar zorg er juist voor dat jullie van God de hele beloning krijgen. |
| Turn not to the right hand nor to the left: remove thy foot from evil. | Blijf uit de buurt van het kwaad, en zorg dat je goed en eerlijk leeft. |
| Defraud ye not one the other, except it be with consent for a time, that ye may give yourselves to fasting and prayer; and come together again, that Satan tempt you not for your incontinency. | Mensen die getrouwd zijn, moeten dus gewoon met elkaar naar bed gaan. Een man en een vrouw mogen wel afspreken om een tijdje niet met elkaar te slapen, zodat ze meer tijd hebben om te bidden. Let op: ik zeg dat dat mag, niet dat het moet. Ook moeten ze het er allebei mee eens zijn. En bovendien moeten ze daarna weer gewoon met elkaar naar bed gaan. Anders gaan ze verlangen naar verboden seks, en dan lukt het Satan misschien om hen te laten zondigen. |
Thou shalt not take the name of the Lord thy God in vain: for the Lord will not hold him guiltless that taketh his name in vain.
Personal Bible reading plan
Create an account to configure your Bible reading plan and you will see your progress and the next chapter to read here!
Read more...