«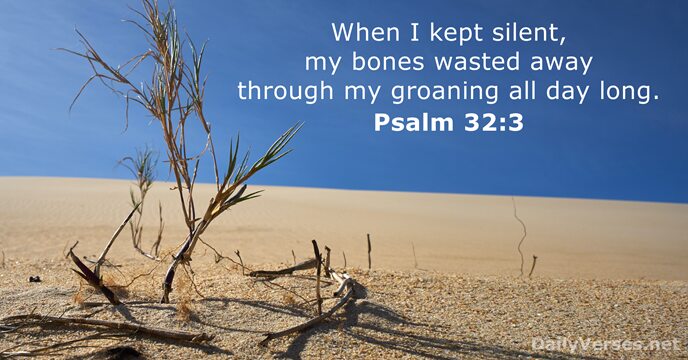 »
When I kept silent, my bones wasted away through my groaning all day long.

Eerst zweeg ik tegen God over de dingen die ik verkeerd had gedaan. Maar ik kon er niet meer tegen. De hele dag schreeuwde ik het uit.

And now what are you waiting for? Get up, be baptized and wash your sins away, calling on his name.

Waarom aarzel je nog? Sta op en laat je dopen. Laat zo je ongehoorzaamheid aan God van je afwassen, terwijl je Hem aanbidt.

Come back to your senses as you ought, and stop sinning; for there are some who are ignorant of God—I say this to your shame.

Gebruik toch je gezonde verstand! Stop met ongehoorzaam te zijn aan God! Sommigen van jullie hebben er geen idee van wie God is. Jullie moesten je schamen!

Religion that God our Father accepts as pure and faultless is this: to look after orphans and widows in their distress and to keep oneself from being polluted by the world.

Zuiver en eerlijk geloof houdt voor God de Vader in: zorgen voor de weeskinderen en de weduwen die het moeilijk hebben, en niet langer meedoen met de slechte dingen die de ongelovige mensen doen.

The way of the L

ord

is a refuge for the blameless, but it is the ruin of those who do evil.

De wetten van de Heer zijn een zegen voor de mensen die ze gehoorzamen. Maar voor slechte mensen betekenen ze ellende.

If your right eye causes you to stumble, gouge it out and throw it away. It is better for you to lose one part of your body than for your whole body to be thrown into hell.

Als je door iets wat je ziet in de verleiding komt om iets slechts te doen, ruk dan je oog uit en gooi het weg. Want het is beter dat je één lichaamsdeel kwijtraakt, dan dat je met je hele lichaam in de hel wordt gegooid.

Help us, God our Savior, for the glory of your name; deliver us and forgive our sins for your name's sake.

Help ons, God, vanwege uw eigen eer. Alleen U kan ons redden. Vergeef ons en red ons, omdat U bent wie U bent.

Is anyone among you sick? Let them call the elders of the church to pray over them and anoint them with oil in the name of the Lord. And the prayer offered in faith will make the sick person well; the Lord will raise them up. If they have sinned, they will be forgiven.

Ben je ziek? Vraag dan de leiders van de gemeente om te komen. Ze zullen voor je bidden en je namens de Heer met olie zalven. En dat gebed dat vol geloof gebeden wordt, zal je gezond maken. De Heer zal je genezen. En als je ongehoorzaam bent geweest aan God, zul je vergeving krijgen.

For if we have been united with him in a death like his, we will certainly also be united with him in a resurrection like his. For we know that our old self was crucified with him so that the body ruled by sin might be done away with, that we should no longer be slaves to sin.

Net zoals we één geheel met Hem zijn geworden in zijn dood, zijn we ook één geheel met Hem geworden in zijn opstanding uit de dood. Want we weten dat ons oude 'ik' samen met Christus is gekruisigd en gestorven. Daardoor heeft het kwaad geen macht meer over ons. We zijn niet langer slaven van het kwaad.

For what I received I passed on to you as of first importance: that Christ died for our sins according to the Scriptures, that he was buried, that he was raised on the third day according to the Scriptures.

Ik heb jullie het belangrijkste van het goede nieuws geleerd. En dat is: Christus is gestorven voor al onze ongehoorzaamheid aan God. Dat was ook van tevoren in de Boeken opgeschreven. Hij is begraven en op de derde dag weer uit de dood opgestaan. Ook dat was van tevoren in de Boeken opgeschreven.

But now that you have been set free from sin and have become slaves of God, the benefit you reap leads to holiness, and the result is eternal life.

Maar nu zijn jullie bevrijd uit de macht van het kwaad. Jullie zijn dienaren van God geworden. Daardoor zullen jullie leven zoals Hij het wil. En tenslotte zullen jullie het eeuwige leven hebben.

And when you stand praying, if you hold anything against anyone, forgive them, so that your Father in heaven may forgive you your sins.

En als je gaat bidden en je bent nog boos op iemand, vergeef hem dan eerst. Want dan vergeeft je hemelse Vader jou ook.

You have heard that it was said, 'You shall not commit adultery.' But I tell you that anyone who looks at a woman lustfully has already committed adultery with her in his heart.

Jullie hebben gehoord dat er in de Boeken tegen onze voorouders wordt gezegd dat je niet ontrouw mag zijn aan je vrouw. Dus dat je niet met een andere vrouw naar bed mag gaan. Maar Ik zeg jullie: als je naar een andere vrouw kijkt en denkt: 'Ik zou best eens met haar naar bed willen,' ben je in gedachten al ontrouw aan je vrouw geweest.

The Son is the radiance of God's glory and the exact representation of his being, sustaining all things by his powerful word. After he had provided purification for sins, he sat down at the right hand of the Majesty in heaven.

De Zoon is de 'afbeelding' van God Zelf. In Hem zien we wie God is. In Hem zien we de macht en majesteit van God en het karakter van God. De Zoon zorgt ervoor dat alle dingen bestaan. Want alle dingen bestaan door zijn woord dat één en al kracht is. Eerst heeft de Zoon ervoor gezorgd dat de mensen vergeving konden krijgen voor al hun ongehoorzaamheid aan God. Daarna is Hij naar de hemel gegaan. Daar zit Hij nu naast God op de troon.

The one who does what is sinful is of the devil, because the devil has been sinning from the beginning. The reason the Son of God appeared was to destroy the devil's work.

Mensen die doorgaan met ongehoorzaam zijn aan God, horen bij de duivel. Want de duivel is al vanaf het begin ongehoorzaam aan God. Maar de Zoon van God is gekomen om het werk van de duivel te vernietigen.

For we do not have a high priest who is unable to empathize with our weaknesses, but we have one who has been tempted in every way, just as we are—yet he did not sin.

We hebben een Hogepriester die ons kan begrijpen als we zwak zijn. Want we hebben een Hogepriester die op dezelfde manier als wij met het kwaad te maken heeft gekregen. Maar Híj werd nooit ongehoorzaam aan God.

I will show the holiness of my great name, which has been profaned among the nations, the name you have profaned among them. Then the nations will know that I am the L

ord

, declares the Sovereign L

ord

, when I am proved holy through you before their eyes.

Maar Ik zal laten zien wie Ik ben. Ik zal laten zien dat Ik de heilige God ben, Ík die door júllie voor schut gezet ben. Dan zullen de volken beseffen dat Ik de Heer ben.

Very rarely will anyone die for a righteous person, though for a good person someone might possibly dare to die. But God demonstrates his own love for us in this: While we were still sinners, Christ died for us.

Het is al heel bijzonder als iemand zijn leven wil geven om een góed mens te redden. Misschien heeft iemand daar nog de moed voor. Maar Christus heeft zijn leven voor ons gegeven toen we nog sléchte mensen waren. Daarmee bewijst God hoeveel Hij van ons houdt.

Better is one day in your courts than a thousand elsewhere; I would rather be a doorkeeper in the house of my God than dwell in the tents of the wicked.

Ik ben liever één dag op het plein voor uw tempel dan duizend dagen ergens anders. Ik sta liever bij de drempel van uw heiligdom, dan dat ik woon bij mensen die zich niets van U aantrekken.

What shall we say, then? Is the law sinful? Certainly not! Nevertheless, I would not have known what sin was had it not been for the law. For I would not have known what coveting really was if the law had not said, "You shall not covet."

Hoe zit het dan? Is de wet dan iets slechts? Nee, helemaal niet. Want zonder de wet zou ik niet geweten hebben wat slecht is. Ik zou bijvoorbeeld niet geweten hebben dat jaloersheid verkeerd is, als de wet niet had gezegd dat je niet jaloers mag zijn.
But the face of the L

ord

is against those who do evil, to blot out their name from the earth.

Maar Hij vernietigt de mensen die slechte dingen doen. Na hun dood worden ze door iedereen vergeten.

Many will be purified, made spotless and refined, but the wicked will continue to be wicked. None of the wicked will understand, but those who are wise will understand.

Veel mensen zullen zich laten schoonwassen en bij God willen horen. Maar de mensen die zich niets van God aantrekken, zullen gewoon slechte dingen blijven doen. Zij zullen hier niets van begrijpen. Maar de wijze en verstandige mensen zullen deze dingen begrijpen.

So that, just as sin reigned in death, so also grace might reign through righteousness to bring eternal life through Jesus Christ our Lord.

Eerst heerste het kwaad, en het kwaad bracht ons de dood. Maar nu heerst de liefdevolle goedheid van God. Die brengt ons het eeuwige leven, door onze Heer Jezus Christus.

But the gift is not like the trespass. For if the many died by the trespass of the one man, how much more did God's grace and the gift that came by the grace of the one man, Jesus Christ, overflow to the many!

Omdat God zoveel van ons houdt, gaf God toen Jezus als geschenk aan ons. En dat Geschenk is véél machtiger dan de ongehoorzaamheid van Adam. Want door de ongehoorzaamheid van één mens (namelijk Adam) zijn heel veel mensen gestorven. Maar Gods Geschenk, Jezus Christus, is zó machtig dat heel veel mensen erdoor kunnen worden gered.

Then Peter came to Jesus and asked, "Lord, how many times shall I forgive my brother or sister who sins against me? Up to seven times?" Jesus answered, "I tell you, not seven times, but seventy-seven times."

Petrus kwam naar Jezus toe en vroeg: "Heer, hoe vaak moet ik iemand vergeven als hij iets verkeerds tegen mij doet? Zeven keer?" Jezus zei tegen hem: "Ik zeg je: niet zeven keer, maar 70 keer zeven keer."
Love does no harm to a neighbor. Therefore love is the fulfillment of the law.
Personal Bible reading plan
Create an account to configure your Bible reading plan and you will see your progress and the next chapter to read here!
Read more...