«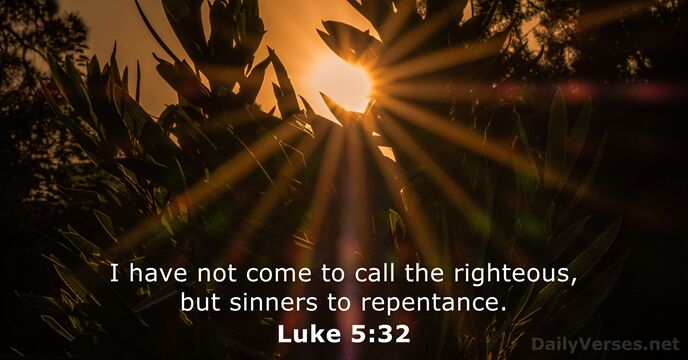 »
I have not come to call the righteous, but sinners to repentance.

Who is a God like you,
who pardons sin and forgives the transgression
of the remnant of his inheritance?
You do not stay angry forever
but delight to show mercy.

What you have said in the dark will be heard in the daylight, and what you have whispered in the ear in the inner rooms will be proclaimed from the roofs.

If anyone sins and does what is forbidden in any of the L

ord

's commands, even though they do not know it, they are guilty and will be held responsible.

That God was reconciling the world to himself in Christ, not counting people's sins against them. And he has committed to us the message of reconciliation.

You desire but do not have, so you kill. You covet but you cannot get what you want, so you quarrel and fight. You do not have because you do not ask God.

The name of the righteous is used in blessings,
but the name of the wicked will rot.
Whoever keeps commandments keeps their life,
but whoever shows contempt for their ways will die.
Righteousness exalts a nation,
but sin condemns any people.
Blessed is the one
whose transgressions are forgiven,
whose sins are covered.
I have hidden your word in my heart
that I might not sin against you.

In him we have redemption through his blood, the forgiveness of sins, in accordance with the riches of God's grace.

But if a wicked person turns away from all the sins they have committed and keeps all my decrees and does what is just and right, that person will surely live; they will not die.

Everyone who sins breaks the law; in fact, sin is lawlessness.

He is the atoning sacrifice for our sins, and not only for ours but also for the sins of the whole world.

A wicked person earns deceptive wages,
but the one who sows righteousness reaps a sure reward.

This is love: not that we loved God, but that he loved us and sent his Son as an atoning sacrifice for our sins.

When anyone becomes aware that they are guilty in any of these matters, they must confess in what way they have sinned.

I tell you that in the same way there will be more rejoicing in heaven over one sinner who repents than over ninety-nine righteous persons who do not need to repent.

I have swept away your offenses like a cloud,
your sins like the morning mist.
Return to me,
for I have redeemed you.

Come back to your senses as you ought, and stop sinning; for there are some who are ignorant of God—I say this to your shame.

The way of the L

ord

is a refuge for the blameless,
but it is the ruin of those who do evil.

All who sin apart from the law will also perish apart from the law, and all who sin under the law will be judged by the law.

When I kept silent,
my bones wasted away
through my groaning all day long.

This is the message we have heard from him and declare to you: God is light; in him there is no darkness at all.
I will not leave you as orphans; I will come to you.
Personal Bible reading plan
Create an account to configure your Bible reading plan and you will see your progress and the next chapter to read here!
Read more...