«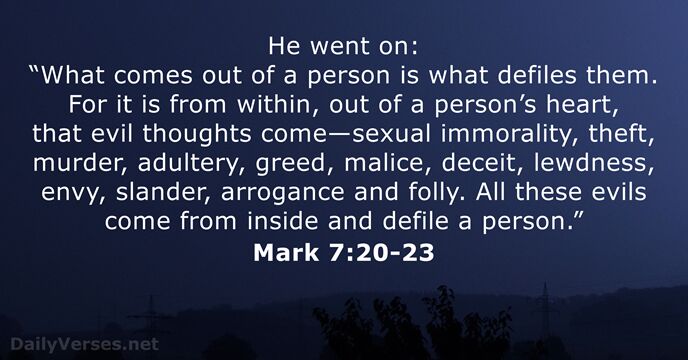 »
He went on: "What comes out of a person is what defiles them. For it is from within, out of a person's heart, that evil thoughts come—sexual immorality, theft, murder, adultery, greed, malice, deceit, lewdness, envy, slander, arrogance and folly. All these evils come from inside and defile a person."

Whoever conceals their sins does not prosper,
but the one who confesses and renounces them finds mercy.

Whoever sows to please their flesh, from the flesh will reap destruction; whoever sows to please the Spirit, from the Spirit will reap eternal life.

Those who are in the realm of the flesh cannot please God.

Repent, then, and turn to God, so that your sins may be wiped out, that times of refreshing may come from the Lord.

"In your anger do not sin": Do not let the sun go down while you are still angry, and do not give the devil a foothold.

Do not love the world or anything in the world. If anyone loves the world, love for the Father is not in them.

For the wages of sin is death, but the gift of God is eternal life in Christ Jesus our Lord.

The sting of death is sin, and the power of sin is the law.

Jesus replied, "Very truly I tell you, everyone who sins is a slave to sin."

So I say, walk by the Spirit, and you will not gratify the desires of the flesh.

There is a way that appears to be right,
but in the end it leads to death.
Who is a God like you,
who pardons sin and forgives the transgression
of the remnant of his inheritance?
You do not stay angry forever
but delight to show mercy.
Sin is not ended by multiplying words,
but the prudent hold their tongues.

Is anyone among you sick? Let them call the elders of the church to pray over them and anoint them with oil in the name of the Lord. And the prayer offered in faith will make the sick person well; the Lord will raise them up. If they have sinned, they will be forgiven.

For where you have envy and selfish ambition, there you find disorder and every evil practice.

Wash and make yourselves clean.
Take your evil deeds out of my sight;
stop doing wrong.

You desire but do not have, so you kill. You covet but you cannot get what you want, so you quarrel and fight. You do not have because you do not ask God.

God made him who had no sin to be sin for us, so that in him we might become the righteousness of God.

What shall we say, then? Shall we go on sinning so that grace may increase? By no means! We are those who have died to sin; how can we live in it any longer?

But he was pierced for our transgressions,
he was crushed for our iniquities;
the punishment that brought us peace was on him,
and by his wounds we are healed.

He is the atoning sacrifice for our sins, and not only for ours but also for the sins of the whole world.

For sin shall no longer be your master, because you are not under the law, but under grace.

In him we have redemption through his blood, the forgiveness of sins, in accordance with the riches of God's grace.

A wicked person earns deceptive wages,
but the one who sows righteousness reaps a sure reward.
Praise be to the God and Father of our Lord Jesus Christ, who has blessed us in the heavenly realms with every spiritual blessing in Christ.
Personal Bible reading plan
Create an account to configure your Bible reading plan and you will see your progress and the next chapter to read here!
Read more...