«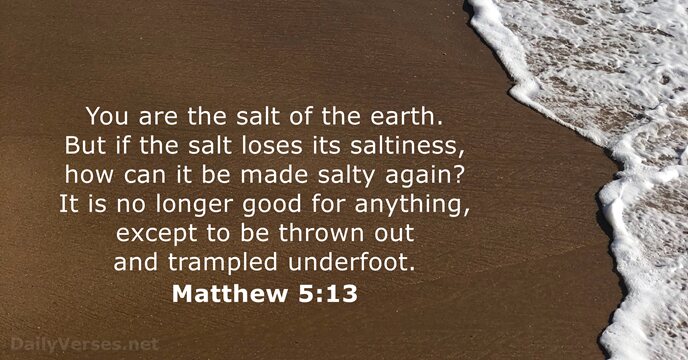 »
You are the salt of the earth. But if the salt loses its saltiness, how can it be made salty again? It is no longer good for anything, except to be thrown out and trampled underfoot.

The one who does what is sinful is of the devil, because the devil has been sinning from the beginning. The reason the Son of God appeared was to destroy the devil's work.

Therefore, since we are surrounded by such a great cloud of witnesses, let us throw off everything that hinders and the sin that so easily entangles. And let us run with perseverance the race marked out for us.

For what I received I passed on to you as of first importance: that Christ died for our sins according to the Scriptures, that he was buried, that he was raised on the third day according to the Scriptures.

Therefore, since Christ suffered in his body, arm yourselves also with the same attitude, because whoever suffers in the body is done with sin.

As far as the east is from the west,
so far has he removed our transgressions from us.

The Son is the radiance of God's glory and the exact representation of his being, sustaining all things by his powerful word. After he had provided purification for sins, he sat down at the right hand of the Majesty in heaven.

And now what are you waiting for? Get up, be baptized and wash your sins away, calling on his name.

But now that you have been set free from sin and have become slaves of God, the benefit you reap leads to holiness, and the result is eternal life.

Is anyone among you sick? Let them call the elders of the church to pray over them and anoint them with oil in the name of the Lord. And the prayer offered in faith will make the sick person well; the Lord will raise them up. If they have sinned, they will be forgiven.

For if we have been united with him in a death like his, we will certainly also be united with him in a resurrection like his. For we know that our old self was crucified with him so that the body ruled by sin might be done away with, that we should no longer be slaves to sin.

Religion that God our Father accepts as pure and faultless is this: to look after orphans and widows in their distress and to keep oneself from being polluted by the world.

Help us, God our Savior,
for the glory of your name;
deliver us and forgive our sins
for your name's sake.

You have heard that it was said, 'You shall not commit adultery.' But I tell you that anyone who looks at a woman lustfully has already committed adultery with her in his heart.

If your right eye causes you to stumble, gouge it out and throw it away. It is better for you to lose one part of your body than for your whole body to be thrown into hell.

Very rarely will anyone die for a righteous person, though for a good person someone might possibly dare to die. But God demonstrates his own love for us in this: While we were still sinners, Christ died for us.

Better is one day in your courts
than a thousand elsewhere;
I would rather be a doorkeeper in the house of my God
than dwell in the tents of the wicked.

For we do not have a high priest who is unable to empathize with our weaknesses, but we have one who has been tempted in every way, just as we are—yet he did not sin.

Then Peter came to Jesus and asked, "Lord, how many times shall I forgive my brother or sister who sins against me? Up to seven times?" Jesus answered, "I tell you, not seven times, but seventy-seven times."

Many will be purified, made spotless and refined, but the wicked will continue to be wicked. None of the wicked will understand, but those who are wise will understand.

For he has rescued us from the dominion of darkness and brought us into the kingdom of the Son he loves, in whom we have redemption, the forgiveness of sins.

But the face of the L

ord

is against those who do evil,
to blot out their name from the earth.

And when you stand praying, if you hold anything against anyone, forgive them, so that your Father in heaven may forgive you your sins.

How much more, then, will the blood of Christ, who through the eternal Spirit offered himself unblemished to God, cleanse our consciences from acts that lead to death, so that we may serve the living God!

But if you do not forgive others their sins, your Father will not forgive your sins.
Each of us should please our neighbors for their good, to build them up.
Personal Bible reading plan
Create an account to configure your Bible reading plan and you will see your progress and the next chapter to read here!
Read more...