«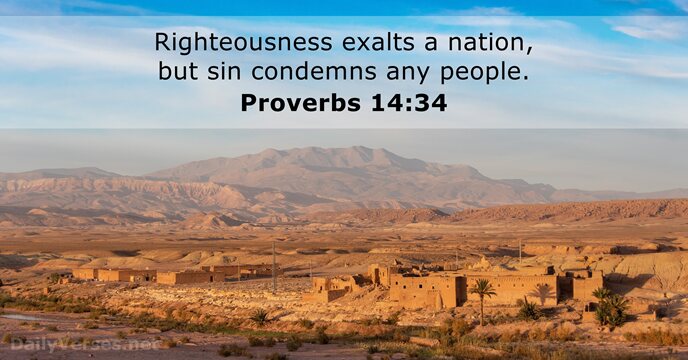 »
You are the salt of the earth. But if the salt loses its saltiness, how can it be made salty again? It is no longer good for anything, except to be thrown out and trampled underfoot.

Righteousness exalts a nation,
but sin condemns any people.
I have swept away your offenses like a cloud,
your sins like the morning mist.
Return to me,
for I have redeemed you.

When anyone becomes aware that they are guilty in any of these matters, they must confess in what way they have sinned.

Help us, God our Savior,
for the glory of your name;
deliver us and forgive our sins
for your name's sake.
When I kept silent,
my bones wasted away
through my groaning all day long.

For if we have been united with him in a death like his, we will certainly also be united with him in a resurrection like his. For we know that our old self was crucified with him so that the body ruled by sin might be done away with, that we should no longer be slaves to sin.

Who gave himself for us to redeem us from all wickedness and to purify for himself a people that are his very own, eager to do what is good.

Very rarely will anyone die for a righteous person, though for a good person someone might possibly dare to die. But God demonstrates his own love for us in this: While we were still sinners, Christ died for us.

If your right eye causes you to stumble, gouge it out and throw it away. It is better for you to lose one part of your body than for your whole body to be thrown into hell.

Religion that God our Father accepts as pure and faultless is this: to look after orphans and widows in their distress and to keep oneself from being polluted by the world.

For we do not have a high priest who is unable to empathize with our weaknesses, but we have one who has been tempted in every way, just as we are—yet he did not sin.

Everyone who sins breaks the law; in fact, sin is lawlessness.

The Son is the radiance of God's glory and the exact representation of his being, sustaining all things by his powerful word. After he had provided purification for sins, he sat down at the right hand of the Majesty in heaven.

But if a wicked person turns away from all the sins they have committed and keeps all my decrees and does what is just and right, that person will surely live; they will not die.

Come back to your senses as you ought, and stop sinning; for there are some who are ignorant of God—I say this to your shame.

You have heard that it was said, 'You shall not commit adultery.' But I tell you that anyone who looks at a woman lustfully has already committed adultery with her in his heart.

The way of the L

ord

is a refuge for the blameless,
but it is the ruin of those who do evil.
I will show the holiness of my great name, which has been profaned among the nations, the name you have profaned among them. Then the nations will know that I am the L

ord

, declares the Sovereign L

ord

, when I am proved holy through you before their eyes.

What shall we say, then? Is the law sinful? Certainly not! Nevertheless, I would not have known what sin was had it not been for the law. For I would not have known what coveting really was if the law had not said, "You shall not covet."

Better is one day in your courts
than a thousand elsewhere;
I would rather be a doorkeeper in the house of my God
than dwell in the tents of the wicked.
He reveals deep and hidden things;
he knows what lies in darkness,
and light dwells with him.

But the gift is not like the trespass. For if the many died by the trespass of the one man, how much more did God's grace and the gift that came by the grace of the one man, Jesus Christ, overflow to the many!

Better the little that the righteous have
than the wealth of many wicked;
for the power of the wicked will be broken,
but the L

ord

upholds the righteous.
But the face of the L

ord

is against those who do evil,
to blot out their name from the earth.
By this everyone will know that you are my disciples, if you love one another.
Personal Bible reading plan
Create an account to configure your Bible reading plan and you will see your progress and the next chapter to read here!
Read more...