«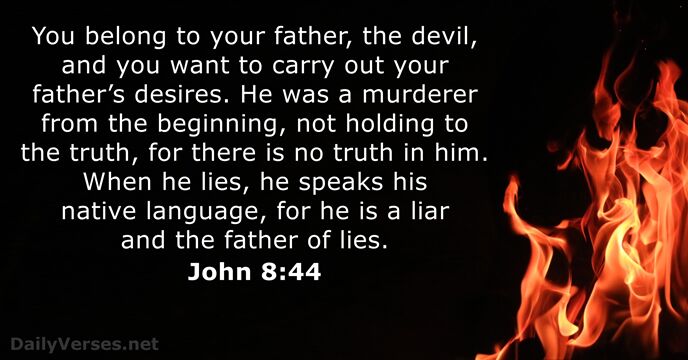 »
So that, just as sin reigned in death, so also grace might reign through righteousness to bring eternal life through Jesus Christ our Lord.

You belong to your father, the devil, and you want to carry out your father's desires. He was a murderer from the beginning, not holding to the truth, for there is no truth in him. When he lies, he speaks his native language, for he is a liar and the father of lies.

What shall we say, then? Is the law sinful? Certainly not! Nevertheless, I would not have known what sin was had it not been for the law. For I would not have known what coveting really was if the law had not said, "You shall not covet."

I will show the holiness of my great name, which has been profaned among the nations, the name you have profaned among them. Then the nations will know that I am the L

ord

, declares the Sovereign L

ord

, when I am proved holy through you before their eyes.

Then the eyes of both of them were opened, and they realized they were naked; so they sewed fig leaves together and made coverings for themselves.

Better the little that the righteous have
than the wealth of many wicked;
for the power of the wicked will be broken,
but the L

ord

upholds the righteous.
He reveals deep and hidden things;
he knows what lies in darkness,
and light dwells with him.

When God raised up his servant, he sent him first to you to bless you by turning each of you from your wicked ways.

If your brother or sister sins against you, rebuke them; and if they repent, forgive them. Even if they sin against you seven times in a day and seven times come back to you saying 'I repent,' you must forgive them.

But the gift is not like the trespass. For if the many died by the trespass of the one man, how much more did God's grace and the gift that came by the grace of the one man, Jesus Christ, overflow to the many!

Who gave himself for us to redeem us from all wickedness and to purify for himself a people that are his very own, eager to do what is good.

For I will forgive their wickedness
and will remember their sins no more.

And so I tell you, every kind of sin and slander can be forgiven, but blasphemy against the Spirit will not be forgiven.
Each of us should please our neighbors for their good, to build them up.
Personal Bible reading plan
Create an account to configure your Bible reading plan and you will see your progress and the next chapter to read here!
Read more...