Read this Bible book online, click
here
to read.
Bible Verses
«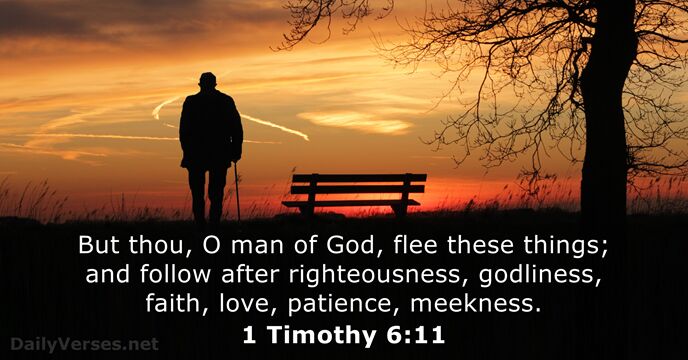 »
But thou, O man of God, flee these things; and follow after righteousness, godliness, faith, love, patience, meekness.
But they that will be rich fall into temptation and a snare, and into many foolish and hurtful lusts, which drown men in destruction and perdition.
But if any provide not for his own, and specially for those of his own house, he hath denied the faith, and is worse than an infidel.
For we brought nothing into this world, and it is certain we can carry nothing out. And having food and raiment let us be therewith content.
Charge them that are rich in this world, that they be not highminded, nor trust in uncertain riches, but in the living God, who giveth us richly all things to enjoy.
For there is one God, and one mediator between God and men, the man Christ Jesus.
Let no man despise thy youth; but be thou an example of the believers, in word, in conversation, in charity, in spirit, in faith, in purity.
But godliness with contentment is great gain.
Fight the good fight of faith, lay hold on eternal life, whereunto thou art also called, and hast professed a good profession before many witnesses.
For the love of money is the root of all evil: which while some coveted after, they have erred from the faith, and pierced themselves through with many sorrows.
Receive the Daily Bible Verse:
But unto you that fear my name shall the Sun of righteousness arise with healing in his wings; and ye shall go forth, and grow up as calves of the stall.