30 Versículos de la Biblia acerca de Seguir
«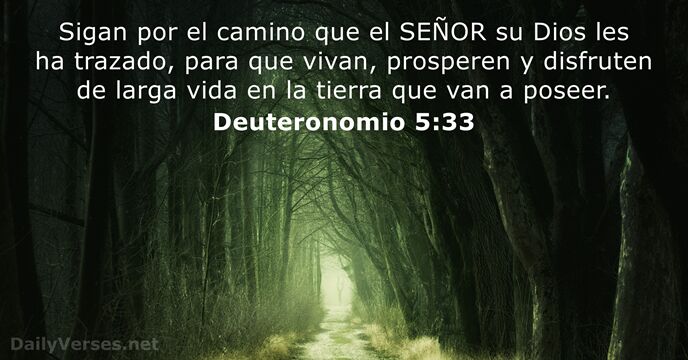 »
Sigan por el camino que el S

eñor

su Dios les ha trazado, para que vivan, prosperen y disfruten de larga vida en la tierra que van a poseer.
You shall walk in all the way that the L

ord

your God has commanded you, that you may live, and that it may go well with you, and that you may live long in the land that you shall possess.
El S

eñor

mismo marchará al frente de ti y estará contigo; nunca te dejará ni te abandonará. No temas ni te desanimes.
It is the L

ord

who goes before you. He will be with you; he will not leave you or forsake you. Do not fear or be dismayed.

Guía mis pasos conforme a tu promesa; no dejes que me domine la iniquidad.

Keep steady my steps according to your promise, and let no iniquity get dominion over me.

Una vez más Jesús se dirigió a la gente, y les dijo: —Yo soy la luz del mundo. El que me sigue no andará en tinieblas, sino que tendrá la luz de la vida.

Again Jesus spoke to them, saying, "I am the light of the world. Whoever follows me will not walk in darkness, but will have the light of life."

Que el Señor los lleve a amar como Dios ama, y a perseverar como Cristo perseveró.

May the Lord direct your hearts to the love of God and to the steadfastness of Christ.

Solamente al S

eñor

tu Dios debes seguir y rendir culto. Cumple sus mandamientos y obedécelo; sírvele y permanece fiel a él.
You shall walk after the L

ord

your God and fear him and keep his commandments and obey his voice, and you shall serve him and hold fast to him.

Y el que no toma su cruz y me sigue no es digno de mí.

And whoever does not take his cross and follow me is not worthy of me.

Entonces llamó a la multitud y a sus discípulos.—Si alguien quiere ser mi discípulo —les dijo—, que se niegue a sí mismo, lleve su cruz y me siga.

And calling the crowd to him with his disciples, he said to them, "If anyone would come after me, let him deny himself and take up his cross and follow me."

Si el Espíritu nos da vida, andemos guiados por el Espíritu.

If we live by the Spirit, let us also keep in step with the Spirit.

Por tanto, imiten a Dios, como hijos muy amados.

Therefore be imitators of God, as beloved children.

Dichosos todos los que temen al S

eñor

, los que van por sus caminos.
Blessed is everyone who fears the L

ord

, who walks in his ways!

Quien quiera servirme, debe seguirme; y donde yo esté, allí también estará mi siervo. A quien me sirva, mi Padre lo honrará.

If anyone serves me, he must follow me; and where I am, there will my servant be also. If anyone serves me, the Father will honor him.

Para esto fueron llamados, porque Cristo sufrió por ustedes, dándoles ejemplo para que sigan sus pasos.

For to this you have been called, because Christ also suffered for you, leaving you an example, so that you might follow in his steps.

El S

eñor

afirma los pasos del hombre cuando le agrada su modo de vivir.
The steps of a man are established by the L

ord

, when he delights in his way.

Porque somos hechura de Dios, creados en Cristo Jesús para buenas obras, las cuales Dios dispuso de antemano a fin de que las pongamos en práctica.

For we are his workmanship, created in Christ Jesus for good works, which God prepared beforehand, that we should walk in them.

Y todo lo que hagan, de palabra o de obra, háganlo en el nombre del Señor Jesús, dando gracias a Dios el Padre por medio de él.

And whatever you do, in word or deed, do everything in the name of the Lord Jesus, giving thanks to God the Father through him.

Jesús se dirigió entonces a los judíos que habían creído en él, y les dijo: —Si se mantienen fieles a mis enseñanzas, serán realmente mis discípulos; y conocerán la verdad, y la verdad los hará libres.

So Jesus said to the Jews who had believed him, "If you abide in my word, you are truly my disciples, and you will know the truth, and the truth will set you free."

—Si quieres ser perfecto, anda, vende lo que tienes y dáselo a los pobres, y tendrás tesoro en el cielo. Luego ven y sígueme.

Jesus said to him, "If you would be perfect, go, sell what you possess and give to the poor, and you will have treasure in heaven; and come, follow me."

Así también la fe por sí sola, si no tiene obras, está muerta.

So also faith by itself, if it does not have works, is dead.

No te desvíes ni a diestra ni a siniestra; apártate de la maldad.

Do not swerve to the right or to the left; turn your foot away from evil.

Pero, si a ustedes les parece mal servir al S

eñor

, elijan ustedes mismos a quiénes van a servir: a los dioses que sirvieron sus antepasados al otro lado del río Éufrates, o a los dioses de los amorreos, en cuya tierra ustedes ahora habitan. Por mi parte, mi familia y yo serviremos al S

eñor

.
And if it is evil in your eyes to serve the L

ord

, choose this day whom you will serve, whether the gods your fathers served in the region beyond the River, or the gods of the Amorites in whose land you dwell. But as for me and my house, we will serve the L

ord

.

De este modo todos sabrán que son mis discípulos, si se aman los unos a los otros.

By this all people will know that you are my disciples, if you have love for one another.

El Dios que da la paz levantó de entre los muertos al gran Pastor de las ovejas, a nuestro Señor Jesús, por la sangre del pacto eterno. Que él los capacite en todo lo bueno para hacer su voluntad. Y que, por medio de Jesucristo, Dios cumpla en nosotros lo que le agrada. A él sea la gloria por los siglos de los siglos. Amén.

Now may the God of peace who brought again from the dead our Lord Jesus, the great shepherd of the sheep, by the blood of the eternal covenant, equip you with everything good that you may do his will, working in us that which is pleasing in his sight, through Jesus Christ, to whom be glory forever and ever. Amen.

Me doy prisa, no tardo nada para cumplir tus mandamientos.

I hasten and do not delay to keep your commandments.

Mi Padre es glorificado cuando ustedes dan mucho fruto y muestran así que son mis discípulos.

By this my Father is glorified, that you bear much fruit and so prove to be my disciples.
¿Quién es el que vence al mundo sino el que cree que Jesús es el Hijo de Dios?
Sigan por el camino que el S

eñor

su Dios les ha trazado, para que vivan, prosperen y disfruten de larga vida en la tierra que van a poseer.
¿Quién es el que vence al mundo sino el que cree que Jesús es el Hijo de Dios?
Plan de lectura de la Biblia
Registrar y configurar su plan de lectura de la Biblia que desea ver su progreso y el siguiente capítulo para leer aquí!