Versículos de la Biblia sobre la Seguridad
«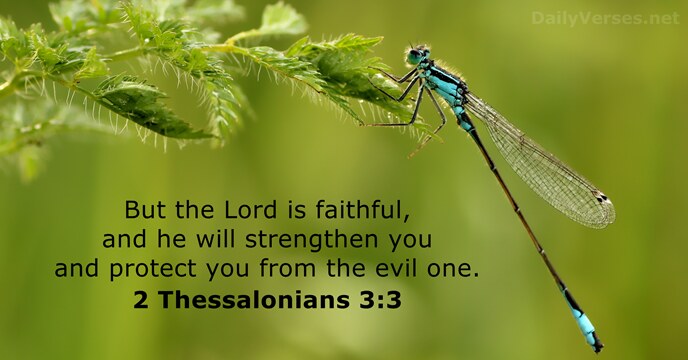 »
Pero fiel es el Señor, que os afirmará y guardará del mal.

But the Lord is faithful, and he will strengthen you and protect you from the evil one.

Jehová es mi luz y mi salvación, ¿de quién temeré? Jehová es la fortaleza de mi vida, ¿de quién he de atemorizarme?

The L

ord

is my light and my salvation— whom shall I fear? The L

ord

is the stronghold of my life— of whom shall I be afraid?

El que habita al abrigo del Altísimo morará bajo la sombra del Omnipotente. Diré yo a Jehová: «Esperanza mía y castillo mío; mi Dios, en quien confiaré.»

Whoever dwells in the shelter of the Most High will rest in the shadow of the Almighty. I will say of the L

ord

, "He is my refuge and my fortress, my God, in whom I trust."

Dios es nuestro amparo y fortaleza, nuestro pronto auxilio en las tribulaciones.

God is our refuge and strength, an ever-present help in trouble.

Tú eres mi refugio; me guardarás de la angustia; con cánticos de liberación me rodearás. Selah

You are my hiding place; you will protect me from trouble and surround me with songs of deliverance.

En paz me acostaré y asimismo dormiré, porque sólo tú, Jehová, me haces vivir confiado.

In peace I will lie down and sleep, for you alone, L

ord

, make me dwell in safety.

Jehová es bueno, fortaleza en el día de la angustia, y conoce a los que en él confían.

The L

ord

is good, a refuge in times of trouble. He cares for those who trust in him.

Echa sobre Jehová tu carga y él te sostendrá; no dejará para siempre caído al justo.

Cast your cares on the L

ord

and he will sustain you; he will never let the righteous be shaken.

El prudente ve el mal y se esconde, pero los incautos pasan y se llevan el daño.

The prudent see danger and take refuge, but the simple keep going and pay the penalty.

Con sus plumas te cubrirá y debajo de sus alas estarás seguro; escudo y protección es su verdad.

He will cover you with his feathers, and under his wings you will find refuge; his faithfulness will be your shield and rampart.

Tú guardarás en completa paz a aquel cuyo pensamiento en ti persevera, porque en ti ha confiado.

You will keep in perfect peace those whose minds are steadfast, because they trust in you.

No ruego que los quites del mundo, sino que los guardes del mal.

My prayer is not that you take them out of the world but that you protect them from the evil one.

Jehová cumplirá su propósito en mí. Tu misericordia, Jehová, es para siempre; ¡no desampares la obra de tus manos!

The L

ord

will vindicate me; your love, L

ord

, endures forever— do not abandon the works of your hands.

El que camina en integridad anda confiado, pero el que pervierte sus caminos sufrirá quebranto.

Whoever walks in integrity walks securely, but whoever takes crooked paths will be found out.

Por tanto, no durmamos como los demás, sino vigilemos y seamos sobrios.

So then, let us not be like others, who are asleep, but let us be awake and sober.

Mejor es confiar en Jehová que confiar en el hombre.

It is better to take refuge in the L

ord

than to trust in humans.

Porque satisfaré al alma cansada y saciaré a toda alma entristecida.

I will refresh the weary and satisfy the faint.

Fuerte torre es el nombre de Jehová; a ella corre el justo y se siente seguro.

The name of the L

ord

is a fortified tower; the righteous run to it and are safe.

Solamente él es mi roca y mi salvación; es mi refugio, no resbalaré mucho.

Truly he is my rock and my salvation; he is my fortress, I will never be shaken.

Confía en Jehová y haz el bien; habitarás en la tierra y te apacentarás de la verdad.

Trust in the L

ord

and do good; dwell in the land and enjoy safe pasture.

Someteos, pues, a Dios; resistid al diablo, y huirá de vosotros.

Submit yourselves, then, to God. Resist the devil, and he will flee from you.

Jehová será refugio del pobre, refugio para el tiempo de angustia.

The L

ord

is a refuge for the oppressed, a stronghold in times of trouble.

Estableceré mi pacto con vosotros, y no volveré a exterminar a todos los seres vivos con aguas de diluvio, ni habrá más diluvio para destruir la tierra.

I establish my covenant with you: Never again will all life be destroyed by the waters of a flood; never again will there be a flood to destroy the earth.

Cantad a Dios, cantad salmos a su nombre; exaltad al que cabalga sobre los cielos. Jah es su nombre: ¡alegraos delante de él! Padre de huérfanos y defensor de viudas es Dios en su santa morada.

Sing to God, sing in praise of his name, extol him who rides on the clouds; rejoice before him—his name is the L

ord

. A father to the fatherless, a defender of widows, is God in his holy dwelling.

Sáname, Jehová, y quedaré sano; sálvame, y seré salvo, porque tú eres mi alabanza.

Heal me, L

ord

, and I will be healed; save me and I will be saved, for you are the one I praise.
Y en ningún otro hay salvación, porque no hay otro nombre bajo el cielo, dado a los hombres, en que podamos ser salvos.
Plan de lectura de la Biblia
Registrar y configurar su plan de lectura de la Biblia que desea ver su progreso y el siguiente capítulo para leer aquí!