30 Versículos de la Biblia sobre la Verdad
«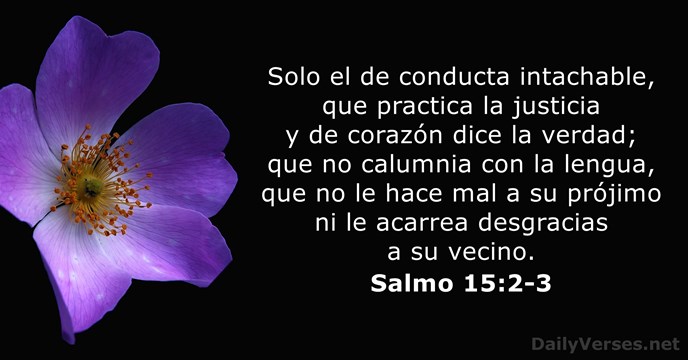 »
Sólo el de conducta intachable, que practica la justicia y de corazón dice la verdad; que no calumnia con la lengua, que no le hace mal a su prójimo ni le acarrea desgracias a su vecino.

He who walks blamelessly and does what is right and speaks truth in his heart; who does not slander with his tongue and does no evil to his neighbor, nor takes up a reproach against his friend.

Queridos hijos, no amemos de palabra ni de labios para afuera, sino con hechos y de verdad.

Little children, let us not love in word or talk but in deed and in truth.

Si afirmamos que tenemos comunión con él, pero vivimos en la oscuridad, mentimos y no ponemos en práctica la verdad.

If we say we have fellowship with him while we walk in darkness, we lie and do not practice the truth.

Nada me produce más alegría que oír que mis hijos practican la verdad.

I have no greater joy than to hear that my children are walking in the truth.

Jesús se dirigió entonces a los judíos que habían creído en él, y les dijo: —Si se mantienen fieles a mis enseñanzas, serán realmente mis discípulos; y conocerán la verdad, y la verdad los hará libres.

So Jesus said to the Jews who had believed him, "If you abide in my word, you are truly my disciples, and you will know the truth, and the truth will set you free."

Por último, hermanos, consideren bien todo lo verdadero, todo lo respetable, todo lo justo, todo lo puro, todo lo amable, todo lo digno de admiración, en fin, todo lo que sea excelente o merezca elogio.

Finally, brothers, whatever is true, whatever is honorable, whatever is just, whatever is pure, whatever is lovely, whatever is commendable, if there is any excellence, if there is anything worthy of praise, think about these things.

Más bien, al vivir la verdad con amor, creceremos hasta ser en todo como aquel que es la cabeza, es decir, Cristo.

Rather, speaking the truth in love, we are to grow up in every way into him who is the head, into Christ.

—Yo soy el camino, la verdad y la vida —le contestó Jesús—. Nadie llega al Padre sino por mí.

Jesus said to him, "I am the way, and the truth, and the life. No one comes to the Father except through me."

Ahora bien, la fe es la garantía de lo que se espera, la certeza de lo que no se ve.

Now faith is the assurance of things hoped for, the conviction of things not seen.

Esfuérzate por presentarte a Dios aprobado, como obrero que no tiene de qué avergonzarse y que interpreta rectamente la palabra de verdad.

Do your best to present yourself to God as one approved, a worker who has no need to be ashamed, rightly handling the word of truth.

Los labios del justo destilan bondad; de la boca del malvado brota perversidad.

The lips of the righteous know what is acceptable, but the mouth of the wicked, what is perverse.

Encamíname en tu verdad, ¡enséñame! Tú eres mi Dios y Salvador; ¡en ti pongo mi esperanza todo el día!

Lead me in your truth and teach me, for you are the God of my salvation; for you I wait all the day long.

Que refrene su lengua de hablar el mal y sus labios de proferir engaños.

Keep your tongue from evil and your lips from speaking deceit.

Dios es espíritu, y quienes lo adoran deben hacerlo en espíritu y en verdad.

God is spirit, and those who worship him must worship in spirit and truth.

He optado por el camino de la fidelidad, he escogido tus juicios.

I have chosen the way of faithfulness; I set your rules before me.

Toda palabra de Dios es digna de crédito; Dios protege a los que en él buscan refugio.

Every word of God proves true; he is a shield to those who take refuge in him.

Sobre todo, hermanos míos, no juren ni por el cielo ni por la tierra ni por ninguna otra cosa. Que su «sí» sea «sí», y su «no», «no», para que no sean condenados.

But above all, my brothers, do not swear, either by heaven or by earth or by any other oath, but let your "yes" be yes and your "no" be no, so that you may not fall under condemnation.

En cuanto a ustedes, la unción que de él recibieron permanece en ustedes, y no necesitan que nadie les enseñe. Esa unción es auténtica —no es falsa— y les enseña todas las cosas. Permanezcan en él, tal y como él les enseñó.

But the anointing that you received from him abides in you, and you have no need that anyone should teach you. But as his anointing teaches you about everything, and is true, and is no lie—just as it has taught you, abide in him.

Por su propia voluntad nos hizo nacer mediante la palabra de verdad, para que fuéramos como los primeros y mejores frutos de su creación.

Of his own will he brought us forth by the word of truth, that we should be a kind of firstfruits of his creatures.

La palabra del S

eñor

es justa; fieles son todas sus obras.
For the word of the L

ord

is upright, and all his work is done in faithfulness.

Aleja de tu boca la perversidad; aparta de tus labios las palabras corruptas.

Put away from you crooked speech, and put devious talk far from you.

También sabemos que el Hijo de Dios ha venido y nos ha dado entendimiento para que conozcamos al Dios verdadero. Y estamos con el Verdadero, con su Hijo Jesucristo. Este es el Dios verdadero y la vida eterna.

And we know that the Son of God has come and has given us understanding, so that we may know him who is true; and we are in him who is true, in his Son Jesus Christ. He is the true God and eternal life.

Y el Verbo se hizo hombre y habitó entre nosotros. Y hemos contemplado su gloria, la gloria que corresponde al Hijo unigénito del Padre, lleno de gracia y de verdad.

And the Word became flesh and dwelt among us, and we have seen his glory, glory as of the only Son from the Father, full of grace and truth.

Pero les digo la verdad: Les conviene que me vaya porque, si no lo hago, el Consolador no vendrá a ustedes; en cambio, si me voy, se lo enviaré a ustedes.

Nevertheless, I tell you the truth: it is to your advantage that I go away, for if I do not go away, the Helper will not come to you. But if I go, I will send him to you.

Cuando venga el Consolador, que yo les enviaré de parte del Padre, el Espíritu de verdad que procede del Padre, él testificará acerca de mí.

But when the Helper comes, whom I will send to you from the Father, the Spirit of truth, who proceeds from the Father, he will bear witness about me.
Hacia ti extiendo las manos;
me haces falta, como el agua a la tierra seca. Selah
Me buscarán y me encontrarán, cuando me busquen de todo corazón.
Hacia ti extiendo las manos; me haces falta, como el agua a la tierra seca. Selah
Plan de lectura de la Biblia
Registrar y configurar su plan de lectura de la Biblia que desea ver su progreso y el siguiente capítulo para leer aquí!