41 Versículos de la Biblia sobre la Vida Eterna
«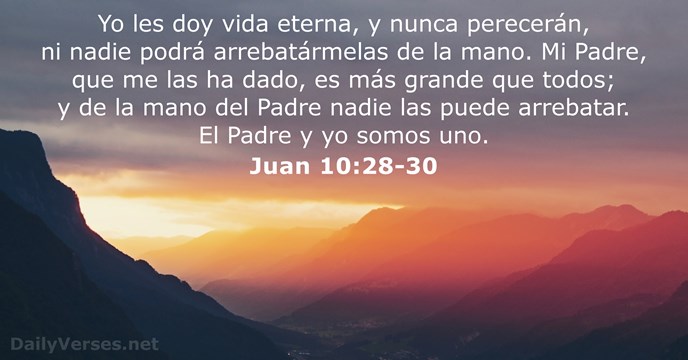 »
Yo les doy vida eterna, y nunca perecerán, ni nadie podrá arrebatármelas de la mano. Mi Padre, que me las ha dado, es más grande que todos; y de la mano del Padre nadie las puede arrebatar. El Padre y yo somos uno.

I give them eternal life, and they will never perish, and no one will snatch them out of my hand. My Father, who has given them to me, is greater than all, and no one is able to snatch them out of the Father's hand. I and the Father are one.

En verdad, quien me encuentra halla la vida y recibe el favor del S

eñor

.
For whoever finds me finds life and obtains favor from the L

ord

.

Y después de que ustedes hayan sufrido un poco de tiempo, Dios mismo, el Dios de toda gracia que los llamó a su gloria eterna en Cristo, los restaurará y los hará fuertes, firmes y estables.

And after you have suffered a little while, the God of all grace, who has called you to his eternal glory in Christ, will himself restore, confirm, strengthen, and establish you.

El mundo se acaba con sus malos deseos, pero el que hace la voluntad de Dios permanece para siempre.

And the world is passing away along with its desires, but whoever does the will of God abides forever.

Así que no nos fijamos en lo visible sino en lo invisible, ya que lo que se ve es pasajero, mientras que lo que no se ve es eterno.

As we look not to the things that are seen but to the things that are unseen. For the things that are seen are transient, but the things that are unseen are eternal.

Y el testimonio es este: que Dios nos ha dado vida eterna, y esa vida está en su Hijo.

And this is the testimony, that God gave us eternal life, and this life is in his Son.

Porque tanto amó Dios al mundo, que dio a su Hijo unigénito, para que todo el que cree en él no se pierda, sino que tenga vida eterna.

For God so loved the world, that he gave his only Son, that whoever believes in him should not perish but have eternal life.

Pues los sufrimientos ligeros y efímeros que ahora padecemos producen una gloria eterna que vale muchísimo más que todo sufrimiento.

For this light momentary affliction is preparing for us an eternal weight of glory beyond all comparison.

Les escribo estas cosas a ustedes que creen en el nombre del Hijo de Dios, para que sepan que tienen vida eterna.

I write these things to you who believe in the name of the Son of God that you may know that you have eternal life.

Examíname, oh Dios, y sondea mi corazón; ponme a prueba y sondea mis pensamientos. Fíjate si voy por mal camino, y guíame por el camino eterno.

Search me, O God, and know my heart! Try me and know my thoughts! And see if there be any grievous way in me, and lead me in the way everlasting!

Porque la paga del pecado es muerte, mientras que la dádiva de Dios es vida eterna en Cristo Jesús, nuestro Señor.

For the wages of sin is death, but the free gift of God is eternal life in Christ Jesus our Lord.

Y ésta es la vida eterna: que te conozcan a ti, el único Dios verdadero, y a Jesucristo, a quien tú has enviado.

And this is eternal life, that they know you the only true God, and Jesus Christ whom you have sent.

El que cree en el Hijo tiene vida eterna; pero el que rechaza al Hijo no sabrá lo que es esa vida, sino que permanecerá bajo el castigo de Dios.

Whoever believes in the Son has eternal life; whoever does not obey the Son shall not see life, but the wrath of God remains on him.

Oí una potente voz que provenía del trono y decía: «¡Aquí, entre los seres humanos, está la morada de Dios! Él acampará en medio de ellos, y ellos serán su pueblo; Dios mismo estará con ellos y será su Dios. Él les enjugará toda lágrima de los ojos. Ya no habrá muerte, ni llanto, ni lamento ni dolor, porque las primeras cosas han dejado de existir.»

And I heard a loud voice from the throne saying, "Behold, the dwelling place of God is with man. He will dwell with them, and they will be his people, and God himself will be with them as their God. He will wipe away every tear from their eyes, and death shall be no more, neither shall there be mourning, nor crying, nor pain anymore, for the former things have passed away."

Entren por la puerta estrecha. Porque es ancha la puerta y espacioso el camino que conduce a la destrucción, y muchos entran por ella. Pero estrecha es la puerta y angosto el camino que conduce a la vida, y son pocos los que la encuentran.

Enter by the narrow gate. For the gate is wide and the way is easy that leads to destruction, and those who enter by it are many. For the gate is narrow and the way is hard that leads to life, and those who find it are few.

Pelea la buena batalla de la fe; haz tuya la vida eterna, a la que fuiste llamado y por la cual hiciste aquella admirable declaración de fe delante de muchos testigos.

Fight the good fight of the faith. Take hold of the eternal life to which you were called and about which you made the good confession in the presence of many witnesses.

De hecho, considero que en nada se comparan los sufrimientos actuales con la gloria que habrá de revelarse en nosotros.

For I consider that the sufferings of this present time are not worth comparing with the glory that is to be revealed to us.

Pero el que beba del agua que yo le daré, no volverá a tener sed jamás, sino que dentro de él esa agua se convertirá en un manantial del que brotará vida eterna.

But whoever drinks of the water that I will give him will never be thirsty again. The water that I will give him will become in him a spring of water welling up to eternal life.

«Yo soy el Alfa y la Omega —dice el Señor Dios—, el que es y que era y que ha de venir, el Todopoderoso.»

"I am the Alpha and the Omega," says the Lord God, "who is and who was and who is to come, the Almighty."

El que encuentre su vida, la perderá, y el que la pierda por mi causa, la encontrará.

Whoever finds his life will lose it, and whoever loses his life for my sake will find it.

El que siembra para agradar a su naturaleza pecaminosa, de esa misma naturaleza cosechará destrucción; el que siembra para agradar al Espíritu, del Espíritu cosechará vida eterna.

For the one who sows to his own flesh will from the flesh reap corruption, but the one who sows to the Spirit will from the Spirit reap eternal life.

Pero precisamente por eso Dios fue misericordioso conmigo, a fin de que en mí, el peor de los pecadores, pudiera Cristo Jesús mostrar su infinita bondad. Así vengo a ser ejemplo para los que, creyendo en él, recibirán la vida eterna.

But I received mercy for this reason, that in me, as the foremost, Jesus Christ might display his perfect patience as an example to those who were to believe in him for eternal life.

Por eso también puede salvar por completo a los que por medio de él se acercan a Dios, ya que vive siempre para interceder por ellos.

Consequently, he is able to save to the uttermost those who draw near to God through him, since he always lives to make intercession for them.

Porque el S

eñor

ama la justicia y no abandona a quienes le son fieles. El S

eñor

los protegerá para siempre, pero acabará con la descendencia de los malvados.
For the L

ord

loves justice; he will not forsake his saints. They are preserved forever, but the children of the wicked shall be cut off.

A fin de que, así como reinó el pecado en la muerte, reine también la gracia que nos trae justificación y vida eterna por medio de Jesucristo nuestro Señor.

So that, as sin reigned in death, grace also might reign through righteousness leading to eternal life through Jesus Christ our Lord.
Por lo tanto, siempre que tengamos la oportunidad, hagamos bien a todos, y en especial a los de la familia de la fe.
El amor debe ser sincero. Aborrezcan el mal; aférrense al bien.
Por lo tanto, siempre que tengamos la oportunidad, hagamos bien a todos, y en especial a los de la familia de la fe.
Plan de lectura de la Biblia
Registrar y configurar su plan de lectura de la Biblia que desea ver su progreso y el siguiente capítulo para leer aquí!