Bible Verses about Evil
«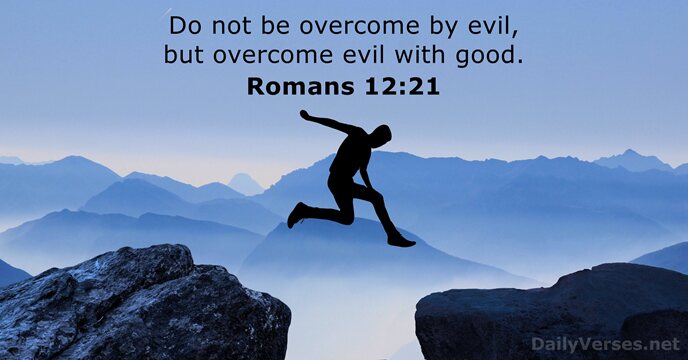 »
Do not be overcome by evil, but overcome evil with good.

Älä anna pahan voittaa itseäsi, vaan voita sinä paha hyvällä.

The L

ord

will keep you from all harm— he will watch over your life; the L

ord

will watch over your coming and going both now and forevermore.

Herra varjelee sinut kaikelta pahalta, hän suojelee koko elämäsi. Herra varjelee kaikki sinun askeleesi, sinun lähtösi ja tulosi nyt ja aina.

Put on the full armor of God, so that you can take your stand against the devil's schemes.

Pukekaa yllenne Jumalan taisteluvarustus, jotta voisitte pitää puolianne Paholaisen juonia vastaan.

I urge you, brothers and sisters, to watch out for those who cause divisions and put obstacles in your way that are contrary to the teaching you have learned. Keep away from them.

Kehotan teitä, veljet, varomaan niitä, jotka saavat aikaan eripuraisuutta ja houkuttelevat teitä luopumaan niistä opetuksista, jotka olette saaneet. Pysykää heistä erossa.

He went on: "What comes out of a person is what defiles them. For it is from within, out of a person's heart, that evil thoughts come—sexual immorality, theft, murder, adultery, greed, malice, deceit, lewdness, envy, slander, arrogance and folly. All these evils come from inside and defile a person."

Ja hän jatkoi: »Se mikä tulee ihmisestä ulos, se saastuttaa ihmisen. Juuri ihmisen sisältä, sydämestä, lähtevät pahat ajatukset, ja niiden mukana siveettömyys, varkaudet, murhat, aviorikokset, ahneus, häijyys, vilppi, irstaus, pahansuopuus, herjaus, ylpeys ja uhmamieli. Kaikki tämä paha tulee ihmisen sisältä ja saastuttaa hänet.»

For our struggle is not against flesh and blood, but against the rulers, against the authorities, against the powers of this dark world and against the spiritual forces of evil in the heavenly realms.

Emmehän me taistele ihmisiä vastaan vaan henkivaltoja ja voimia vastaan, tämän pimeyden maailman hallitsijoita ja avaruuden pahoja henkiä vastaan.

To fear the L

ord

is to hate evil; I hate pride and arrogance, evil behavior and perverse speech.

Joka Herraa pelkää, vihaa kaikkea pahaa. Ylpeyttä minä vihaan, kopeaa mieltä, pahoja tekoja ja vilpillistä puhetta.

You intended to harm me, but God intended it for good to accomplish what is now being done, the saving of many lives.

Te kyllä tarkoititte minulle pahaa, mutta Jumala käänsi sen hyväksi. Hän antoi tämän kaiken tapahtua, jotta monet ihmiset saisivat jäädä henkiin.

Make sure that nobody pays back wrong for wrong, but always strive to do what is good for each other and for everyone else.

Katsokaa, ettei kukaan maksa pahaa pahalla. Pyrkikää aina tekemään hyvää toisillenne ja kaikille ihmisille.

"In your anger do not sin": Do not let the sun go down while you are still angry, and do not give the devil a foothold.

Vaikka vihastuttekin, älkää tehkö syntiä. Sopikaa riitanne, ennen kuin aurinko laskee. Älkää antako Paholaiselle tilaisuutta.

Love must be sincere. Hate what is evil; cling to what is good.

Olkoon rakkautenne vilpitöntä. Vihatkaa pahaa, pysykää kiinni hyvässä.

But test them all; hold on to what is good, reject every kind of evil.

Koetelkaa kaikkea ja pitäkää se mikä on hyvää. Pysykää erossa kaikesta pahasta.

Do not be wise in your own eyes; fear the L

ord

and shun evil. This will bring health to your body and nourishment to your bones.

Älä luulottele olevasi viisas; pelkää Herraa ja karta pahaa. Siinä on sinulle lääke, joka pitää koko ruumiisi terveenä.

Let those who love the L

ord

hate evil, for he guards the lives of his faithful ones and delivers them from the hand of the wicked.

Te, jotka rakastatte Herraa, vihatkaa pahaa! Herra on omiensa turva, hän pelastaa heidät pahojen käsistä.

Hatred stirs up conflict, but love covers over all wrongs.

Viha ajaa ihmiset toisiaan vastaan, rakkaus peittää paljotkin rikkomukset.

My prayer is not that you take them out of the world but that you protect them from the evil one.

En kuitenkaan pyydä, että ottaisit heidät pois maailmasta, vaan että varjelisit heidät pahalta.

Turn from evil and do good; seek peace and pursue it.

Karta pahaa ja tee hyvää, pyri sopuun, rakenna rauhaa!

This is what the L

ord

Almighty said: 'Administer true justice; show mercy and compassion to one another. Do not oppress the widow or the fatherless, the foreigner or the poor. Do not plot evil against each other.'

Näin sanoo Herra Sebaot: – Tuomitkaa oikein, osoittakaa toinen toisellenne hyvyyttä ja laupeutta. Leskeä ja orpoa, muukalaista ja köyhää älkää sortako, älkää suunnitelko pahaa toinen toisellenne.

The Lord will rescue me from every evil attack and will bring me safely to his heavenly kingdom. To him be glory for ever and ever. Amen.

Herra pelastaa vastedeskin minut kaikesta pahasta ja vie minut turvaan taivaalliseen valtakuntaansa. Hänen on kunnia aina ja ikuisesti. Aamen.

Wash and make yourselves clean. Take your evil deeds out of my sight; stop doing wrong.

Peseytykää, puhdistautukaa, tehkää loppu pahoista töistänne, ne ovat aina silmissäni. Lakatkaa tekemästä pahaa.

The light shines in the darkness, and the darkness has not overcome it.

Valo loistaa pimeydessä, pimeys ei ole saanut sitä valtaansa.

Therefore, get rid of all moral filth and the evil that is so prevalent and humbly accept the word planted in you, which can save you.

Olkaa siis sävyisiä ja pankaa pois kaikki saasta ja pahuus. Ottakaa vastaan sana, joka on teihin istutettu ja joka voi pelastaa teidän sielunne.

And lead us not into temptation, but deliver us from the evil one.

Äläkä anna meidän joutua kiusaukseen, vaan päästä meidät pahasta.

Direct my footsteps according to your word; let no sin rule over me.

Tee kulkuni vakaaksi ohjeillasi, älä anna minkään vääryyden vallita minua.

If we confess our sins, he is faithful and just and will forgive us our sins and purify us from all unrighteousness.

Jos me tunnustamme syntimme, niin Jumala, joka on uskollinen ja vanhurskas, antaa meille synnit anteeksi ja puhdistaa meidät kaikesta vääryydestä.
"Come, follow me," Jesus said, "and I will send you out to fish for people."
Personal Bible reading plan
Create an account to configure your Bible reading plan and you will see your progress and the next chapter to read here!
Read more...