Bible Verses about Food
«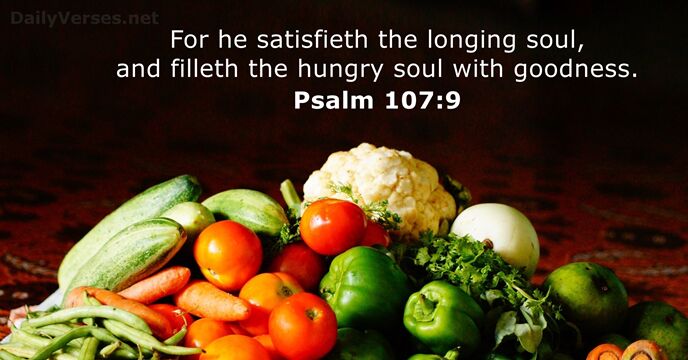 »
For he satisfieth the longing soul, and filleth the hungry soul with goodness.

Aan mensen die dorst hadden, gaf hij te drinken. Aan mensen die honger hadden, gaf hij te eten. Ze kregen meer dan genoeg.

And Jesus said unto them, I am the bread of life: he that cometh to me shall never hunger; and he that believeth on me shall never thirst.

Jezus zei: 'Ik ben het brood dat eeuwig leven geeft. Als je bij mij komt, zul je nooit meer honger hebben. Als je in mij gelooft, zul je nooit meer dorst hebben.'

Let not him that eateth despise him that eateth not; and let not him which eateth not judge him that eateth: for God hath received him.

Geloof je dat je alles mag eten? Prima. Maar denk niet dat je beter bent dan iemand die geen vlees eet. Geloof je dat je geen onrein vlees mag eten? Prima. Maar zeg niet dat het verkeerd is als een ander dat wel doet. Want bij God zijn jullie allebei welkom.

Whether therefore ye eat, or drink, or whatsoever ye do, do all to the glory of God.

Als jullie eten of drinken of andere dingen doen, doe dat dan steeds tot eer van God.

These ye shall eat of all that are in the waters: all that have fins and scales shall ye eat: And whatsoever hath not fins and scales ye may not eat; it is unclean unto you.

Jullie mogen alle dieren eten die in het water leven, als ze maar vinnen en schubben hebben. Waterdieren zonder vinnen of schubben mag je niet eten. Die dieren zijn onrein voor jullie.

And God said, Behold, I have given you every herb bearing seed, which is upon the face of all the earth, and every tree, in the which is the fruit of a tree yielding seed; to you it shall be for meat.

God zei ook: 'Alle planten en bomen op aarde zijn voor jullie. Jullie mogen de zaden en de vruchten eten.'

The liberal soul shall be made fat: and he that watereth shall be watered also himself.

Als je veel weggeeft, krijg je ook veel terug. Als je anderen te drinken geeft, zul je zelf geen dorst hebben.

But he answered and said, It is written, Man shall not live by bread alone, but by every word that proceedeth out of the mouth of God.

Maar Jezus antwoordde: 'In de heilige boeken staat: «Alleen van brood kan een mens niet leven. Maar hij leeft van elk woord dat God spreekt.»'

Every moving thing that liveth shall be meat for you; even as the green herb have I given you all things. But flesh with the life thereof, which is the blood thereof, shall ye not eat.

Jullie mogen ook hun vlees eten. Ik heb jullie al planten gegeven om te eten. Nu mogen jullie ook alle dieren eten. Maar jullie mogen geen vlees eten waar nog bloed in zit. Want bloed betekent leven.

For we brought nothing into this world, and it is certain we can carry nothing out. And having food and raiment let us be therewith content.

Toen we op de wereld kwamen, hadden we niets bij ons. En als we de wereld verlaten, kunnen we ook niets meenemen. We hebben eten en kleren. Laten we daar tevreden mee zijn.

Then he took the five loaves and the two fishes, and looking up to heaven, he blessed them, and brake, and gave to the disciples to set before the multitude. And they did eat, and were all filled: and there was taken up of fragments that remained to them twelve baskets.

Toen nam Jezus het brood en de vis. Hij keek omhoog naar de hemel en dankte God voor het voedsel. Daarna brak hij het brood en de vis in stukken. Hij gaf het aan de leerlingen, en zij deelden het uit aan de mensen. Alle mensen konden eten zo veel als ze wilden. Het eten dat overbleef, werd verzameld. Het waren twaalf manden vol.

Therefore I say unto you, Take no thought for your life, what ye shall eat, or what ye shall drink; nor yet for your body, what ye shall put on. Is not the life more than meat, and the body than raiment?

Luister naar mijn woorden: Maak je geen zorgen over eten en drinken. Want je leven is veel belangrijker dan eten en drinken. En maak je geen zorgen over kleren. Want je lichaam is veel belangrijker dan kleren.

Behold, I stand at the door, and knock: if any man hear my voice, and open the door, I will come in to him, and will sup with him, and he with me.

Ik roep jullie alsof ik voor jullie deur sta. Als jullie mij horen en binnenlaten, zal ik altijd bij jullie zijn.

Then he said unto them, Go your way, eat the fat, and drink the sweet, and send portions unto them for whom nothing is prepared: for this day is holy unto our L

ord

: neither be ye sorry; for the joy of the L

ord

is your strength.

Ga thuis een feestelijke maaltijd klaarmaken met lekker eten en drinken. En deel je feestmaal met mensen die niets hebben. Want dit is een heilige dag, een dag ter ere van de Heer. Droog je tranen, en wees blij met wat de Heer voor jullie doet. Hij geeft jullie steeds nieuwe kracht!

Let no man therefore judge you in meat, or in drink, or in respect of an holyday, or of the new moon, or of the sabbath days: Which are a shadow of things to come; but the body is of Christ.

Luister niet naar mensen die jullie veroordelen om wat je eet en drinkt. En laat je niet veroordelen omdat je je niet aan de regels van de sabbat houdt. Of omdat je geen feesten viert, zoals het Feest van Nieuwe Maan. Die dingen zijn nu niet belangrijk meer. Er is nog maar één ding belangrijk, en dat is Christus.

Labour not for the meat which perisheth, but for that meat which endureth unto everlasting life, which the Son of man shall give unto you: for him hath God the Father sealed.

Luister! Gewoon brood verdwijnt als je het opeet. Maar het hemelse brood geeft eeuwig leven. Doe je uiterste best om dat brood te krijgen. De Mensenzoon kan het je geven. Want God, de Vader, heeft hem die macht gegeven.

Pleasant words are as an honeycomb, sweet to the soul, and health to the bones.

Vriendelijke woorden geven mensen kracht, net zoals zoete honing mensen sterk maakt.

And they, continuing daily with one accord in the temple, and breaking bread from house to house, did eat their meat with gladness and singleness of heart, Praising God, and having favour with all the people. And the Lord added to the church daily such as should be saved.

Elke dag kwamen ze naar de tempel om samen te zijn. Bij elkaar thuis deelden ze het brood. Vol vreugde aten ze samen, en iedereen was even belangrijk. Ze eerden God, en het hele volk had veel waardering voor hen. Elke dag kwamen er meer mensen bij die door God gered waren.

Now he that ministereth seed to the sower both minister bread for your food, and multiply your seed sown, and increase the fruits of your righteousness.

Het is God die zorgt voor zaad om te zaaien en brood om te eten. Hij zal er ook voor zorgen dat jullie meer dan genoeg hebben. En dat jullie steeds meer goeddoen voor anderen.

I ate no pleasant bread, neither came flesh nor wine in my mouth, neither did I anoint myself at all, till three whole weeks were fulfilled.

Ik wilde geen vlees of lekkere dingen eten. Ik dronk ook geen wijn en ik verzorgde mijn lichaam niet.

Blessed are they which do hunger and thirst after righteousness: for they shall be filled.

Het echte geluk is voor mensen die doen wat God wil, en die dat het allerbelangrijkste vinden. Want God zal hun moeite belonen.

As newborn babes, desire the sincere milk of the word, that ye may grow thereby.

Pasgeboren baby's verlangen naar melk. Net zo moeten jullie ernaar verlangen om de woorden van God te horen. Dan kan jullie geloof groeien, en dan worden jullie gered.

And he humbled thee, and suffered thee to hunger, and fed thee with manna, which thou knewest not, neither did thy fathers know; that he might make thee know that man doth not live by bread only, but by every word that proceedeth out of the mouth of the L

ord

doth man live.

En dat heeft hij ook laten zien! Hij liet jullie honger lijden in de woestijn. Toen gaf hij jullie manna te eten, voedsel dat jullie niet kenden. Zo wilde hij jullie leren dat een mens niet alleen leeft van brood, maar ook van de woorden die de Heer spreekt.

But seek ye first the kingdom of God, and his righteousness; and all these things shall be added unto you.

Houd je bezig met Gods nieuwe wereld en doe wat God van je vraagt. Dan zal God je al die andere dingen ook geven.

Go thy way, eat thy bread with joy, and drink thy wine with a merry heart; for God now accepteth thy works.

Geniet van het leven! Geniet van het brood dat je eet en van de wijn die je drinkt. Dat is wat God graag ziet.
And the Lord, he it is that doth go before thee; he will be with thee, he will not fail thee, neither forsake thee: fear not, neither be dismayed.
Personal Bible reading plan
Create an account to configure your Bible reading plan and you will see your progress and the next chapter to read here!
Read more...