36 Bible Verses about Food (2/2)
«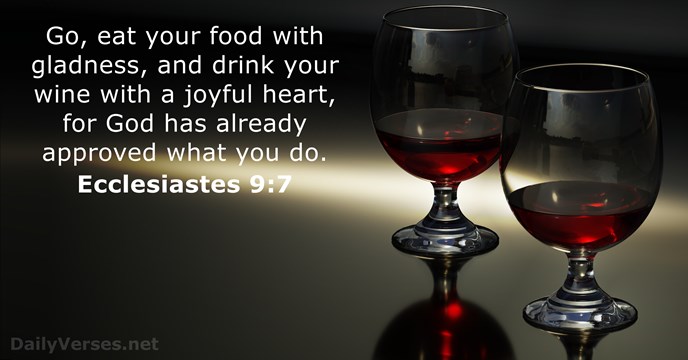 »
Go, eat your food with gladness, and drink your wine with a joyful heart, for God has already approved what you do.
Keep falsehood and lies far from me;
give me neither poverty nor riches,
but give me only my daily bread.
I know that there is nothing better for people than to be happy and to do good while they live. That each of them may eat and drink, and find satisfaction in all their toil—this is the gift of God.
Do not worry about your life, what you will eat; or about your body, what you will wear. For life is more than food, and the body more than clothes.
I know what it is to be in need, and I know what it is to have plenty. I have learned the secret of being content in any and every situation, whether well fed or hungry, whether living in plenty or in want.
On the last and greatest day of the festival, Jesus stood and said in a loud voice, "Let anyone who is thirsty come to me and drink."
This is what I have observed to be good: that it is appropriate for a person to eat, to drink and to find satisfaction in their toilsome labor under the sun during the few days of life God has given them—for this is their lot.
Moreover, when God gives someone wealth and possessions, and the ability to enjoy them, to accept their lot and be happy in their toil—this is a gift of God.
"I have the right to do anything," you say—but not everything is beneficial. "I have the right to do anything"—but not everything is constructive.
The vine is dried up
and the fig tree is withered;
the pomegranate, the palm and the apple tree—
all the trees of the field—are dried up.
Surely the people's joy
is withered away.
John's clothes were made of camel's hair, and he had a leather belt around his waist. His food was locusts and wild honey.
Receive the Daily Bible Verse: