Bible Verses about Healing
«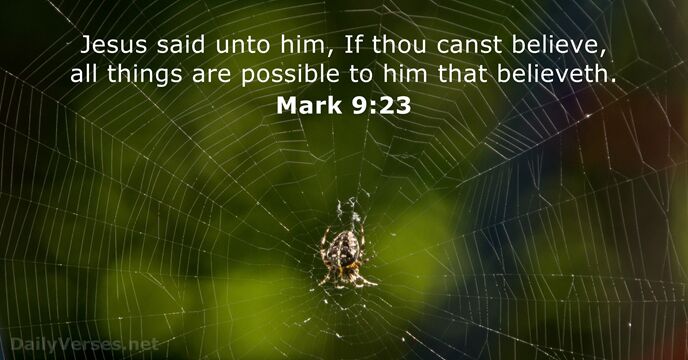 »
Jesus said unto him, If thou canst believe, all things are possible to him that believeth.

Ježiš mu povedal: "Ak môžeš?! Všetko je možné tomu, kto verí."

But when Jesus heard it, he answered him, saying, Fear not: believe only, and she shall be made whole.

Ale keď to Ježiš počul, povedal mu: "Neboj sa, len ver a bude zachránená!"

He healeth the broken in heart, and bindeth up their wounds.

Uzdravuje skľúčených srdcom a obväzuje ich rany.

Is any sick among you? let him call for the elders of the church; and let them pray over him, anointing him with oil in the name of the Lord: And the prayer of faith shall save the sick, and the Lord shall raise him up; and if he have committed sins, they shall be forgiven him.

Je niekto z vás chorý? Nech si zavolá starších Cirkvi; a nech sa nad ním modlia a mažú ho olejom v Pánovom mene. Modlitba s vierou uzdraví chorého a Pán mu uľaví; a ak sa dopustil hriechov, odpustia sa mu.

And Jesus said unto him, Go thy way; thy faith hath made thee whole. And immediately he received his sight, and followed Jesus in the way.

A Ježiš mu povedal: "Choď, tvoja viera ťa uzdravila!" A hneď videl a šiel za ním po ceste.

Heal the sick, cleanse the lepers, raise the dead, cast out devils: freely ye have received, freely give.

Chorých uzdravujte, mŕtvych krieste, malomocných očisťujte, zlých duchov vyháňajte. Zadarmo ste dostali, zadarmo dávajte.

A merry heart doeth good like a medicine: but a broken spirit drieth the bones.

Veselé srdce slúži na zdravie, zronený duch však kosti vysúša.

Confess your faults one to another, and pray one for another, that ye may be healed. The effectual fervent prayer of a righteous man availeth much.

Vyznávajte si teda navzájom hriechy a modlite sa jeden za druhého, aby ste ozdraveli. Lebo veľa zmôže naliehavá modlitba spravodlivého.

If my people, which are called by my name, shall humble themselves, and pray, and seek my face, and turn from their wicked ways; then will I hear from heaven, and will forgive their sin, and will heal their land.

A môj ľud, ktorý sa volá mojím menom, sa skloní a bude sa modliť, bude hľadať moju tvár a odvráti sa od svojich zlých ciest, ja vypočujem z neba, odpustím ich vinu a ich zem uzdravím.

But he was wounded for our transgressions, he was bruised for our iniquities: the chastisement of our peace was upon him; and with his stripes we are healed.

On však bol prebodnutý pre naše hriechy, strýznený pre naše neprávosti, na ňom je trest pre naše blaho a jeho ranami sme uzdravení.

But unto you that fear my name shall the Sun of righteousness arise with healing in his wings; and ye shall go forth, and grow up as calves of the stall.

Vám však, ktorí sa bojíte môjho mena, vyjde slnko spravodlivosti, ktoré má na krídlach uzdravenie. Vtedy vyjdete a budete poskakovať ako teliatka z maštale!

Who his own self bare our sins in his own body on the tree, that we, being dead to sins, should live unto righteousness: by whose stripes ye were healed.

Sám vyniesol naše hriechy na svojom tele na drevo, aby sme zomreli hriechu a žili pre spravodlivosť. Jeho rany vás uzdravili.

Turn again, and tell Hezekiah the captain of my people, Thus saith the L

ord

, the God of David thy father, I have heard thy prayer, I have seen thy tears: behold, I will heal thee: on the third day thou shalt go up unto the house of the L

ord

.

Vráť sa a povedz Ezechiášovi, kniežaťu môjho ľudu: Toto hovorí Pán, Boh tvojho otca Dávida: Počul som tvoju modlitbu, videl som tvoje slzy; hľa, uzdravím ťa, na tretí deň pôjdeš do Pánovho chrámu.

And heal the sick that are therein, and say unto them, The kingdom of God is come nigh unto you.

Uzdravujte chorých, čo sú v ňom, a povedzte im: »Priblížilo sa k vám Božie kráľovstvo.«

But when Jesus heard that, he said unto them, They that be whole need not a physician, but they that are sick.

On to začul a povedal: "Lekára nepotrebujú zdraví, ale chorí."

Heal me, O L

ord

, and I shall be healed; save me, and I shall be saved: for thou art my praise.

Uzdrav ma, Pane, a budem zdravý, zachráň ma a budem zachránený, lebo ty si moja chvála.

If thou wilt diligently hearken to the voice of the L

ord

thy God, and wilt do that which is right in his sight, and wilt give ear to his commandments, and keep all his statutes, I will put none of these diseases upon thee, which I have brought upon the Egyptians: for I am the L

ord

that healeth thee.

A povedal: "Ak budeš počúvať hlas Pána, svojho Boha, a budeš robiť to, čo je v jeho očiach správne, a poslúchneš všetky jeho rozkazy a zachováš všetky jeho ustanovenia, potom ťa nezastihnem takými biedami, akými som postihol Egypťanov, lebo ja, Pán, som tvoj lekár."

And he was teaching in one of the synagogues on the sabbath. And, behold, there was a woman which had a spirit of infirmity eighteen years, and was bowed together, and could in no wise lift up herself. And when Jesus saw her, he called her to him, and said unto her, Woman, thou art loosed from thine infirmity. And he laid his hands on her: and immediately she was made straight, and glorified God. And the ruler of the synagogue answered with indignation, because that Jesus had healed on the sabbath day, and said unto the people, There are six days in which men ought to work: in them therefore come and be healed, and not on the sabbath day. The Lord then answered him, and said, Thou hypocrite, doth not each one of you on the sabbath loose his ox or his ass from the stall, and lead him away to watering? And ought not this woman, being a daughter of Abraham, whom Satan hath bound, lo, these eighteen years, be loosed from this bond on the sabbath day? And when he had said these things, all his adversaries were ashamed: and all the people rejoiced for all the glorious things that were done by him.

V sobotu učil v istej synagóge. Bola tam žena, ktorá osemnásť rokov mala ducha neduživosti. Bola zhrbená a nemohla sa ani trochu narovnať. Keď ju Ježiš zbadal, zavolal si ju a povedal jej: "Žena, si oslobodená od svojej choroby," a vložil na ňu ruky. Ona sa hneď vzpriamila a oslavovala Boha. Ale predstavený synagógy sa nahneval, že Ježiš v sobotu uzdravuje, i povedal zástupu: "Je šesť dní, keď treba pracovať; v tieto dni prichádzajte a dávajte sa uzdravovať, a nie v sobotu!" Pán mu odpovedal: "Pokrytci! Neodväzuje každý z vás v sobotu svojho vola alebo osla od jasieľ a nevodí ho napájať? A túto Abrahámovu dcéru, ktorú satan držal osemnásť rokov spútanú, nebolo treba vyslobodiť z tohto puta hoci aj v sobotu?" Keď to povedal, všetci jeho protivníci sa zahanbili, ale ľudia sa radovali zo všetkých slávnych skutkov, ktoré konal.

The Spirit of the Lord is upon me, because he hath anointed me to preach the gospel to the poor; he hath sent me to heal the brokenhearted, to preach deliverance to the captives, and recovering of sight to the blind, to set at liberty them that are bruised.

Duch Pána je nado mnou, lebo ma pomazal, aby som hlásal evanjelium chudobným. Poslal ma oznámiť zajatým, že budú prepustení, a slepým, že budú vidieť; utláčaných prepustiť na slobodu.

He sent his word, and healed them, and delivered them from their destructions.

Zoslal im svoje slovo a uzdravil ich a vyslobodil ich zo záhuby.

The L

ord

openeth the eyes of the blind: the L

ord

raiseth them that are bowed down: the L

ord

loveth the righteous.

Pán otvára oči slepým, Pán dvíha skľúčených, Pán miluje spravodlivých.
Thou shalt not take the name of the Lord thy God in vain: for the Lord will not hold him guiltless that taketh his name in vain.
Personal Bible reading plan
Create an account to configure your Bible reading plan and you will see your progress and the next chapter to read here!
Read more...