«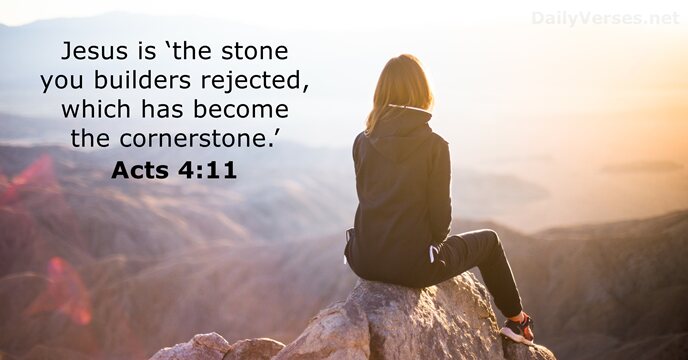 »
Jesus is 'the stone you builders rejected, which has become the cornerstone.'

He who testifies to these things says, "Yes, I am coming soon."
Amen. Come, Lord Jesus.

Jesus answered, "If you want to be perfect, go, sell your possessions and give to the poor, and you will have treasure in heaven. Then come, follow me."

You see, at just the right time, when we were still powerless, Christ died for the ungodly.

To the one who is victorious, I will give the right to sit with me on my throne, just as I was victorious and sat down with my Father on his throne.

But he said to me, "My grace is sufficient for you, for my power is made perfect in weakness." Therefore I will boast all the more gladly about my weaknesses, so that Christ's power may rest on me.

We know also that the Son of God has come and has given us understanding, so that we may know him who is true. And we are in him who is true by being in his Son Jesus Christ. He is the true God and eternal life.

She will give birth to a son, and you are to give him the name Jesus, because he will save his people from their sins.

This is how we know what love is: Jesus Christ laid down his life for us. And we ought to lay down our lives for our brothers and sisters.

That God was reconciling the world to himself in Christ, not counting people's sins against them. And he has committed to us the message of reconciliation.

Do you think I cannot call on my Father, and he will at once put at my disposal more than twelve legions of angels?

No one has ever seen God, but the one and only Son, who is himself God and is in closest relationship with the Father, has made him known.

For since death came through a man, the resurrection of the dead comes also through a man.

Blessed are you when people hate you,
when they exclude you and insult you
and reject your name as evil,
because of the Son of Man.

Accept one another, then, just as Christ accepted you, in order to bring praise to God.

Therefore do not let anyone judge you by what you eat or drink, or with regard to a religious festival, a New Moon celebration or a Sabbath day. These are a shadow of the things that were to come; the reality, however, is found in Christ.

I have told you this so that my joy may be in you and that your joy may be complete.

From that time on Jesus began to preach, "Repent, for the kingdom of heaven has come near."

The grace of the Lord Jesus Christ be with your spirit. Amen.

May the grace of the Lord Jesus Christ, and the love of God, and the fellowship of the Holy Spirit be with you all.

Do not work for food that spoils, but for food that endures to eternal life, which the Son of Man will give you. For on him God the Father has placed his seal of approval.

While he was still speaking, a bright cloud covered them, and a voice from the cloud said, "This is my Son, whom I love; with him I am well pleased. Listen to him!"

But now in Christ Jesus you who once were far away have been brought near by the blood of Christ.

But you, dear friends, by building yourselves up in your most holy faith and praying in the Holy Spirit, keep yourselves in God's love as you wait for the mercy of our Lord Jesus Christ to bring you to eternal life.

Therefore, with minds that are alert and fully sober, set your hope on the grace to be brought to you when Jesus Christ is revealed at his coming.
Give proper recognition to those widows who are really in need.
Personal Bible reading plan
Create an account to configure your Bible reading plan and you will see your progress and the next chapter to read here!
Read more...