«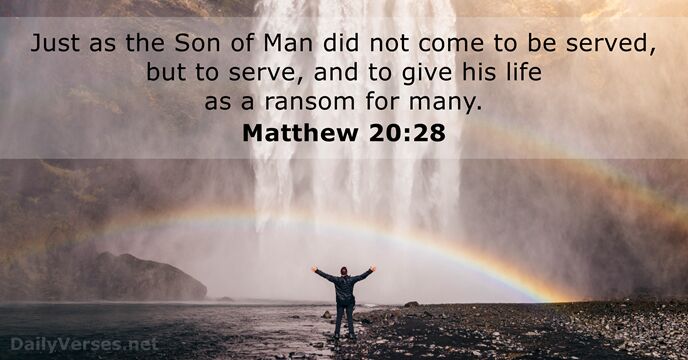 »
Just as the Son of Man did not come to be served, but to serve, and to give his life as a ransom for many.

Whoever serves me must follow me; and where I am, my servant also will be. My Father will honor the one who serves me.

Then he said to them, "Whoever welcomes this little child in my name welcomes me; and whoever welcomes me welcomes the one who sent me. For it is the one who is least among you all who is the greatest."

Then he called the crowd to him along with his disciples and said: "Whoever wants to be my disciple must deny themselves and take up their cross and follow me."

For he has rescued us from the dominion of darkness and brought us into the kingdom of the Son he loves, in whom we have redemption, the forgiveness of sins.

Consequently, you are no longer foreigners and strangers, but fellow citizens with God's people and also members of his household, built on the foundation of the apostles and prophets, with Christ Jesus himself as the chief cornerstone.

"Don't be alarmed," he said. "You are looking for Jesus the Nazarene, who was crucified. He has risen! He is not here. See the place where they laid him."

There is neither Jew nor Gentile, neither slave nor free, nor is there male and female, for you are all one in Christ Jesus.

You call me 'Teacher' and 'Lord,' and rightly so, for that is what I am.

Grace and peace to you from God our Father and from the Lord Jesus Christ.

Father, I want those you have given me to be with me where I am, and to see my glory, the glory you have given me because you loved me before the creation of the world.

Again Jesus said, "Peace be with you! As the Father has sent me, I am sending you."

But for that very reason I was shown mercy so that in me, the worst of sinners, Christ Jesus might display his immense patience as an example for those who would believe in him and receive eternal life.

"Look, he is coming with the clouds,"
and "every eye will see him,
even those who pierced him";
and all peoples on earth "will mourn because of him."
So shall it be! Amen.

If you keep my commands, you will remain in my love, just as I have kept my Father's commands and remain in his love.

If you really know me, you will know my Father as well. From now on, you do know him and have seen him.

Therefore the Lord himself will give you a sign: The virgin will conceive and give birth to a son, and will call him Immanuel.

I am the living bread that came down from heaven. Whoever eats this bread will live forever. This bread is my flesh, which I will give for the life of the world.

And if the Spirit of him who raised Jesus from the dead is living in you, he who raised Christ from the dead will also give life to your mortal bodies because of his Spirit who lives in you.

"Abba, Father," he said, "everything is possible for you. Take this cup from me. Yet not what I will, but what you will."

After the Lord Jesus had spoken to them, he was taken up into heaven and he sat at the right hand of God.

To them God has chosen to make known among the Gentiles the glorious riches of this mystery, which is Christ in you, the hope of glory.

I have made you known to them, and will continue to make you known in order that the love you have for me may be in them and that I myself may be in them.

But the Advocate, the Holy Spirit, whom the Father will send in my name, will teach you all things and will remind you of everything I have said to you.

For just as we share abundantly in the sufferings of Christ, so also our comfort abounds through Christ.
Give proper recognition to those widows who are really in need.
Personal Bible reading plan
Create an account to configure your Bible reading plan and you will see your progress and the next chapter to read here!
Read more...