Bible Verses about Lying
«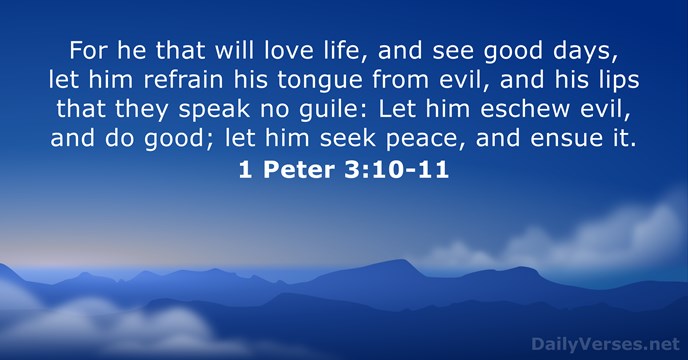 »
For he that will love life, and see good days, let him refrain his tongue from evil, and his lips that they speak no guile: Let him eschew evil, and do good; let him seek peace, and ensue it.

Porque: El que quiere amar la vida Y ver días buenos, Refrene su lengua de mal, Y sus labios no hablen engaño; Apártese del mal, y haga el bien; Busque la paz, y sígala.

He that walketh uprightly, and worketh righteousness, and speaketh the truth in his heart. He that backbiteth not with his tongue, nor doeth evil to his neighbour, nor taketh up a reproach against his neighbour.

El que anda en integridad y hace justicia, Y habla verdad en su corazón. El que no calumnia con su lengua, Ni hace mal a su prójimo, Ni admite reproche alguno contra su vecino.

Deliver my soul, O L

ord

, from lying lips, and from a deceitful tongue.

Libra mi alma, oh Jehová, del labio mentiroso, Y de la lengua fraudulenta.

And he said, That which cometh out of the man, that defileth the man. For from within, out of the heart of men, proceed evil thoughts, adulteries, fornications, murders, Thefts, covetousness, wickedness, deceit, lasciviousness, an evil eye, blasphemy, pride, foolishness: All these evil things come from within, and defile the man.

Pero decía, que lo que del hombre sale, eso contamina al hombre. Porque de dentro, del corazón de los hombres, salen los malos pensamientos, los adulterios, las fornicaciones, los homicidios, los hurtos, las avaricias, las maldades, el engaño, la lascivia, la envidia, la maledicencia, la soberbia, la insensatez. Todas estas maldades de dentro salen, y contaminan al hombre.

Lying lips are abomination to the L

ord

: but they that deal truly are his delight.

Los labios mentirosos son abominación a Jehová; Pero los que hacen verdad son su contentamiento.

A froward man soweth strife: and a whisperer separateth chief friends.

El hombre perverso levanta contienda, Y el chismoso aparta a los mejores amigos.

If we say that we have fellowship with him, and walk in darkness, we lie, and do not the truth.

Si decimos que tenemos comunión con él, y andamos en tinieblas, mentimos, y no practicamos la verdad.

He that hideth hatred with lying lips, and he that uttereth a slander, is a fool.

El que encubre el odio es de labios mentirosos; Y el que propaga calumnia es necio.

Keep thy tongue from evil, and thy lips from speaking guile.

Guarda tu lengua del mal, Y tus labios de hablar engaño.

He that walketh uprightly walketh surely: but he that perverteth his ways shall be known.

El que camina en integridad anda confiado; Mas el que pervierte sus caminos será quebrantado.

Lie not one to another, seeing that ye have put off the old man with his deeds; And have put on the new man, which is renewed in knowledge after the image of him that created him.

No mintáis los unos a los otros, habiéndoos despojado del viejo hombre con sus hechos, y revestido del nuevo, el cual conforme a la imagen del que lo creó se va renovando hasta el conocimiento pleno.

A talebearer revealeth secrets: but he that is of a faithful spirit concealeth the matter.

El que anda en chismes descubre el secreto; Mas el de espíritu fiel lo guarda todo.

A faithful witness will not lie: but a false witness will utter lies.

El testigo verdadero no mentirá; Mas el testigo falso hablará mentiras.

Remove far from me vanity and lies: give me neither poverty nor riches; feed me with food convenient for me.

Vanidad y palabra mentirosa aparta de mí; No me des pobreza ni riquezas; Manténme del pan necesario.

A wholesome tongue is a tree of life: but perverseness therein is a breach in the spirit.

La lengua apacible es árbol de vida; Mas la perversidad de ella es quebrantamiento de espíritu.

Thou shalt do no murder, Thou shalt not commit adultery, Thou shalt not steal, Thou shalt not bear false witness, Honour thy father and thy mother: and, Thou shalt love thy neighbour as thyself.

No matarás. No adulterarás. No hurtarás. No dirás falso testimonio. Honra a tu padre y a tu madre; y, Amarás a tu prójimo como a ti mismo.

The fear of the L

ord

is to hate evil: pride, and arrogancy, and the evil way, and the froward mouth, do I hate.

El temor de Jehová es aborrecer el mal; La soberbia y la arrogancia, el mal camino, Y la boca perversa, aborrezco.

Blessed are ye, when men shall revile you, and persecute you, and shall say all manner of evil against you falsely, for my sake.

Bienaventurados sois cuando por mi causa os vituperen y os persigan, y digan toda clase de mal contra vosotros, mintiendo.

Put away from thee a froward mouth, and perverse lips put far from thee.

Aparta de ti la perversidad de la boca, Y aleja de ti la iniquidad de los labios.

The lips of the righteous know what is acceptable: but the mouth of the wicked speaketh frowardness.

Los labios del justo saben hablar lo que agrada; Mas la boca de los impíos habla perversidades.

Excellent speech becometh not a fool: much less do lying lips a prince.

No conviene al necio la altilocuencia; !!Cuánto menos al príncipe el labio mentiroso!

Ye are of your father the devil, and the lusts of your father ye will do. He was a murderer from the beginning, and abode not in the truth, because there is no truth in him. When he speaketh a lie, he speaketh of his own: for he is a liar, and the father of it.

Vosotros sois de vuestro padre el diablo, y los deseos de vuestro padre queréis hacer. El ha sido homicida desde el principio, y no ha permanecido en la verdad, porque no hay verdad en él. Cuando habla mentira, de suyo habla; porque es mentiroso, y padre de mentira.

But Peter said, Ananias, why hath Satan filled thine heart to lie to the Holy Ghost, and to keep back part of the price of the land? Whiles it remained, was it not thine own? and after it was sold, was it not in thine own power? why hast thou conceived this thing in thine heart? thou hast not lied unto men, but unto God.

Y dijo Pedro: Ananías, ¿por qué llenó Satanás tu corazón para que mintieses al Espíritu Santo, y sustrajeses del precio de la heredad? Reteniéndola, ¿no se te quedaba a ti? y vendida, ¿no estaba en tu poder? ¿Por qué pusiste esto en tu corazón? No has mentido a los hombres, sino a Dios.
In thee, O L

ord

, do I put my trust;
let me never be ashamed:
deliver me in thy righteousness.
Call unto me, and I will answer thee, and show thee great and mighty things, which thou knowest not.
Read more
In thee, O L

ord

, do I put my trust; let me never be ashamed: deliver me in thy righteousness.
Personal Bible reading plan
Create an account to configure your Bible reading plan and you will see your progress and the next chapter to read here!
Read more...