«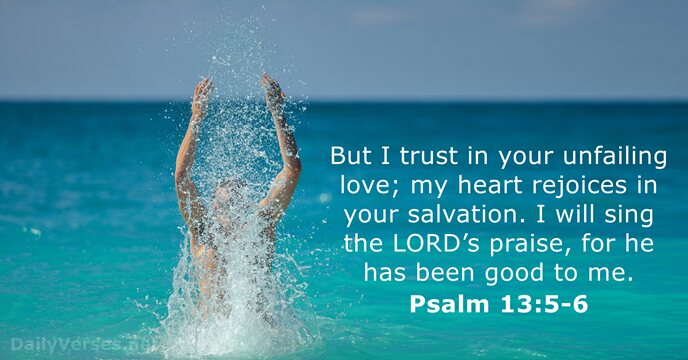 »
But I trust in your unfailing love;
my heart rejoices in your salvation.
I will sing the L

ord

's praise,
for he has been good to me.

Blessed is the one who perseveres under trial because, having stood the test, that person will receive the crown of life that the Lord has promised to those who love him.

The one who does what is sinful is of the devil, because the devil has been sinning from the beginning. The reason the Son of God appeared was to destroy the devil's work.

Now I, Nebuchadnezzar, praise and exalt and glorify the King of heaven, because everything he does is right and all his ways are just. And those who walk in pride he is able to humble.

For you created my inmost being;
you knit me together in my mother's womb.
I praise you because I am fearfully and wonderfully made;
your works are wonderful,
I know that full well.

Therefore, there is now no condemnation for those who are in Christ Jesus, because through Christ Jesus the law of the Spirit who gives life has set you free from the law of sin and death.

And if the Spirit of him who raised Jesus from the dead is living in you, he who raised Christ from the dead will also give life to your mortal bodies because of his Spirit who lives in you.

This is also why you pay taxes, for the authorities are God's servants, who give their full time to governing.

Therefore, my dear brothers and sisters, stand firm. Let nothing move you. Always give yourselves fully to the work of the Lord, because you know that your labor in the Lord is not in vain.

Be alert and of sober mind. Your enemy the devil prowls around like a roaring lion looking for someone to devour.

Who is a God like you,
who pardons sin and forgives the transgression
of the remnant of his inheritance?
You do not stay angry forever
but delight to show mercy.

But when they saw him walking on the lake, they thought he was a ghost. They cried out, because they all saw him and were terrified. Immediately he spoke to them and said, "Take courage! It is I. Don't be afraid."

This is how we know what love is: Jesus Christ laid down his life for us. And we ought to lay down our lives for our brothers and sisters.

But since sexual immorality is occurring, each man should have sexual relations with his own wife, and each woman with her own husband.

But after he had considered this, an angel of the Lord appeared to him in a dream and said, "Joseph son of David, do not be afraid to take Mary home as your wife, because what is conceived in her is from the Holy Spirit."

However, do not rejoice that the spirits submit to you, but rejoice that your names are written in heaven.

We who are Jews by birth and not sinful Gentiles know that a person is not justified by the works of the law, but by faith in Jesus Christ. So we, too, have put our faith in Christ Jesus that we may be justified by faith in Christ and not by the works of the law, because by the works of the law no one will be justified.

For the practices of the peoples are worthless;
they cut a tree out of the forest,
and a craftsman shapes it with his chisel.
They adorn it with silver and gold;
they fasten it with hammer and nails
so it will not totter.
Like a scarecrow in a cucumber field,
their idols cannot speak;
they must be carried
because they cannot walk.
Do not fear them;
they can do no harm
nor can they do any good.
But the L

ord

said to Samuel, "Do not consider his appearance or his height, for I have rejected him. The L

ord

does not look at the things people look at. People look at the outward appearance, but the L

ord

looks at the heart."
Do not wear yourself out to get rich;
do not trust your own cleverness.

In Hades, where he was in torment, he looked up and saw Abraham far away, with Lazarus by his side. So he called to him, 'Father Abraham, have pity on me and send Lazarus to dip the tip of his finger in water and cool my tongue, because I am in agony in this fire.'

See what great love the Father has lavished on us, that we should be called children of God! And that is what we are! The reason the world does not know us is that it did not know him.

You belong to your father, the devil, and you want to carry out your father's desires. He was a murderer from the beginning, not holding to the truth, for there is no truth in him. When he lies, he speaks his native language, for he is a liar and the father of lies.

It was not by their sword that they won the land,
nor did their arm bring them victory;
it was your right hand, your arm,
and the light of your face, for you loved them.
Then the L

ord

God made a woman from the rib he had taken out of the man, and he brought her to the man. The man said, "This is now bone of my bones and flesh of my flesh; she shall be called 'woman,' for she was taken out of man." That is why a man leaves his father and mother and is united to his wife, and they become one flesh.
I will exalt you, my God the King; I will praise your name for ever and ever.
Personal Bible reading plan
Create an account to configure your Bible reading plan and you will see your progress and the next chapter to read here!
Read more...