Bible Verses about 'Before'
«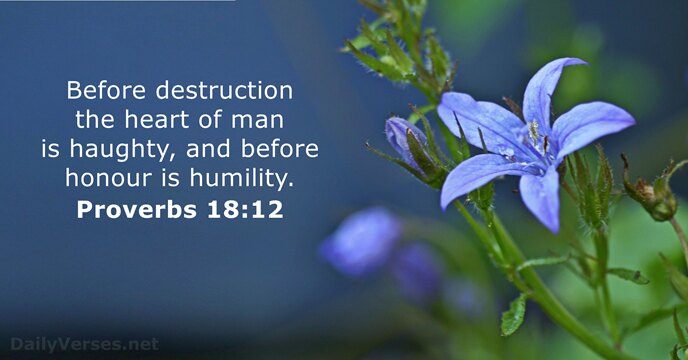 »
Before destruction the heart of man is haughty, and before honour is humility.

Перед падением возносится сердце человека, а смирение предшествует славе.

What and if ye shall see the Son of man ascend up where he was before?

Что ж, если увидите Сына Человеческого восходящего туда, где был прежде?

Lord, all my desire is before thee; and my groaning is not hid from thee.

Господи! пред Тобою все желания мои, и воздыхание мое не сокрыто от Тебя.

O come, let us worship and bow down: let us kneel before the L

ord

our maker.

Приидите, поклонимся и припадем, преклоним колени пред лицем Господа, Творца нашего.

Let thine eyes look right on, and let thine eyelids look straight before thee.

Глаза твои пусть прямо смотрят, и ресницы твои да направлены будут прямо пред тобою.

If the world hate you, ye know that it hated me before it hated you.

Если мир вас ненавидит, знайте, что Меня прежде вас возненавидел.

The fear of the L

ord

is the instruction of wisdom; and before honour is humility.

Страх Господень научает мудрости, и славе предшествует смирение.

I have chosen the way of truth: thy judgments have I laid before me.

Я избрал путь истины, поставил пред собою суды Твои.

A man's gift maketh room for him, and bringeth him before great men.

Подарок у человека дает ему простор и до вельмож доведет его.

He that overcometh, the same shall be clothed in white raiment; and I will not blot out his name out of the book of life, but I will confess his name before my Father, and before his angels.

Побеждающий облечется в белые одежды; и не изглажу имени его из книги жизни, и исповедаю имя его пред Отцем Моим и пред Ангелами Его.

I have set the L

ord

always before me: because he is at my right hand, I shall not be moved.

Всегда видел я пред собою Господа, ибо Он одесную меня; не поколеблюсь.

Wash you, make you clean; put away the evil of your doings from before mine eyes; cease to do evil.

Омойтесь, очиститесь; удалите злые деяния ваши от очей Моих; перестаньте делать зло.

And the L

ord

turned the captivity of Job, when he prayed for his friends: also the L

ord

gave Job twice as much as he had before.

И возвратил Господь потерю Иова, когда он помолился за друзей своих; и дал Господь Иову вдвое больше того, что он имел прежде.

Before the mountains were brought forth, or ever thou hadst formed the earth and the world, even from everlasting to everlasting, thou art God.

Прежде нежели родились горы, и Ты образовал землю и вселенную, и от века и до века Ты — Бог.

And the L

ord

, he it is that doth go before thee; he will be with thee, he will not fail thee, neither forsake thee: fear not, neither be dismayed.

Господь Сам пойдет пред тобою, Сам будет с тобою, не отступит от тебя и не оставит тебя, не бойся и не ужасайся.

And now, little children, abide in him; that, when he shall appear, we may have confidence, and not be ashamed before him at his coming.

Итак, дети, пребывайте в Нем, чтобы, когда Он явится, иметь нам дерзновение и не постыдиться пред Ним в пришествие Его.

In my distress I called upon the L

ord

, and cried unto my God: he heard my voice out of his temple, and my cry came before him, even into his ears.
В тесноте моей я призвал Господа и к Богу моему воззвал. И Он услышал от святаго чертога Своего голос мой, и вопль мой дошел до слуха Его.

Now the birth of Jesus Christ was on this wise: When as his mother Mary was espoused to Joseph, before they came together, she was found with child of the Holy Ghost.

Рождество Иисуса Христа было так: по обручении Матери Его Марии с Иосифом, прежде нежели сочетались они, оказалось, что Она имеет во чреве от Духа Святаго.

Father, I will that they also, whom thou hast given me, be with me where I am; that they may behold my glory, which thou hast given me: for thou lovedst me before the foundation of the world.

Отче! которых Ты дал Мне, хочу, чтобы там, где Я, и они были со Мною, да видят славу Мою, которую Ты дал Мне, потому что возлюбил Меня прежде основания мира.

Who hath saved us, and called us with an holy calling, not according to our works, but according to his own purpose and grace, which was given us in Christ Jesus before the world began.

Спасшего нас и призвавшего званием святым, не по делам нашим, но по Своему изволению и благодати, данной нам во Христе Иисусе прежде вековых времен.

Looking unto Jesus the author and finisher of our faith; who for the joy that was set before him endured the cross, despising the shame, and is set down at the right hand of the throne of God.

Взирая на начальника и совершителя веры Иисуса, Который, вместо предлежавшей Ему радости, претерпел крест, пренебрегши посрамление, и воссел одесную престола Божия.

Pure religion and undefiled before God and the Father is this, To visit the fatherless and widows in their affliction, and to keep himself unspotted from the world.

Чистое и непорочное благочестие пред Богом и Отцем есть то, чтобы призирать сирот и вдов в их скорбях и хранить себя неоскверненным от мира.

Sing unto God, sing praises to his name: extol him that rideth upon the heavens by his name Jah, and rejoice before him. A father of the fatherless, and a judge of the widows, is God in his holy habitation.

Пойте Богу нашему, пойте имени Его, превозносите Шествующего на небесах; имя Ему: Господь, и радуйтесь пред лицем Его. Отец сирот и судья вдов Бог во святом Своем жилище.

Humble yourselves in the sight of the Lord, and he shall lift you up.

Смиритесь пред Господом, и вознесет вас.

And the multitudes that went before, and that followed, cried, saying, Hosanna to the son of David: Blessed is he that cometh in the name of the Lord; Hosanna in the highest.

Народ же, предшествовавший и сопровождавший, восклицал: осанна Сыну Давидову! благословен Грядущий во имя Господне! осанна в вышних!
But Jesus beheld them, and said unto them, With men this is impossible; but with God all things are possible.
Personal Bible reading plan
Create an account to configure your Bible reading plan and you will see your progress and the next chapter to read here!
Read more...