Bible Verses about 'Having'
«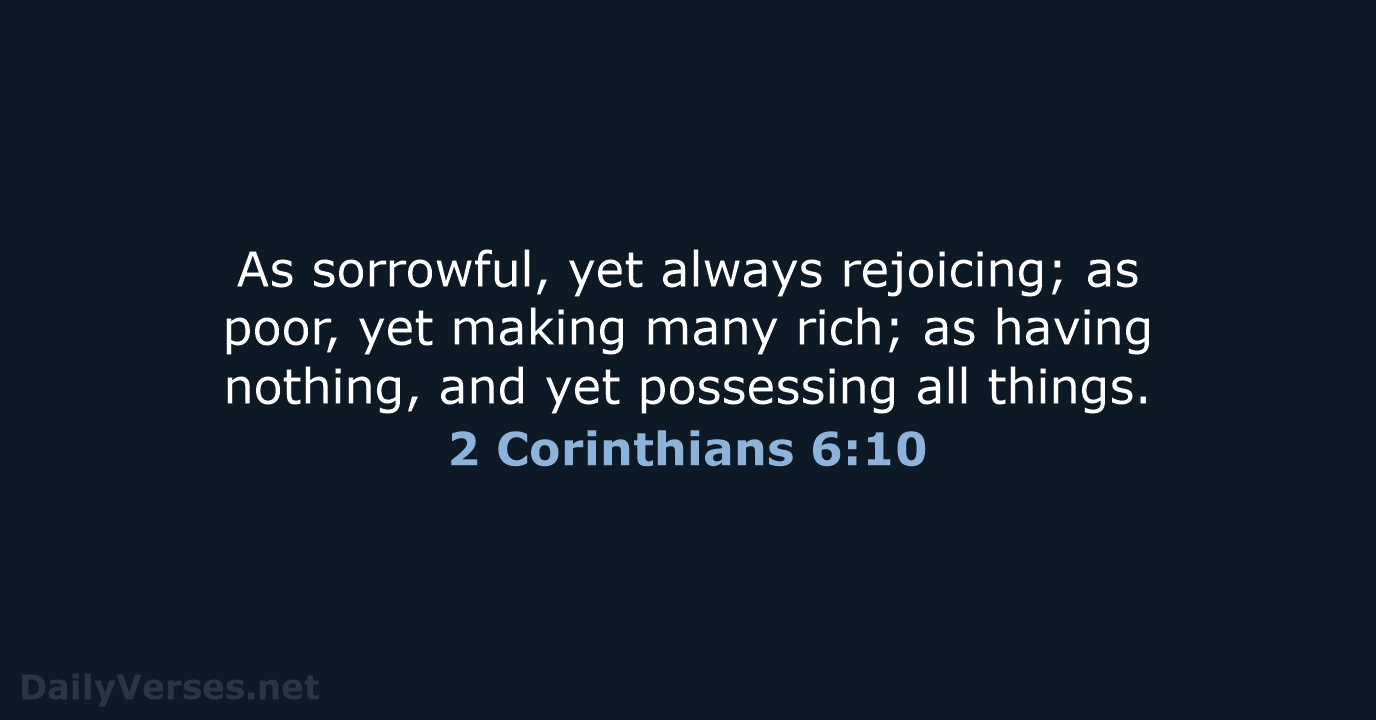 »
As sorrowful, yet always rejoicing; as poor, yet making many rich; as having nothing, and yet possessing all things.
And God is able to make all grace abound toward you, that you, always having all sufficiency in all things, may have an abundance for every good work.

Therefore take up the whole armor of God, that you may be able to withstand in the evil day, and having done all, to stand.

And when Jesus had cried out with a loud voice, He said, "Father, 'into Your hands I commit My spirit.' " Having said this, He breathed His last.

To you first, God, having raised up His Servant Jesus, sent Him to bless you, in turning away every one of you from your iniquities.

And having been perfected, He became the author of eternal salvation to all who obey Him.

Therefore being exalted to the right hand of God, and having received from the Father the promise of the Holy Spirit, He poured out this which you now see and hear.

But now having been set free from sin, and having become slaves of God, you have your fruit to holiness, and the end, everlasting life.

For if when we were enemies we were reconciled to God through the death of His Son, much more, having been reconciled, we shall be saved by His life.

By which have been given to us exceedingly great and precious promises, that through these you may be partakers of the divine nature, having escaped the corruption that is in the world through lust.
Finally, all of you be of one mind, having compassion for one another; love as brothers, be tenderhearted, be courteous.
Then, having fasted and prayed, and laid hands on them, they sent them away.
Rejoice greatly, O daughter of Zion!
Shout, O daughter of Jerusalem!
Behold, your King is coming to you;
He is just and having salvation,
Lowly and riding on a donkey,
A colt, the foal of a donkey.
For we brought nothing into this world, and it is certain we can carry nothing out. And having food and clothing, with these we shall be content.

So continuing daily with one accord in the temple, and breaking bread from house to house, they ate their food with gladness and simplicity of heart, praising God and having favor with all the people. And the Lord added to the church daily those who were being saved.

For bodily exercise profits a little, but godliness is profitable for all things, having promise of the life that now is and of that which is to come.

Therefore, having been justified by faith, we have peace with God through our Lord Jesus Christ.

Therefore, having these promises, beloved, let us cleanse ourselves from all filthiness of the flesh and spirit, perfecting holiness in the fear of God.

For I am hard-pressed between the two, having a desire to depart and be with Christ, which is far better. Nevertheless to remain in the flesh is more needful for you.
Whom having not seen you love. Though now you do not see Him, yet believing, you rejoice with joy inexpressible and full of glory, receiving the end of your faith—the salvation of your souls.

Having been born again, not of corruptible seed but incorruptible, through the word of God which lives and abides forever.

So Christ was offered once to bear the sins of many. To those who eagerly wait for Him He will appear a second time, apart from sin, for salvation.

Who Himself bore our sins in His own body on the tree, that we, having died to sins, might live for righteousness—by whose stripes you were healed.

Therefore, having obtained help from God, to this day I stand, witnessing both to small and great, saying no other things than those which the prophets and Moses said would come— that the Christ would suffer, that He would be the first to rise from the dead, and would proclaim light to the Jewish people and to the Gentiles.
Now, therefore, you are no longer strangers and foreigners, but fellow citizens with the saints and members of the household of God, having been built on the foundation of the apostles and prophets, Jesus Christ Himself being the chief cornerstone.
He has made everything beautiful in its time. Also He has put eternity in their hearts, except that no one can find out the work that God does from beginning to end.
Personal Bible reading plan
Create an account to configure your Bible reading plan and you will see your progress and the next chapter to read here!
Read more...