Bible Verses about 'Place'
«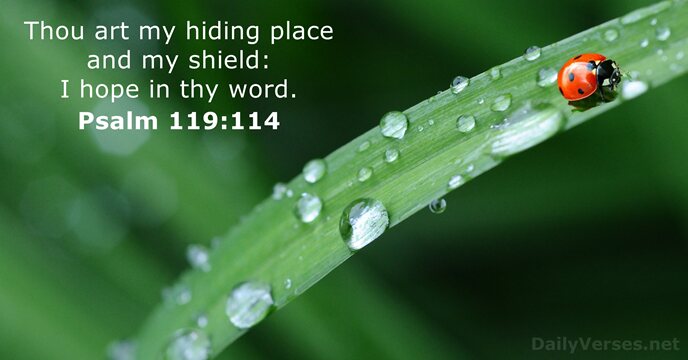 »
Thou art my hiding place and my shield:
I hope in thy word.
I called upon the L

ord

in distress:
the L

ord

answered me, and set me in a large place.

In my Father's house are many mansions: if it were not so, I would have told you. I go to prepare a place for you.

Thou art my hiding place;
thou shalt preserve me from trouble;
thou shalt compass me about with songs of deliverance. Selah.

And he saith unto them, Be not affrighted: Ye seek Jesus of Nazareth, which was crucified: he is risen; he is not here: behold the place where they laid him.

Be ye angry, and sin not: let not the sun go down upon your wrath: Neither give place to the devil.

And when they had prayed, the place was shaken where they were assembled together; and they were all filled with the Holy Ghost, and they spake the word of God with boldness.

For if ye throughly amend your ways and your doings; if ye throughly execute judgment between a man and his neighbour; If ye oppress not the stranger, the fatherless, and the widow, and shed not innocent blood in this place, neither walk after other gods to your hurt: Then will I cause you to dwell in this place, in the land that I gave to your fathers, for ever and ever.

And the angel answered and said unto the women, Fear not ye: for I know that ye seek Jesus, which was crucified. He is not here: for he is risen, as he said. Come, see the place where the Lord lay.

And when the day of Pentecost was fully come, they were all with one accord in one place. And suddenly there came a sound from heaven as of a rushing mighty wind, and it filled all the house where they were sitting.

For thus saith the high and lofty One
that inhabiteth eternity, whose name is Holy;
I dwell in the high and holy place,
with him also that is of a contrite and humble spirit,
to revive the spirit of the humble,
and to revive the heart of the contrite ones.
He that dwelleth in the secret place of the most High
shall abide under the shadow of the Almighty.
I will say of the L

ord

, He is my refuge and my fortress:
my God; in him will I trust.

And Jesus said unto them, Because of your unbelief: for verily I say unto you, If ye have faith as a grain of mustard seed, ye shall say unto this mountain, Remove hence to yonder place; and it shall remove; and nothing shall be impossible unto you.

And I will walk at liberty:
for I seek thy precepts.
And I will strengthen the house of Judah,
and I will save the house of Joseph,
and I will bring them again to place them;
for I have mercy upon them:
and they shall be as though I had not cast them off:
for I am the L

ord

their God, and will hear them.

Now all this was done, that it might be fulfilled which was spoken of the Lord by the prophet, saying, Behold, a virgin shall be with child, and shall bring forth a son, and they shall call his name Emmanuel, which being interpreted is, God with us.

And I heard a great voice out of heaven saying, Behold, the tabernacle of God is with men, and he will dwell with them, and they shall be his people, and God himself shall be with them, and be their God. And God shall wipe away all tears from their eyes; and there shall be no more death, neither sorrow, nor crying, neither shall there be any more pain: for the former things are passed away.

But thou, when thou prayest, enter into thy closet, and when thou hast shut thy door, pray to thy Father which is in secret; and thy Father which seeth in secret shall reward thee openly.

Now the birth of Jesus Christ was on this wise: When as his mother Mary was espoused to Joseph, before they came together, she was found with child of the Holy Ghost.

Set me as a seal upon thine heart,
as a seal upon thine arm:
for love is strong as death;
jealousy is cruel as the grave:
the coals thereof are coals of fire,
which hath a most vehement flame.
Thou hast also given me the shield of thy salvation:
and thy right hand hath holden me up,
and thy gentleness hath made me great.
Thou hast enlarged my steps under me,
that my feet did not slip.

Wherefore God also hath highly exalted him, and given him a name which is above every name: That at the name of Jesus every knee should bow, of things in heaven, and things in earth, and things under the earth.

And so it was, that, while they were there, the days were accomplished that she should be delivered. And she brought forth her firstborn son, and wrapped him in swaddling clothes, and laid him in a manger; because there was no room for them in the inn.

But thou, when thou fastest, anoint thine head, and wash thy face; That thou appear not unto men to fast, but unto thy Father which is in secret: and thy Father, which seeth in secret, shall reward thee openly.
A soft answer turneth away wrath: but grievous words stir up anger.
Personal Bible reading plan
Create an account to configure your Bible reading plan and you will see your progress and the next chapter to read here!
Read more...