Bible Verses about 'Place'
«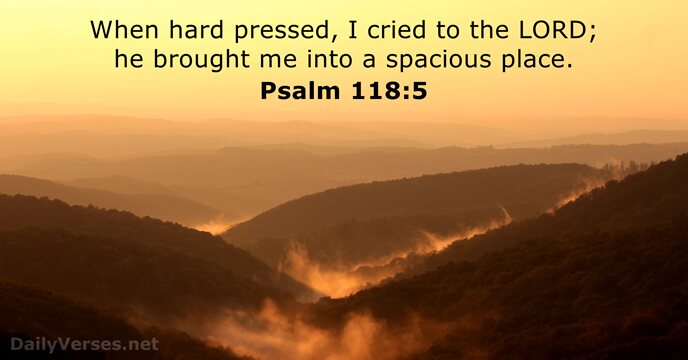 »
When hard pressed, I cried to the L

ord

;
he brought me into a spacious place.
You are my hiding place;
you will protect me from trouble
and surround me with songs of deliverance.

My Father's house has many rooms; if that were not so, would I have told you that I am going there to prepare a place for you?

You are my refuge and my shield;
I have put my hope in your word.

"Don't be alarmed," he said. "You are looking for Jesus the Nazarene, who was crucified. He has risen! He is not here. See the place where they laid him."

After they prayed, the place where they were meeting was shaken. And they were all filled with the Holy Spirit and spoke the word of God boldly.

If you really change your ways and your actions and deal with each other justly, if you do not oppress the foreigner, the fatherless or the widow and do not shed innocent blood in this place, and if you do not follow other gods to your own harm, then I will let you live in this place, in the land I gave your ancestors for ever and ever.

The angel said to the women, "Do not be afraid, for I know that you are looking for Jesus, who was crucified. He is not here; he has risen, just as he said. Come and see the place where he lay."

When the day of Pentecost came, they were all together in one place. Suddenly a sound like the blowing of a violent wind came from heaven and filled the whole house where they were sitting.

For this is what the high and exalted One says—
he who lives forever, whose name is holy:
"I live in a high and holy place,
but also with the one who is contrite and lowly in spirit,
to revive the spirit of the lowly
and to revive the heart of the contrite."

All this took place to fulfill what the Lord had said through the prophet: "The virgin will conceive and give birth to a son, and they will call him Immanuel" (which means "God with us").

"In your anger do not sin": Do not let the sun go down while you are still angry, and do not give the devil a foothold.

Place me like a seal over your heart,
like a seal on your arm;
for love is as strong as death,
its jealousy unyielding as the grave.
It burns like blazing fire,
like a mighty flame.

Therefore God exalted him to the highest place and gave him the name that is above every name, that at the name of Jesus every knee should bow, in heaven and on earth and under the earth.

I will walk about in freedom,
for I have sought out your precepts.

And I heard a loud voice from the throne saying, "Look! God's dwelling place is now among the people, and he will dwell with them. They will be his people, and God himself will be with them and be their God. 'He will wipe every tear from their eyes. There will be no more death' or mourning or crying or pain, for the old order of things has passed away."

Whoever dwells in the shelter of the Most High
will rest in the shadow of the Almighty.
I will say of the L

ord

, "He is my refuge and my fortress,
my God, in whom I trust."

But when you pray, go into your room, close the door and pray to your Father, who is unseen. Then your Father, who sees what is done in secret, will reward you.

This is how the birth of Jesus the Messiah came about: His mother Mary was pledged to be married to Joseph, but before they came together, she was found to be pregnant through the Holy Spirit.

You make your saving help my shield,
and your right hand sustains me;
your help has made me great.
You provide a broad path for my feet,
so that my ankles do not give way.

While they were there, the time came for the baby to be born, and she gave birth to her firstborn, a son. She wrapped him in cloths and placed him in a manger, because there was no guest room available for them.

But when you fast, put oil on your head and wash your face, so that it will not be obvious to others that you are fasting, but only to your Father, who is unseen; and your Father, who sees what is done in secret, will reward you.

He replied, "Because you have so little faith. Truly I tell you, if you have faith as small as a mustard seed, you can say to this mountain, 'Move from here to there,' and it will move. Nothing will be impossible for you."

I will strengthen Judah
and save the tribes of Joseph.
I will restore them
because I have compassion on them.
They will be as though
I had not rejected them,
for I am the L

ord

their God
and I will answer them.
The prudent see danger and take refuge, but the simple keep going and pay the penalty.
Personal Bible reading plan
Create an account to configure your Bible reading plan and you will see your progress and the next chapter to read here!
Read more...