Bible Verses about 'Wise'
«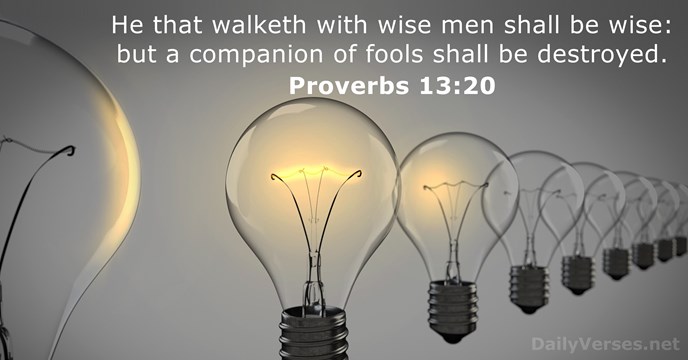 »
He that walketh with wise men shall be wise:
but a companion of fools shall be destroyed.

Let no man deceive himself. If any man among you seemeth to be wise in this world, let him become a fool, that he may be wise.

My son, if thine heart be wise,
my heart shall rejoice, even mine.
A fool uttereth all his mind:
but a wise man keepeth it in till afterwards.
The wise in heart will receive commandments:
but a prating fool shall fall.
A wise son maketh a glad father:
but a foolish son is the heaviness of his mother.
The words of a wise man's mouth are gracious;
but the lips of a fool will swallow up himself.
The father of the righteous shall greatly rejoice:
and he that begetteth a wise child shall have joy of him.
Even a fool, when he holdeth his peace, is counted wise:
and he that shutteth his lips is esteemed a man of understanding.
The law of the L

ord

is perfect,
converting the soul:
the testimony of the L

ord

is sure,
making wise the simple.

See then that ye walk circumspectly, not as fools, but as wise, Redeeming the time, because the days are evil.

Therefore whosoever heareth these sayings of mine, and doeth them, I will liken him unto a wise man, which built his house upon a rock.

Who is a wise man and endued with knowledge among you? let him shew out of a good conversation his works with meekness of wisdom.

Be not wise in thine own eyes:
fear the L

ord

, and depart from evil.
It shall be health to thy navel,
and marrow to thy bones.

Many shall be purified, and made white, and tried; but the wicked shall do wickedly: and none of the wicked shall understand; but the wise shall understand.

In the multitude of words there wanteth not sin:
but he that refraineth his lips is wise.

Be of the same mind one toward another. Mind not high things, but condescend to men of low estate. Be not wise in your own conceits.

Say not thou, What is the cause that the former days were better than these? for thou dost not enquire wisely concerning this.

Now unto the King eternal, immortal, invisible, the only wise God, be honour and glory for ever and ever. Amen.

Now when Jesus was born in Bethlehem of Judaea in the days of Herod the king, behold, there came wise men from the east to Jerusalem, Saying, Where is he that is born King of the Jews? for we have seen his star in the east, and are come to worship him.

Only by pride cometh contention:
but with the well advised is wisdom.
A fool's wrath is presently known:
but a prudent man covereth shame.

For verily I say unto you, Till heaven and earth pass, one jot or one tittle shall in no wise pass from the law, till all be fulfilled.

Turn you at my reproof:
behold, I will pour out my spirit unto you,
I will make known my words unto you.
Labour not to be rich:
cease from thine own wisdom.
My times are in thy hand: deliver me from the hand of mine enemies, and from them that persecute me.
Personal Bible reading plan
Create an account to configure your Bible reading plan and you will see your progress and the next chapter to read here!
Read more...