Bible Verses about 'Yea'
«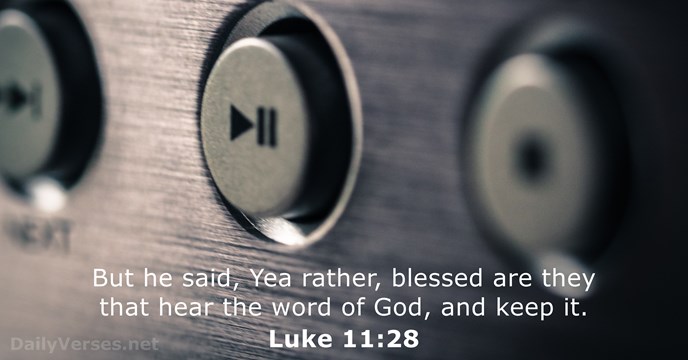 »
But he said, Yea rather, blessed are they that hear the word of God, and keep it.

Yea, and all that will live godly in Christ Jesus shall suffer persecution.

Fear thou not; for I am with thee:
be not dismayed; for I am thy God:
I will strengthen thee; yea, I will help thee;
yea, I will uphold thee with the right hand of my righteousness.

But above all things, my brethren, swear not, neither by heaven, neither by the earth, neither by any other oath: but let your yea be yea; and your nay, nay; lest ye fall into condemnation.

Then shalt thou understand righteousness, and judgment,
and equity; yea, every good path.
Yea, though I walk
through the valley of the shadow of death,
I will fear no evil:
for thou art with me;
thy rod and thy staff they comfort me.

But God hath revealed them unto us by his Spirit: for the Spirit searcheth all things, yea, the deep things of God.

Yea, in the way of thy judgments,
O L

ord

, have we waited for thee;
the desire of our soul is to thy name,
and to the remembrance of thee.
And let the beauty of the L

ord

our God be upon us:
and establish thou the work of our hands upon us;
yea, the work of our hands establish thou it.
But I will sing of thy power;
yea, I will sing aloud of thy mercy in the morning:
for thou hast been my defence
and refuge in the day of my trouble.

Who art thou that judgest another man's servant? to his own master he standeth or falleth. Yea, he shall be holden up: for God is able to make him stand.

And base things of the world, and things which are despised, hath God chosen, yea, and things which are not, to bring to nought things that are: That no flesh should glory in his presence.

With my soul have I desired thee in the night;
yea, with my spirit within me will I seek thee early:
for when thy judgments are in the earth,
the inhabitants of the world will learn righteousness.

But, beloved, be not ignorant of this one thing, that one day is with the Lord as a thousand years, and a thousand years as one day.

Can a woman forget her sucking child,
that she should not have compassion on the son of her womb?
yea, they may forget,
yet will I not forget thee.
Behold, I have graven thee upon the palms of my hands;
thy walls are continually before me.
If ye will not hear, and if ye will not lay it to heart, to give glory unto my name, saith the L

ord

of hosts, I will even send a curse upon you, and I will curse your blessings: yea, I have cursed them already, because ye do not lay it to heart.
Hear, O my son, and receive my sayings;
and the years of thy life shall be many.
For a thousand years in thy sight
are but as yesterday when it is past,
and as a watch in the night.

Remember now thy Creator in the days of thy youth, while the evil days come not, nor the years draw nigh, when thou shalt say, I have no pleasure in them.

Blessed and holy is he that hath part in the first resurrection: on such the second death hath no power, but they shall be priests of God and of Christ, and shall reign with him a thousand years.

When a man hath taken a new wife, he shall not go out to war, neither shall he be charged with any business: but he shall be free at home one year, and shall cheer up his wife which he hath taken.

Blessed is the man that trusteth in the L

ord

,
and whose hope the L

ord

is.
For he shall be as a tree planted by the waters,
and that spreadeth out her roots by the river,
and shall not see when heat cometh,
but her leaf shall be green;
and shall not be careful in the year of drought,
neither shall cease from yielding fruit.

And he was teaching in one of the synagogues on the sabbath. And, behold, there was a woman which had a spirit of infirmity eighteen years, and was bowed together, and could in no wise lift up herself. And when Jesus saw her, he called her to him, and said unto her, Woman, thou art loosed from thine infirmity. And he laid his hands on her: and immediately she was made straight, and glorified God. And the ruler of the synagogue answered with indignation, because that Jesus had healed on the sabbath day, and said unto the people, There are six days in which men ought to work: in them therefore come and be healed, and not on the sabbath day. The Lord then answered him, and said, Thou hypocrite, doth not each one of you on the sabbath loose his ox or his ass from the stall, and lead him away to watering? And ought not this woman, being a daughter of Abraham, whom Satan hath bound, lo, these eighteen years, be loosed from this bond on the sabbath day? And when he had said these things, all his adversaries were ashamed: and all the people rejoiced for all the glorious things that were done by him.
And this is the confidence that we have in him, that, if we ask any thing according to his will, he heareth us.
Personal Bible reading plan
Create an account to configure your Bible reading plan and you will see your progress and the next chapter to read here!
Read more...