Bible Verses about the Father
«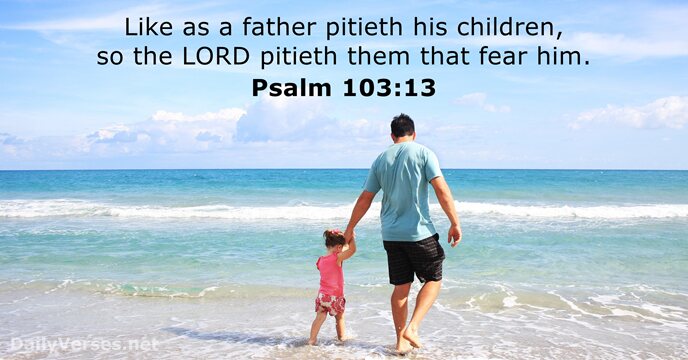 »
Like as a father pitieth his children, so the L

ord

pitieth them that fear him.

De Heer houdt van zijn volk, zoals een vader van zijn kinderen houdt.

Behold, what manner of love the Father hath bestowed upon us, that we should be called the sons of God: therefore the world knoweth us not, because it knew him not.

Bedenk hoeveel de Vader van ons houdt! Zijn liefde voor ons is zo groot, dat hij ons zijn kinderen noemt. En dat zijn we ook. Maar de mensen die bij de wereld horen, begrijpen niet dat wij Gods kinderen zijn. Dat komt doordat ze God niet kennen.

My son, despise not the chastening of the L

ord

; neither be weary of his correction: For whom the L

ord

loveth he correcteth; even as a father the son in whom he delighteth.

Luister goed! Als de Heer streng voor je is, verzet je dan niet tegen hem. Want de Heer straft je voor je fouten omdat hij van je houdt. Net zoals een vader zijn kinderen straft omdat hij van hen houdt.

But thou, when thou prayest, enter into thy closet, and when thou hast shut thy door, pray to thy Father which is in secret; and thy Father which seeth in secret shall reward thee openly.

Als je gaat bidden, ga dan je huis in en doe de deur dicht. Dan kun je in het geheim tot je Vader bidden. Je Vader ziet wat er in het geheim gebeurt. En hij zal je belonen.

Behold the fowls of the air: for they sow not, neither do they reap, nor gather into barns; yet your heavenly Father feedeth them. Are ye not much better than they?

Kijk eens naar de vogels in de lucht. Ze werken niet op het land en ze bewaren geen graan in een schuur. Jullie Vader in de hemel geeft ze te eten. En jullie zijn voor hem veel belangrijker dan de vogels.

Father, I will that they also, whom thou hast given me, be with me where I am; that they may behold my glory, which thou hast given me: for thou lovedst me before the foundation of the world.

Vader, u hebt de gelovigen aan mij gegeven. Ik wil dat ze dicht bij mij zijn, ook als ik naar u toe ga. Dan zullen ze mij zien op mijn plaats naast u in de hemel. U hebt mij die plaats gegeven, want u hield al van mij voordat u de aarde maakte.

And I give unto them eternal life; and they shall never perish, neither shall any man pluck them out of my hand. My Father, which gave them me, is greater than all; and no man is able to pluck them out of my Father's hand. I and my Father are one.

Ik zorg ervoor dat ze gered worden, ik geef hun het eeuwige leven. En niemand kan hen bij mij weghalen. Want mijn Vader heeft mij de hoogste macht gegeven. De Vader en ik zijn samen één. En niemand kan God, de Vader, iets afnemen.

Now unto God and our Father be glory for ever and ever. Amen.

Alle eer aan onze God en Vader, voor altijd en eeuwig! Amen.

Love not the world, neither the things that are in the world. If any man love the world, the love of the Father is not in him.

Jullie mogen de wereld en alles wat daar normaal is, niet liefhebben. Want als iemand de wereld liefheeft, dan is de liefde van de Vader niet in hem.

A fool despiseth his father's instruction: but he that regardeth reproof is prudent.

Dwaze kinderen luisteren niet naar de lessen van hun ouders. Kinderen die wel luisteren, zijn verstandig.

But as many as received him, to them gave he power to become the sons of God, even to them that believe on his name.

Toch waren er ook mensen die wel in hem geloofden. Zij mochten kinderen van God worden.

Jesus answered and said unto him, If a man love me, he will keep my words: and my Father will love him, and we will come unto him, and make our abode with him.

Jezus antwoordde: 'Als je van mij houdt, dan luister je naar mijn woorden. Dan zal mijn Vader van je houden. En de Vader en ik zullen bij je komen en voor altijd in jou aanwezig zijn.'

Fear not, little flock; for it is your Father's good pleasure to give you the kingdom.

Wees niet bang, ook al zijn jullie maar met weinig gelovigen. Want de nieuwe wereld is voor jullie. Zo wil God dat.

Are not two sparrows sold for a farthing? and one of them shall not fall on the ground without your Father. But the very hairs of your head are all numbered. Fear ye not therefore, ye are of more value than many sparrows.

Mussen kosten bijna niets, je hebt er al twee voor een paar cent. Toch valt er dankzij de macht van God, jullie Vader, geen mus zomaar dood op de grond. God weet zelfs hoeveel haren je op je hoofd hebt. Je hoeft dus niet bang te zijn. Jullie zijn voor God veel belangrijker dan mussen.

Every good gift and every perfect gift is from above, and cometh down from the Father of lights, with whom is no variableness, neither shadow of turning.

Al het goede dat wij krijgen, elk volmaakt geschenk, komt van God. Dat zal altijd zo zijn, want God verandert niet. Het licht van de zon en van de maan verandert voortdurend. Maar God, die het licht gemaakt heeft, blijft altijd dezelfde.

Jesus saith unto him, I am the way, the truth, and the life: no man cometh unto the Father, but by me.

Jezus zei: 'Ik ben de weg. Bij mij is de waarheid, en bij mij is het leven. Je kunt alleen bij de Vader komen als je in mij gelooft.'

Thinkest thou that I cannot now pray to my Father, and he shall presently give me more than twelve legions of angels?

Je weet toch dat ik mijn Vader om hulp kan vragen? Dan zou hij mij meteen een enorm leger van engelen sturen.

He that spared not his own Son, but delivered him up for us all, how shall he not with him also freely give us all things?

God liet toe dat zijn eigen Zoon gedood werd. Hij leverde hem uit aan slechte mensen. Dat deed God voor ons allemaal. Maar dan is het zeker dat hij ons ook het eeuwige leven zal geven, het eeuwige leven dat zijn Zoon al gekregen heeft.

He that hath my commandments, and keepeth them, he it is that loveth me: and he that loveth me shall be loved of my Father, and I will love him, and will manifest myself to him.

Je houdt van mij als je volgens mijn regels leeft. En als je van mij houdt, dan houdt de Vader van jou. En ook ik zal van je houden, en je laten zien wie ik echt ben.

For the earnest expectation of the creature waiteth for the manifestation of the sons of God.

Alles op aarde wordt bedreigd door de macht van de dood. Dat is niet de schuld van de aarde, maar het is de straf van God voor de slechtheid van de mensen. Toch is er hoop! Want ooit wordt de aarde bevrijd. Dan komt er een eind aan de macht van de dood. De aarde verlangt hevig naar dat moment van bevrijding. Dan zal God aan zijn kinderen het eeuwige leven geven. En dan zullen zij voor altijd op aarde leven.

For unto us a child is born, unto us a son is given: and the government shall be upon his shoulder: and his name shall be called Wonderful, Counsellor, The mighty God, The everlasting Father, The Prince of Peace.

Er is een kind geboren, we hebben weer een koning. Hij zal over ons regeren. En zo zullen de mensen hem noemen: Wijze Bestuurder, Sterke God, Vader voor Altijd, Koning van de Vrede.

And whatsoever ye shall ask in my name, that will I do, that the Father may be glorified in the Son.

En ik zal doen wat jullie vragen, omdat jullie bij mij horen. Zo zal ik de hemelse macht van mijn Vader laten zien.

In my Father's house are many mansions: if it were not so, I would have told you. I go to prepare a place for you.

In het huis van mijn Vader is plaats voor veel mensen. Daar mag je op vertrouwen. Want ik heb gezegd dat ik wegga om voor jullie een plaats klaar te maken.

No man hath seen God at any time, the only begotten Son, which is in the bosom of the Father, he hath declared him.

Nog nooit heeft iemand God gezien. Maar de enige Zoon, die zelf God is, kent de Vader van dichtbij. Gods Zoon is bij ons gekomen. En door hem kennen wij God.

But to us there is but one God, the Father, of whom are all things, and we in him; and one Lord Jesus Christ, by whom are all things, and we by him.

Wij kennen maar één God. Hij is onze Vader. Hij heeft alles gemaakt, en wij bestaan om hem te dienen. Wij kennen ook maar één Heer, namelijk Jezus Christus. Alles bestaat dankzij hem, en ook wij bestaan dankzij hem.
A man's gift maketh room for him, and bringeth him before great men.
Personal Bible reading plan
Create an account to configure your Bible reading plan and you will see your progress and the next chapter to read here!
Read more...