Bible Verses about Truth
«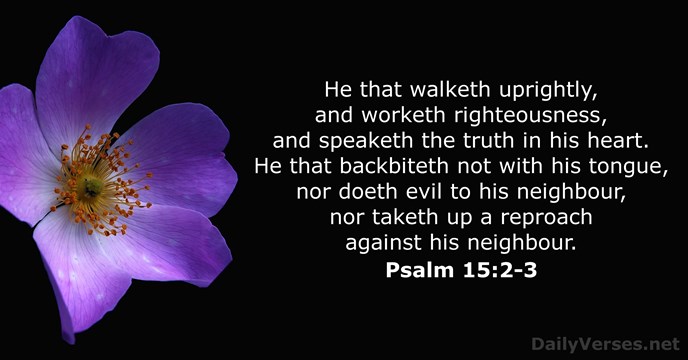 »
He that walketh uprightly, and worketh righteousness, and speaketh the truth in his heart. He that backbiteth not with his tongue, nor doeth evil to his neighbour, nor taketh up a reproach against his neighbour.

El que anda en integridad y hace justicia; el que habla verdad en su corazón; el que no calumnia con su lengua ni hace mal a su prójimo ni admite reproche alguno contra su vecino.

My little children, let us not love in word, neither in tongue; but in deed and in truth.

Hijitos míos, no amemos de palabra ni de lengua, sino de hecho y en verdad.

If we say that we have fellowship with him, and walk in darkness, we lie, and do not the truth.

Si decimos que tenemos comunión con él y andamos en tinieblas, mentimos y no practicamos la verdad.

I have no greater joy than to hear that my children walk in truth.

No tengo yo mayor gozo que oír que mis hijos andan en la verdad.

Then said Jesus to those Jews which believed on him, If ye continue in my word, then are ye my disciples indeed; And ye shall know the truth, and the truth shall make you free.

Dijo entonces Jesús a los judíos que habían creído en él: —Si vosotros permanecéis en mi palabra, seréis verdaderamente mis discípulos; y conoceréis la verdad y la verdad os hará libres.

Finally, brethren, whatsoever things are true, whatsoever things are honest, whatsoever things are just, whatsoever things are pure, whatsoever things are lovely, whatsoever things are of good report; if there be any virtue, and if there be any praise, think on these things.

Por lo demás, hermanos, todo lo que es verdadero, todo lo honesto, todo lo justo, todo lo puro, todo lo amable, todo lo que es de buen nombre; si hay virtud alguna, si algo digno de alabanza, en esto pensad.

But speaking the truth in love, may grow up into him in all things, which is the head, even Christ.

Sino que, siguiendo la verdad en amor, crezcamos en todo en aquel que es la cabeza, esto es, Cristo.

Jesus saith unto him, I am the way, the truth, and the life: no man cometh unto the Father, but by me.

Jesús le dijo: —Yo soy el camino, la verdad y la vida; nadie viene al Padre sino por mí.

Study to shew thyself approved unto God, a workman that needeth not to be ashamed, rightly dividing the word of truth.

Procura con diligencia presentarte a Dios aprobado, como obrero que no tiene de qué avergonzarse, que usa bien la palabra de verdad.

Lead me in thy truth, and teach me: for thou art the God of my salvation; on thee do I wait all the day.

Encamíname en tu verdad y enséñame, porque tú eres el Dios de mi salvación; en ti he esperado todo el día.

The lips of the righteous know what is acceptable: but the mouth of the wicked speaketh frowardness.

Los labios del justo saben decir lo que agrada, mas la boca de los malvados habla perversidades.

Keep thy tongue from evil, and thy lips from speaking guile.

Guarda tu lengua del mal y tus labios de hablar engaño.

Now faith is the substance of things hoped for, the evidence of things not seen.

Es, pues, la fe la certeza de lo que se espera, la convicción de lo que no se ve.

God is a Spirit: and they that worship him must worship him in spirit and in truth.

Dios es Espíritu, y los que lo adoran, en espíritu y en verdad es necesario que lo adoren.

I have chosen the way of truth: thy judgments have I laid before me.

Escogí el camino de la verdad; he puesto tus juicios delante de mí.

Every word of God is pure: he is a shield unto them that put their trust in him.

Toda palabra de Dios es limpia; él es escudo para los que en él esperan.

But above all things, my brethren, swear not, neither by heaven, neither by the earth, neither by any other oath: but let your yea be yea; and your nay, nay; lest ye fall into condemnation.

Sobre todo, hermanos míos, no juréis, ni por el cielo ni por la tierra ni por ningún otro juramento; sino que vuestro «sí» sea sí, y vuestro «no» sea no, para que no caigáis en condenación.

But the anointing which ye have received of him abideth in you, and ye need not that any man teach you: but as the same anointing teacheth you of all things, and is truth, and is no lie, and even as it hath taught you, ye shall abide in him.

Pero la unción que vosotros recibisteis de él permanece en vosotros y no tenéis necesidad de que nadie os enseñe; así como la unción misma os enseña todas las cosas, y es verdadera, y no es mentira, según ella os ha enseñado, permaneced en él.

Of his own will begat he us with the word of truth, that we should be a kind of firstfruits of his creatures.

Él, de su voluntad, nos hizo nacer por la palabra de verdad, para que seamos primicias de sus criaturas.

And we know that the Son of God is come, and hath given us an understanding, that we may know him that is true, and we are in him that is true, even in his Son Jesus Christ. This is the true God, and eternal life.

Pero sabemos que el Hijo de Dios ha venido y nos ha dado entendimiento para conocer al que es verdadero; y estamos en el verdadero, en su Hijo Jesucristo. Éste es el verdadero Dios y la vida eterna.

Put away from thee a froward mouth, and perverse lips put far from thee.

Aparta de ti la perversidad de la boca, aleja de ti la iniquidad de los labios.

For the word of the L

ord

is right; and all his works are done in truth.

Porque recta es la palabra de Jehová y toda su obra es hecha con fidelidad.

And the Word was made flesh, and dwelt among us, (and we beheld his glory, the glory as of the only begotten of the Father,) full of grace and truth.

Y el Verbo se hizo carne y habitó entre nosotros lleno de gracia y de verdad; y vimos su gloria, gloria como del unigénito del Padre.

But when the Comforter is come, whom I will send unto you from the Father, even the Spirit of truth, which proceedeth from the Father, he shall testify of me.

Pero cuando venga el Consolador, a quien yo os enviaré del Padre, el Espíritu de verdad, el cual procede del Padre, él dará testimonio acerca de mí.

Nevertheless I tell you the truth; It is expedient for you that I go away: for if I go not away, the Comforter will not come unto you; but if I depart, I will send him unto you.

Pero yo os digo la verdad: Os conviene que yo me vaya, porque si no me voy, el Consolador no vendrá a vosotros; pero si me voy, os lo enviaré.
Be not wise in thine own eyes: fear the Lord, and depart from evil. It shall be health to thy navel, and marrow to thy bones.
Personal Bible reading plan
Create an account to configure your Bible reading plan and you will see your progress and the next chapter to read here!
Read more...