Bible Verses about the Body
«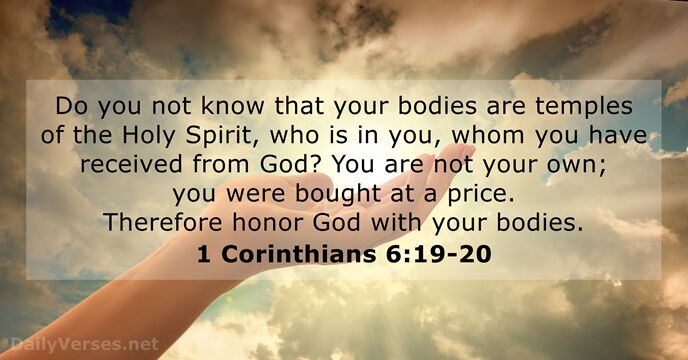 »
Do you not know that your bodies are temples of the Holy Spirit, who is in you, whom you have received from God? You are not your own; you were bought at a price. Therefore honor God with your bodies.

¿O ignoráis que vuestro cuerpo es templo del Espíritu Santo, el cual está en vosotros, el cual tenéis de Dios, y que no sois vuestros? Porque habéis sido comprados por precio; glorificad, pues, a Dios en vuestro cuerpo y en vuestro espíritu, los cuales son de Dios.

For just as each of us has one body with many members, and these members do not all have the same function, so in Christ we, though many, form one body, and each member belongs to all the others.

Porque de la manera que en un cuerpo tenemos muchos miembros, pero no todos los miembros tienen la misma función, así nosotros, siendo muchos, somos un cuerpo en Cristo, y todos miembros los unos de los otros.

For you created my inmost being; you knit me together in my mother's womb. I praise you because I am fearfully and wonderfully made; your works are wonderful, I know that full well.

Porque tú formaste mis entrañas; Tú me hiciste en el vientre de mi madre. Te alabaré; porque formidables, maravillosas son tus obras; Estoy maravillado, Y mi alma lo sabe muy bien.

My flesh and my heart may fail, but God is the strength of my heart and my portion forever.

Mi carne y mi corazón desfallecen; Mas la roca de mi corazón y mi porción es Dios para siempre.

So then, banish anxiety from your heart and cast off the troubles of your body, for youth and vigor are meaningless.

Quita, pues, de tu corazón el enojo, y aparta de tu carne el mal; porque la adolescencia y la juventud son vanidad.

A cheerful heart is good medicine, but a crushed spirit dries up the bones.

El corazón alegre constituye buen remedio; Mas el espíritu triste seca los huesos.

Watch and pray so that you will not fall into temptation. The spirit is willing, but the flesh is weak.

Velad y orad, para que no entréis en tentación; el espíritu a la verdad está dispuesto, pero la carne es débil.

Let the peace of Christ rule in your hearts, since as members of one body you were called to peace. And be thankful.

Y la paz de Dios gobierne en vuestros corazones, a la que asimismo fuisteis llamados en un solo cuerpo; y sed agradecidos.

Do not be wise in your own eyes; fear the L

ord

and shun evil. This will bring health to your body and nourishment to your bones.

No seas sabio en tu propia opinión; Teme a Jehová, y apártate del mal; Porque será medicina a tu cuerpo, Y refrigerio para tus huesos.

Gracious words are a honeycomb, sweet to the soul and healing to the bones.

Panal de miel son los dichos suaves; Suavidad al alma y medicina para los huesos.

For physical training is of some value, but godliness has value for all things, holding promise for both the present life and the life to come.

Porque el ejercicio corporal para poco es provechoso, pero la piedad para todo aprovecha, pues tiene promesa de esta vida presente, y de la venidera.

Therefore we do not lose heart. Though outwardly we are wasting away, yet inwardly we are being renewed day by day.

Por tanto, no desmayamos; antes aunque este nuestro hombre exterior se va desgastando, el interior no obstante se renueva de día en día.

Therefore I tell you, do not worry about your life, what you will eat or drink; or about your body, what you will wear. Is not life more than food, and the body more than clothes?

Por tanto os digo: No os afanéis por vuestra vida, qué habéis de comer o qué habéis de beber; ni por vuestro cuerpo, qué habéis de vestir. ¿No es la vida más que el alimento, y el cuerpo más que el vestido?

No, I strike a blow to my body and make it my slave so that after I have preached to others, I myself will not be disqualified for the prize.

Sino que golpeo mi cuerpo, y lo pongo en servidumbre, no sea que habiendo sido heraldo para otros, yo mismo venga a ser eliminado.

There is one body and one Spirit, just as you were called to one hope when you were called.

Un cuerpo, y un Espíritu, como fuisteis también llamados en una misma esperanza de vuestra vocación.

Do not be afraid of those who kill the body but cannot kill the soul. Rather, be afraid of the One who can destroy both soul and body in hell.

Y no temáis a los que matan el cuerpo, mas el alma no pueden matar; temed más bien a aquel que puede destruir el alma y el cuerpo en el infierno.

You, God, are my God, earnestly I seek you; I thirst for you, my whole being longs for you, in a dry and parched land where there is no water.

Dios, Dios mío eres tú; De madrugada te buscaré; Mi alma tiene sed de ti, mi carne te anhela, En tierra seca y árida donde no hay aguas.

Then the L

ord

God made a woman from the rib he had taken out of the man, and he brought her to the man. The man said, "This is now bone of my bones and flesh of my flesh; she shall be called 'woman,' for she was taken out of man." That is why a man leaves his father and mother and is united to his wife, and they become one flesh.

Y de la costilla que Jehová Dios tomó del hombre, hizo una mujer, y la trajo al hombre. Dijo entonces Adán: Esto es ahora hueso de mis huesos y carne de mi carne; ésta será llamada Varona, porque del varón fue tomada. Por tanto, dejará el hombre a su padre y a su madre, y se unirá a su mujer, y serán una sola carne.

Just as a body, though one, has many parts, but all its many parts form one body, so it is with Christ.

Porque así como el cuerpo es uno, y tiene muchos miembros, pero todos los miembros del cuerpo, siendo muchos, son un solo cuerpo, así también Cristo.

Do not worry about your life, what you will eat; or about your body, what you will wear. For life is more than food, and the body more than clothes.

No os afanéis por vuestra vida, qué comeréis; ni por el cuerpo, qué vestiréis. La vida es más que la comida, y el cuerpo que el vestido.

For we know that if the earthly tent we live in is destroyed, we have a building from God, an eternal house in heaven, not built by human hands.

Porque sabemos que si nuestra morada terrestre, este tabernáculo, se deshiciere, tenemos de Dios un edificio, una casa no hecha de manos, eterna, en los cielos.

We all stumble in many ways. Anyone who is never at fault in what they say is perfect, able to keep their whole body in check.

Porque todos ofendemos muchas veces. Si alguno no ofende en palabra, éste es varón perfecto, capaz también de refrenar todo el cuerpo.

If I give all I possess to the poor and give over my body to hardship that I may boast, but do not have love, I gain nothing.

Y si repartiese todos mis bienes para dar de comer a los pobres, y si entregase mi cuerpo para ser quemado, y no tengo amor, de nada me sirve.

For we were all baptized by one Spirit so as to form one body—whether Jews or Gentiles, slave or free—and we were all given the one Spirit to drink.

Porque por un solo Espíritu fuimos todos bautizados en un cuerpo, sean judíos o griegos, sean esclavos o libres; y a todos se nos dio a beber de un mismo Espíritu.

If your right eye causes you to stumble, gouge it out and throw it away. It is better for you to lose one part of your body than for your whole body to be thrown into hell.

Por tanto, si tu ojo derecho te es ocasión de caer, sácalo, y échalo de ti; pues mejor te es que se pierda uno de tus miembros, y no que todo tu cuerpo sea echado al infierno.
His divine power has given us everything we need for a godly life through our knowledge of him who called us by his own glory and goodness.
Personal Bible reading plan
Create an account to configure your Bible reading plan and you will see your progress and the next chapter to read here!
Read more...