33 Versículos de la Biblia sobre la Conversión
«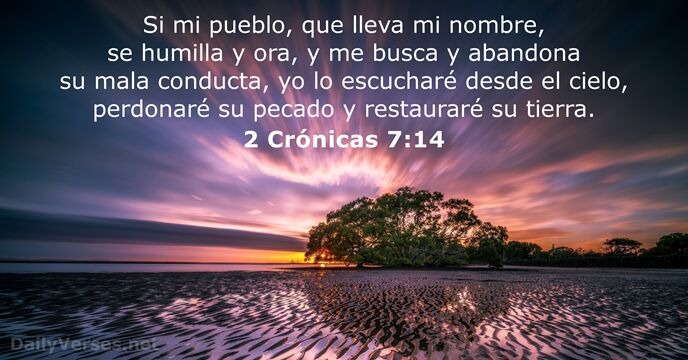 »
Si mi pueblo, que lleva mi nombre, se humilla y ora, y me busca y abandona su mala conducta, yo lo escucharé desde el cielo, perdonaré su pecado y restauraré su tierra.

If my people who are called by my name humble themselves, and pray and seek my face and turn from their wicked ways, then I will hear from heaven and will forgive their sin and heal their land.

El S

eñor

su Dios es compasivo y misericordioso. Si ustedes se vuelven a él, jamás los abandonará.
For the L

ord

your God is gracious and merciful and will not turn away his face from you, if you return to him.

Por tanto, hagan morir todo lo que es propio de la naturaleza terrenal: inmoralidad sexual, impureza, bajas pasiones, malos deseos y avaricia, la cual es idolatría.

Put to death therefore what is earthly in you: sexual immorality, impurity, passion, evil desire, and covetousness, which is idolatry.

El Señor no tarda en cumplir su promesa, según entienden algunos la tardanza. Más bien, él tiene paciencia con ustedes, porque no quiere que nadie perezca sino que todos se arrepientan.

The Lord is not slow to fulfill his promise as some count slowness, but is patient toward you, not wishing that any should perish, but that all should reach repentance.

Yo no quiero la muerte de nadie. ¡Conviértanse, y vivirán! Lo afirma el S

eñor

omnipotente.
For I have no pleasure in the death of anyone, declares the Lord G

od

; so turn, and live.

Por tanto, para que sean borrados sus pecados, arrepiéntanse y vuélvanse a Dios, a fin de que vengan tiempos de descanso de parte del Señor.

Repent therefore, and turn back, that your sins may be blotted out.

Rásguense el corazón y no las vestiduras. Vuélvanse al S

eñor

su Dios, porque él es bondadoso y compasivo, lento para la ira y lleno de amor, cambia de parecer y no castiga.
And rend your hearts and not your garments. Return to the L

ord

your God, for he is gracious and merciful, slow to anger, and abounding in steadfast love; and he relents over disaster.

—Arrepiéntase y bautícese cada uno de ustedes en el nombre de Jesucristo para perdón de sus pecados —les contestó Pedro—, y recibirán el don del Espíritu Santo.

And Peter said to them, "Repent and be baptized every one of you in the name of Jesus Christ for the forgiveness of your sins, and you will receive the gift of the Holy Spirit."

Produzcan frutos que demuestren arrepentimiento.

Bear fruit in keeping with repentance.

Desde entonces comenzó Jesús a predicar: «Arrepiéntanse, porque el reino de los cielos está cerca.»

From that time Jesus began to preach, saying, "Repent, for the kingdom of heaven is at hand."

Les digo que así es también en el cielo: habrá más alegría por un solo pecador que se arrepienta, que por noventa y nueve justos que no necesitan arrepentirse.

Just so, I tell you, there will be more joy in heaven over one sinner who repents than over ninety-nine righteous persons who need no repentance.

Por esto, despójense de toda inmundicia y de la maldad que tanto abunda, para que puedan recibir con humildad la palabra sembrada en ustedes, la cual tiene poder para salvarles la vida.

Therefore put away all filthiness and rampant wickedness and receive with meekness the implanted word, which is able to save your souls.

No he venido a llamar a justos, sino a pecadores para que se arrepientan.

I have not come to call the righteous but sinners to repentance.

He disipado tus transgresiones como el rocío, y tus pecados como la bruma de la mañana. Vuelve a mí, que te he redimido.

I have blotted out your transgressions like a cloud and your sins like mist; return to me, for I have redeemed you.

«Ahora bien —afirma el S

eñor

—, vuélvanse a mí de todo corazón, con ayuno, llantos y lamentos».
"Yet even now," declares the L

ord

, "return to me with all your heart, with fasting, with weeping, and with mourning."

Se ha cumplido el tiempo —decía—. El reino de Dios está cerca. ¡Arrepiéntanse y crean las buenas nuevas!

The time is fulfilled, and the kingdom of God is at hand; repent and believe in the gospel.

Yo reprendo y disciplino a todos los que amo. Por lo tanto, sé fervoroso y arrepiéntete.

Those whom I love, I reprove and discipline, so be zealous and repent.

Que abandone el malvado su camino, y el perverso sus pensamientos. Que se vuelva al S

eñor

, a nuestro Dios, que es generoso para perdonar, y de él recibirá misericordia.
Let the wicked forsake his way, and the unrighteous man his thoughts; let him return to the L

ord

, that he may have compassion on him, and to our God, for he will abundantly pardon.

Pues bien, Dios pasó por alto aquellos tiempos de tal ignorancia, pero ahora manda a todos, en todas partes, que se arrepientan.

The times of ignorance God overlooked, but now he commands all people everywhere to repent.

Vuélvanse a mí, y yo me volveré a ustedes —afirma el S

eñor

Todopoderoso—.
Return to me, says the L

ord

of hosts, and I will return to you, says the L

ord

of hosts.

Hermanos, si alguien es sorprendido en pecado, ustedes que son espirituales deben restaurarlo con una actitud humilde. Pero cuídese cada uno, porque también puede ser tentado.

Brothers, if anyone is caught in any transgression, you who are spiritual should restore him in a spirit of gentleness. Keep watch on yourself, lest you too be tempted.

Si el malvado se arrepiente de todos los pecados que ha cometido, y obedece todos mis decretos y practica el derecho y la justicia, no morirá.

But if a wicked person turns away from all his sins that he has committed and keeps all my statutes and does what is just and right, he shall surely live; he shall not die.

Les digo que así mismo se alegra Dios con sus ángeles por un pecador que se arrepiente.

Just so, I tell you, there is joy before the angels of God over one sinner who repents.

Arrepiéntanse y apártense de todas sus maldades, para que el pecado no les acarree la ruina.

Repent and turn from all your transgressions, lest iniquity be your ruin.

No ofrezcan los miembros de su cuerpo al pecado como instrumentos de injusticia; al contrario, ofrézcanse más bien a Dios como quienes han vuelto de la muerte a la vida, presentando los miembros de su cuerpo como instrumentos de justicia.

Do not present your members to sin as instruments for unrighteousness, but present yourselves to God as those who have been brought from death to life, and your members to God as instruments for righteousness.
Que la gracia del Señor Jesucristo sea con su espíritu. Amén.
Aun si voy por valles tenebrosos,
no temo peligro alguno
porque tú estás a mi lado;
tu vara de pastor me reconforta.
Que la gracia del Señor Jesucristo sea con su espíritu. Amén.
Plan de lectura de la Biblia
Registrar y configurar su plan de lectura de la Biblia que desea ver su progreso y el siguiente capítulo para leer aquí!