Versículos de la Biblia sobre la Justicia
«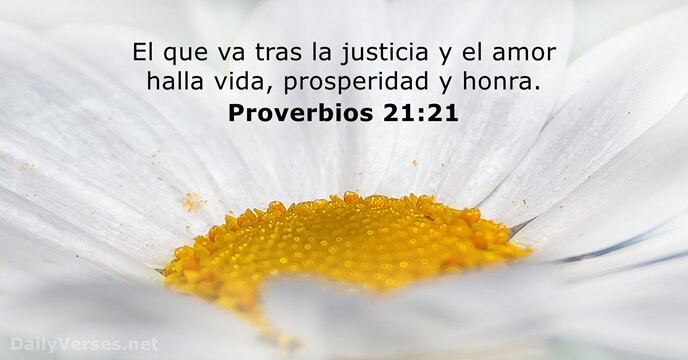 »
El que va tras la justicia y el amor halla vida, prosperidad y honra.

Whoever pursues righteousness and love finds life, prosperity and honor.

Porque Dios «pagará a cada uno según lo que merezcan sus obras».

God "will repay each person according to what they have done."

Tú, en cambio, hombre de Dios, huye de todo eso, y esmérate en seguir la justicia, la piedad, la fe, el amor, la constancia y la humildad.

But you, man of God, flee from all this, and pursue righteousness, godliness, faith, love, endurance and gentleness.

Porque el S

eñor

ama la justicia y no abandona a quienes le son fieles. El S

eñor

los protegerá para siempre, pero acabará con la descendencia de los malvados.
For the L

ord

loves the just and will not forsake his faithful ones. Wrongdoers will be completely destroyed; the offspring of the wicked will perish.

No se engañen: de Dios nadie se burla. Cada uno cosecha lo que siembra.

Do not be deceived: God cannot be mocked. A man reaps what he sows.

A cada uno le parece correcto su proceder, pero el S

eñor

juzga los corazones.
A person may think their own ways are right, but the L

ord

weighs the heart.

Más bien, busquen primeramente el reino de Dios y su justicia, y todas estas cosas les serán añadidas.

But seek first his kingdom and his righteousness, and all these things will be given to you as well.

El justo será siempre recordado; ciertamente nunca fracasará.

Surely the righteous will never be shaken; they will be remembered forever.

Practicar la justicia y el derecho lo prefiere el S

eñor

a los sacrificios.
To do what is right and just is more acceptable to the L

ord

than sacrifice.
Los ojos del S

eñor

están sobre los justos, y sus oídos, atentos a sus oraciones.
The eyes of the L

ord

are on the righteous, and his ears are attentive to their cry.

¡Dichosos si sufren por causa de la justicia! «No teman lo que ellos temen, ni se dejen asustar».

But even if you should suffer for what is right, you are blessed. "Do not fear their threats; do not be frightened."

No nos cansemos de hacer el bien, porque a su debido tiempo cosecharemos si no nos damos por vencidos.

Let us not become weary in doing good, for at the proper time we will reap a harvest if we do not give up.

Asegúrense de que nadie pague mal por mal; más bien, esfuércense siempre por hacer el bien, no solo entre ustedes, sino a todos.

Make sure that nobody pays back wrong for wrong, but always strive to do what is good for each other and for everyone else.

Al que no cometió pecado alguno, por nosotros Dios lo trató como pecador, para que en él recibiéramos la justicia de Dios.

God made him who had no sin to be sin for us, so that in him we might become the righteousness of God.

Por último, hermanos, consideren bien todo lo verdadero, todo lo respetable, todo lo justo, todo lo puro, todo lo amable, todo lo digno de admiración, en fin, todo lo que sea excelente o merezca elogio.

Finally, brothers and sisters, whatever is true, whatever is noble, whatever is right, whatever is pure, whatever is lovely, whatever is admirable—if anything is excellent or praiseworthy—think about such things.

En verdad, Dios ha manifestado a toda la humanidad su gracia, la cual trae salvación y nos enseña a rechazar la impiedad y las pasiones mundanas. Así podremos vivir en este mundo con justicia, piedad y dominio propio.

For the grace of God has appeared that offers salvation to all people. It teaches us to say "No" to ungodliness and worldly passions, and to live self-controlled, upright and godly lives in this present age.

En fin, el fruto de la justicia se siembra en paz para los que hacen la paz.

Peacemakers who sow in peace reap a harvest of righteousness.

Dichoso el hombre que no sigue el consejo de los malvados, ni se detiene en la senda de los pecadores ni cultiva la amistad de los blasfemos.

Blessed is the one who does not walk in step with the wicked or stand in the way that sinners take or sit in the company of mockers.

Las riquezas mal habidas no sirven de nada, pero la justicia libra de la muerte.

Ill-gotten treasures have no lasting value, but righteousness delivers from death.

Encomienda al S

eñor

tu camino; confía en él, y él actuará. Hará que tu justicia resplandezca como el alba; tu justa causa, como el sol de mediodía.
Commit your way to the L

ord

; trust in him and he will do this: He will make your righteous reward shine like the dawn, your vindication like the noonday sun.

El malvado obtiene ganancias ilusorias; el que siembra justicia asegura su ganancia.

A wicked person earns deceptive wages, but the one who sows righteousness reaps a sure reward.

¿Y qué mérito tienen ustedes al hacer bien a quienes les hacen bien? Aun los pecadores actúan así.

And if you do good to those who are good to you, what credit is that to you? Even sinners do that.

Dichosos los que tienen hambre y sed de justicia, porque serán saciados.

Blessed are those who hunger and thirst for righteousness, for they will be filled.

Yo te busco con todo el corazón; no dejes que me desvíe de tus mandamientos.

I seek you with all my heart; do not let me stray from your commands.

Trampa es consagrar algo sin pensarlo y más tarde reconsiderar lo prometido.

It is a trap to dedicate something rashly and only later to consider one's vows.
Pero vayan y aprendan qué significa esto: "Lo que pido de ustedes es misericordia y no sacrificios". Porque no he venido a llamar a justos, sino a pecadores.
Plan de lectura de la Biblia
Registrar y configurar su plan de lectura de la Biblia que desea ver su progreso y el siguiente capítulo para leer aquí!