Versículos de la Biblia sobre Mentir
«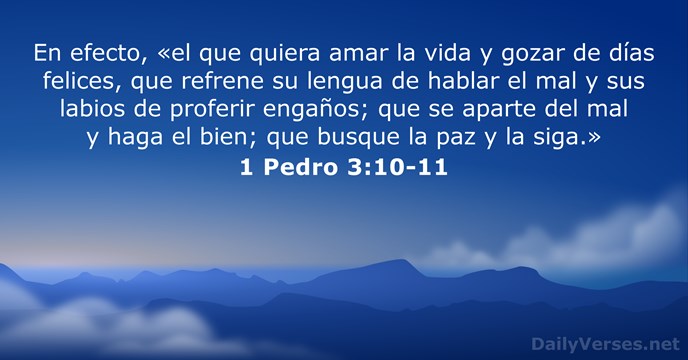 »
En efecto, «el que quiera amar la vida y gozar de días felices, que refrene su lengua de hablar el mal y sus labios de proferir engaños; que se aparte del mal y haga el bien; que busque la paz y la siga.»

For he that will love life, and see good days, let him refrain his tongue from evil, and his lips that they speak no guile: Let him eschew evil, and do good; let him seek peace, and ensue it.

El S

eñor

aborrece a los de labios mentirosos, pero se complace en los que actúan con lealtad.
Lying lips are abomination to the L

ord

: but they that deal truly are his delight.
S

eñor

, líbrame de los labios mentirosos y de las lenguas embusteras.
Deliver my soul, O L

ord

, from lying lips, and from a deceitful tongue.

Solo el de conducta intachable, que practica la justicia y de corazón dice la verdad; que no calumnia con la lengua, que no le hace mal a su prójimo ni le acarrea desgracias a su vecino.

He that walketh uprightly, and worketh righteousness, and speaketh the truth in his heart. He that backbiteth not with his tongue, nor doeth evil to his neighbour, nor taketh up a reproach against his neighbour.

Luego añadió: —Lo que sale de la persona es lo que la contamina. Porque de adentro, del corazón humano, salen los malos pensamientos, la inmoralidad sexual, los robos, los homicidios, los adulterios, la avaricia, la maldad, el engaño, el libertinaje, la envidia, la calumnia, la arrogancia y la necedad. Todos estos males vienen de adentro y contaminan a la persona.

And he said, That which cometh out of the man, that defileth the man. For from within, out of the heart of men, proceed evil thoughts, adulteries, fornications, murders, Thefts, covetousness, wickedness, deceit, lasciviousness, an evil eye, blasphemy, pride, foolishness: All these evil things come from within, and defile the man.

Que refrene su lengua de hablar el mal y sus labios de proferir engaños.

Keep thy tongue from evil, and thy lips from speaking guile.

El de labios mentirosos disimula su odio, y el que propaga calumnias es un necio.

He that hideth hatred with lying lips, and he that uttereth a slander, is a fool.

Dejen de mentirse unos a otros, ahora que se han quitado el ropaje de la vieja naturaleza con sus vicios, y se han puesto el de la nueva naturaleza, que se va renovando en conocimiento a imagen de su creador.

Lie not one to another, seeing that ye have put off the old man with his deeds; And have put on the new man, which is renewed in knowledge after the image of him that created him.

Si afirmamos que tenemos comunión con él, pero vivimos en la oscuridad, mentimos y no ponemos en práctica la verdad.

If we say that we have fellowship with him, and walk in darkness, we lie, and do not the truth.

Quien se conduce con integridad anda seguro; quien anda en malos pasos será descubierto.

He that walketh uprightly walketh surely: but he that perverteth his ways shall be known.

El perverso provoca contiendas, y el chismoso divide a los buenos amigos.

A froward man soweth strife: and a whisperer separateth chief friends.

"No mates, no cometas adulterio, no robes, no presentes falso testimonio, honra a tu padre y a tu madre", y "ama a tu prójimo como a ti mismo".

Thou shalt do no murder, Thou shalt not commit adultery, Thou shalt not steal, Thou shalt not bear false witness, Honour thy father and thy mother: and, Thou shalt love thy neighbour as thyself.

El testigo verdadero jamás engaña; el testigo falso propaga mentiras.

A faithful witness will not lie: but a false witness will utter lies.

Aleja de mí la falsedad y la mentira; no me des pobreza ni riquezas, sino solo el pan de cada día.

Remove far from me vanity and lies: give me neither poverty nor riches; feed me with food convenient for me.

Ustedes son de su padre, el diablo, cuyos deseos quieren cumplir. Desde el principio este ha sido un asesino, y no se mantiene en la verdad, porque no hay verdad en él. Cuando miente, expresa su propia naturaleza, porque es un mentiroso. ¡Es el padre de la mentira!

Ye are of your father the devil, and the lusts of your father ye will do. He was a murderer from the beginning, and abode not in the truth, because there is no truth in him. When he speaketh a lie, he speaketh of his own: for he is a liar, and the father of it.

Dichosos serán ustedes cuando por mi causa la gente los insulte, los persiga y levante contra ustedes toda clase de calumnias.

Blessed are ye, when men shall revile you, and persecute you, and shall say all manner of evil against you falsely, for my sake.

La lengua que brinda alivio es árbol de vida; la lengua insidiosa deprime el espíritu.

A wholesome tongue is a tree of life: but perverseness therein is a breach in the spirit.

Quien teme al S

eñor

aborrece lo malo; yo aborrezco el orgullo y la arrogancia, la mala conducta y el lenguaje perverso.
The fear of the L

ord

is to hate evil: pride, and arrogancy, and the evil way, and the froward mouth, do I hate.

Ananías —le reclamó Pedro—, ¿cómo es posible que Satanás haya llenado tu corazón para que le mintieras al Espíritu Santo y te quedaras con parte del dinero que recibiste por el terreno? ¿Acaso no era tuyo antes de venderlo? Y una vez vendido, ¿no estaba el dinero en tu poder? ¿Cómo se te ocurrió hacer esto? ¡No has mentido a los hombres, sino a Dios!

But Peter said, Ananias, why hath Satan filled thine heart to lie to the Holy Ghost, and to keep back part of the price of the land? Whiles it remained, was it not thine own? and after it was sold, was it not in thine own power? why hast thou conceived this thing in thine heart? thou hast not lied unto men, but unto God.

La gente chismosa revela los secretos; la gente confiable es discreta.

A talebearer revealeth secrets: but he that is of a faithful spirit concealeth the matter.

No va bien con los necios el lenguaje refinado, ni con los gobernantes, la mentira.

Excellent speech becometh not a fool: much less do lying lips a prince.

Aleja de tu boca la perversidad; aparta de tus labios las palabras corruptas.

Put away from thee a froward mouth, and perverse lips put far from thee.

Los labios del justo destilan bondad; de la boca del malvado brota perversidad.

The lips of the righteous know what is acceptable: but the mouth of the wicked speaketh frowardness.

Dios no es un simple mortal para mentir y cambiar de parecer. ¿Acaso no cumple lo que promete ni lleva a cabo lo que dice?

God is not a man, that he should lie; neither the son of man, that he should repent: hath he said, and shall he not do it? or hath he spoken, and shall he not make it good?
Dios hizo todo hermoso en su momento, y puso en la mente humana el sentido del tiempo, aun cuando el hombre no alcanza a comprender la obra que Dios realiza de principio a fin.
Plan de lectura de la Biblia
Registrar y configurar su plan de lectura de la Biblia que desea ver su progreso y el siguiente capítulo para leer aquí!