Bible Verses about Fruitfulness
«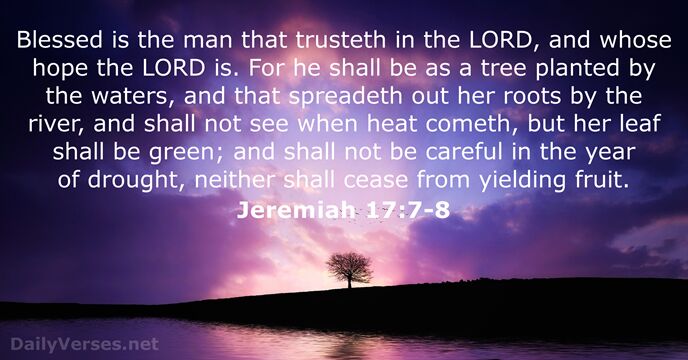 »
Blessed is the man that trusteth in the L

ord

, and whose hope the L

ord

is. For he shall be as a tree planted by the waters, and that spreadeth out her roots by the river, and shall not see when heat cometh, but her leaf shall be green; and shall not be careful in the year of drought, neither shall cease from yielding fruit.

Maar als je op mij vertrouwt en bij mij hulp zoekt, zul je gelukkig zijn. Dan lijk je op een boom aan het water. De wortels van zo'n boom groeien tot in de rivier. Zo'n boom heeft geen last van de hete zomer, zijn bladeren blijven altijd groen. En hij geeft ieder jaar vruchten, ook in jaren van droogte.

But the fruit of the Spirit is love, joy, peace, longsuffering, gentleness, goodness, faith, Meekness, temperance: against such there is no law.

Mensen die zich laten leiden door de heilige Geest, leven heel anders. Zij houden van elkaar. Ze zijn blij en leven in vrede. Ze hebben geduld en zijn goed voor elkaar. Ze geloven in Christus. Ze zijn vriendelijk en gedragen zich goed. Als je zo leeft, doe je precies wat de wet eigenlijk wil.

Ye have not chosen me, but I have chosen you, and ordained you, that ye should go and bring forth fruit, and that your fruit should remain: that whatsoever ye shall ask of the Father in my name, he may give it you.

Jullie hebben niet mij uitgekozen, maar ik heb jullie uitgekozen. En ik geef jullie de opdracht om de wereld in te gaan. Doe goede dingen, en blijf dat doen. De Vader zal jullie alles geven wat je hem vraagt, omdat jullie bij mij horen.

Bring forth therefore fruits meet for repentance.

Jullie moeten goede dingen doen. Dan zullen jullie lijken op een boom met goede vruchten.

I am the vine, ye are the branches: He that abideth in me, and I in him, the same bringeth forth much fruit: for without me ye can do nothing.

Ik ben de stam van de druivenplant en jullie zijn de takken. Als jullie met mij verbonden blijven en ik met jullie, dan zul je veel goeds kunnen doen. Maar zonder mij kun je niets.

Herein is my Father glorified, that ye bear much fruit; so shall ye be my disciples.

Jullie zullen dan, als leerlingen van mij, veel goede dingen doen. Zo maken jullie de hemelse macht van mijn Vader zichtbaar.

Although the fig tree shall not blossom, neither shall fruit be in the vines; the labour of the olive shall fail, and the fields shall yield no meat; the flock shall be cut off from the fold, and there shall be no herd in the stalls: Yet I will rejoice in the L

ord

, I will joy in the God of my salvation.

Misschien zijn er straks geen vijgen meer, misschien geen olijven of druiven. Misschien mislukt de graanoogst, of gaan de schapen dood, of de koeien. Toch zal ik dan juichen van blijdschap. Want ik weet dat de Heer mij redt!

Death and life are in the power of the tongue: and they that love it shall eat the fruit thereof.

Woorden kunnen goed doen of kwaad doen. Denk dus goed na voordat je iets zegt.

And the fruit of righteousness is sown in peace of them that make peace.

Mensen die goede dingen doen en in vrede leven met iedereen, zorgen overal voor recht en vrede.

He also that received seed among the thorns is he that heareth the word; and the care of this world, and the deceitfulness of riches, choke the word, and he becometh unfruitful.

Weer anderen lijken op het zaad dat tussen het onkruid valt. Die mensen hebben het nieuws gehoord, maar ze doen er niets mee. Want ze maken zich zorgen over de dagelijkse dingen. Ze willen rijk worden. Dat vinden ze belangrijker.

So shall my word be that goeth forth out of my mouth: it shall not return unto me void, but it shall accomplish that which I please, and it shall prosper in the thing whereto I sent it.

Zo gaat het ook met de woorden die uit mijn mond komen. Ze komen pas weer bij mij terug als ze hun doel bereikt hebben. Mijn woorden komen pas terug als ze ook daden geworden zijn.

Now no chastening for the present seemeth to be joyous, but grievous: nevertheless afterward it yieldeth the peaceable fruit of righteousness unto them which are exercised thereby.

Niemand vindt het leuk om straf te krijgen. Op het moment dat het gebeurt, brengt het verdriet. Maar als je leert van je straf, heb je daar veel voordeel van. Dan zul je later in vrede leven, en goed zijn voor anderen.

If ye walk in my statutes, and keep my commandments, and do them; Then I will give you rain in due season, and the land shall yield her increase, and the trees of the field shall yield their fruit.

Houd je precies aan mijn wetten en regels. Dan zal ik ervoor zorgen dat er op de juiste tijd regen valt. Er zal veel groeien op de akkers, en de bomen zullen veel vruchten krijgen.

And have no fellowship with the unfruitful works of darkness, but rather reprove them. For it is a shame even to speak of those things which are done of them in secret.

Het gedrag van slechte mensen leidt tot niets. Wat zij in het geheim allemaal doen, is te erg voor woorden. Doe er niet aan mee, maar zeg er juist iets van.

And God said, Behold, I have given you every herb bearing seed, which is upon the face of all the earth, and every tree, in the which is the fruit of a tree yielding seed; to you it shall be for meat.

God zei ook: 'Alle planten en bomen op aarde zijn voor jullie. Jullie mogen de zaden en de vruchten eten.'

And God blessed them, and God said unto them, Be fruitful, and multiply, and replenish the earth, and subdue it: and have dominion over the fish of the sea, and over the fowl of the air, and over every living thing that moveth upon the earth.

God zegende de mensen. Hij zei: 'Jullie moeten kinderen krijgen. Zorg ervoor dat er overal op aarde mensen komen. Jullie moeten de baas zijn over de aarde. En ook over de vissen in de zee, over de vogels in de lucht en over alle dieren op het land.'

Through faith also Sara herself received strength to conceive seed, and was delivered of a child when she was past age, because she judged him faithful who had promised.

Abrahams vrouw Sara kon geen kinderen krijgen en Abraham was al oud. Maar omdat Abraham een groot geloof had, kon hij toch vader worden. Want God had hem nakomelingen beloofd, en Abraham vertrouwde op God.
Not unto us, O Lord, not unto us, but unto thy name give glory, for thy mercy, and for thy truth's sake.
Personal Bible reading plan
Create an account to configure your Bible reading plan and you will see your progress and the next chapter to read here!
Read more...