«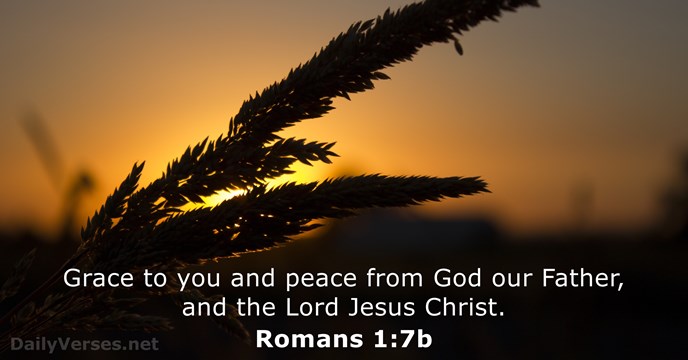 »
Grace to you and peace from God our Father, and the Lord Jesus Christ.

And without controversy great is the mystery of godliness:
God was manifest in the flesh,
justified in the Spirit,
seen of angels,
preached unto the Gentiles,
believed on in the world,
received up into glory.

How much more shall the blood of Christ, who through the eternal Spirit offered himself without spot to God, purge your conscience from dead works to serve the living God?

So then after the Lord had spoken unto them, he was received up into heaven, and sat on the right hand of God.

Think not that I am come to destroy the law, or the prophets: I am not come to destroy, but to fulfil.

Then said Paul, John verily baptized with the baptism of repentance, saying unto the people, that they should believe on him which should come after him, that is, on Christ Jesus.

And set up over his head his accusation written, This Is Jesus The King Of The Jews.

And I knew him not: but he that sent me to baptize with water, the same said unto me, Upon whom thou shalt see the Spirit descending, and remaining on him, the same is he which baptizeth with the Holy Ghost.

Now when all the people were baptized, it came to pass, that Jesus also being baptized, and praying, the heaven was opened, And the Holy Ghost descended in a bodily shape like a dove upon him, and a voice came from heaven, which said, Thou art my beloved Son; in thee I am well pleased.

Behold, we go up to Jerusalem; and the Son of man shall be betrayed unto the chief priests and unto the scribes, and they shall condemn him to death, And shall deliver him to the Gentiles to mock, and to scourge, and to crucify him: and the third day he shall rise again.

Jesus saith unto her, Touch me not; for I am not yet ascended to my Father: but go to my brethren, and say unto them, I ascend unto my Father, and your Father; and to my God, and your God.

Then said Jesus unto them, Yet a little while am I with you, and then I go unto him that sent me.

And when he had spoken these things, while they beheld, he was taken up; and a cloud received him out of their sight.

And so it was, that, while they were there, the days were accomplished that she should be delivered. And she brought forth her firstborn son, and wrapped him in swaddling clothes, and laid him in a manger; because there was no room for them in the inn.

And he took bread, and gave thanks, and brake it, and gave unto them, saying, This is my body which is given for you: this do in remembrance of me.

For as the sufferings of Christ abound in us, so our consolation also aboundeth by Christ.

He that eateth my flesh, and drinketh my blood, dwelleth in me, and I in him.

As the living Father hath sent me, and I live by the Father: so he that eateth me, even he shall live by me.

And the angel answered and said unto her, The Holy Ghost shall come upon thee, and the power of the Highest shall overshadow thee: therefore also that holy thing which shall be born of thee shall be called the Son of God.

I am the living bread which came down from heaven: if any man eat of this bread, he shall live for ever: and the bread that I will give is my flesh, which I will give for the life of the world.

But thou, Bethlehem Ephratah, though thou be little among the thousands of Judah, yet out of thee shall he come forth unto me that is to be ruler in Israel; whose goings forth have been from of old, from everlasting.

For as the body is one, and hath many members, and all the members of that one body, being many, are one body: so also is Christ.

Unto you first God, having raised up his Son Jesus, sent him to bless you, in turning away every one of you from his iniquities.

Therefore being by the right hand of God exalted, and having received of the Father the promise of the Holy Ghost, he hath shed forth this, which ye now see and hear.

But put ye on the Lord Jesus Christ, and make not provision for the flesh, to fulfil the lusts thereof.
Stand fast therefore in the liberty wherewith Christ hath made us free, and be not entangled again with the yoke of bondage.
Personal Bible reading plan
Create an account to configure your Bible reading plan and you will see your progress and the next chapter to read here!
Read more...