Bible Verses about Judgment
«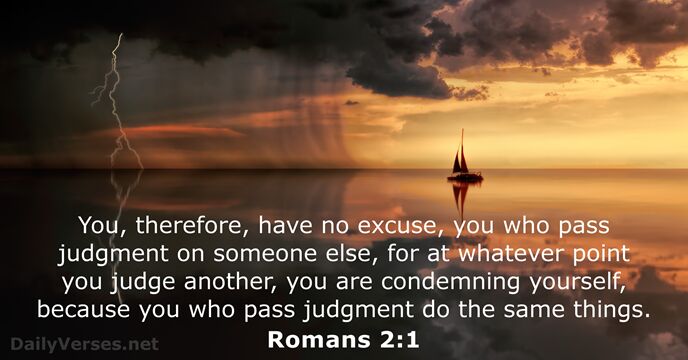 »
You, therefore, have no excuse, you who pass judgment on someone else, for at whatever point you judge another, you are condemning yourself, because you who pass judgment do the same things.

Darum, o Mensch, kannst du dich nicht entschuldigen, wer du auch bist, der du richtest. Denn worin du den andern richtest, verdammst du dich selbst, weil du ebendasselbe tust, was du richtest.

Do not judge, or you too will be judged.

Richtet nicht, damit ihr nicht gerichtet werdet.

A person may think their own ways are right, but the L

ord

weighs the heart.
Einen jeglichen dünkt sein Weg recht; aber der

HERR

prüft die Herzen.

Therefore let us stop passing judgment on one another. Instead, make up your mind not to put any stumbling block or obstacle in the way of a brother or sister.

Darum lasst uns nicht mehr einer den andern richten; sondern richtet vielmehr darauf euren Sinn, dass niemand seinem Bruder einen Anstoß oder Ärgernis bereite.

But I tell you that everyone will have to give account on the day of judgment for every empty word they have spoken.

Ich sage euch aber, dass die Menschen Rechenschaft geben müssen am Tage des Gerichts von jedem nichtsnutzigen Wort, das sie reden.

Why do you look at the speck of sawdust in your brother's eye and pay no attention to the plank in your own eye?

Was siehst du aber den Splitter in deines Bruders Auge und nimmst nicht wahr den Balken in deinem Auge?

Do not judge, and you will not be judged. Do not condemn, and you will not be condemned. Forgive, and you will be forgiven.

Und richtet nicht, so werdet ihr auch nicht gerichtet. Verdammt nicht, so werdet ihr nicht verdammt. Vergebt, so wird euch vergeben.

Who are you to judge someone else's servant? To their own master, servants stand or fall. And they will stand, for the Lord is able to make them stand.

Wer bist du, dass du einen fremden Knecht richtest? Er steht oder fällt seinem Herrn. Er wird aber stehen bleiben; denn der Herr kann ihn aufrecht halten.

"No weapon forged against you will prevail, and you will refute every tongue that accuses you. This is the heritage of the servants of the L

ord

, and this is their vindication from me," declares the L

ord

.
Keiner Waffe, die gegen dich bereitet wird, soll es gelingen, und jede Zunge, die sich zum Rechtsstreit gegen dich erhebt, sollst du schuldig sprechen. Das ist das Erbteil der Knechte des

HERRN

, und ihre Gerechtigkeit kommt von mir, spricht der

HERR

.

All who sin apart from the law will also perish apart from the law, and all who sin under the law will be judged by the law.

Alle, die ohne Gesetz gesündigt haben, werden auch ohne Gesetz verloren gehen; und alle, die unter dem Gesetz gesündigt haben, werden durchs Gesetz verurteilt werden.

Marriage should be honored by all, and the marriage bed kept pure, for God will judge the adulterer and all the sexually immoral.

Die Ehe soll in Ehren gehalten werden bei allen und das Ehebett unbefleckt; denn die Unzüchtigen und die Ehebrecher wird Gott richten.

There is only one Lawgiver and Judge, the one who is able to save and destroy. But you—who are you to judge your neighbor?

Einer ist der Gesetzgeber und Richter, der selig machen und verdammen kann. Wer aber bist du, dass du den Nächsten verurteilst?

For God did not send his Son into the world to condemn the world, but to save the world through him.

Denn Gott hat seinen Sohn nicht in die Welt gesandt, dass er die Welt richte, sondern dass die Welt durch ihn gerettet werde.

Therefore do not let anyone judge you by what you eat or drink, or with regard to a religious festival, a New Moon celebration or a Sabbath day. These are a shadow of the things that were to come; the reality, however, is found in Christ.

So lasst euch nun von niemandem ein schlechtes Gewissen machen wegen Speise und Trank oder wegen eines Feiertages, Neumondes oder Sabbats. Das alles ist nur ein Schatten des Zukünftigen; der Leib aber ist Christus eigen.

The one who eats everything must not treat with contempt the one who does not, and the one who does not eat everything must not judge the one who does, for God has accepted them.

Wer isst, der verachte den nicht, der nicht isst; und wer nicht isst, der richte den nicht, der isst; denn Gott hat ihn angenommen.

And I saw the dead, great and small, standing before the throne, and books were opened. Another book was opened, which is the book of life. The dead were judged according to what they had done as recorded in the books. The sea gave up the dead that were in it, and death and Hades gave up the dead that were in them, and each person was judged according to what they had done.

Und ich sah die Toten, Groß und Klein, stehen vor dem Thron, und Bücher wurden aufgetan. Und ein andres Buch wurde aufgetan, welches ist das Buch des Lebens. Und die Toten wurden gerichtet nach dem, was in den Büchern geschrieben steht, nach ihren Werken. Und das Meer gab die Toten heraus, die darin waren, und der Tod und die Hölle gaben die Toten heraus, die darin waren; und sie wurden gerichtet, ein jeder nach seinen Werken.

Therefore, there is now no condemnation for those who are in Christ Jesus, because through Christ Jesus the law of the Spirit who gives life has set you free from the law of sin and death.

So gibt es nun keine Verdammnis für die, die in Christus Jesus sind. Denn das Gesetz des Geistes, der lebendig macht in Christus Jesus, hat dich frei gemacht von dem Gesetz der Sünde und des Todes.

No, I strike a blow to my body and make it my slave so that after I have preached to others, I myself will not be disqualified for the prize.

Sondern ich schinde meinen Leib und bezwinge ihn, dass ich nicht andern predige und selbst verwerflich werde.

My soul yearns for you in the night; in the morning my spirit longs for you. When your judgments come upon the earth, the people of the world learn righteousness.

Von Herzen verlangt mich nach dir des Nachts, ja, mit meinem Geist suche ich dich am Morgen. Denn wenn deine Gerichte über die Erde gehen, so lernen die Bewohner des Erdkreises Gerechtigkeit.

Whoever believes in him is not condemned, but whoever does not believe stands condemned already because they have not believed in the name of God's one and only Son.

Wer an ihn glaubt, der wird nicht gerichtet; wer aber nicht glaubt, der ist schon gerichtet, denn er hat nicht geglaubt an den Namen des eingeborenen Sohnes Gottes.

For the wages of sin is death, but the gift of God is eternal life in Christ Jesus our Lord.

Denn der Sünde Sold ist der Tod; die Gabe Gottes aber ist das ewige Leben in Christus Jesus, unserm Herrn.

Above all, my brothers and sisters, do not swear—not by heaven or by earth or by anything else. All you need to say is a simple "Yes" or "No." Otherwise you will be condemned.

Vor allen Dingen aber, Brüder und Schwestern, schwört nicht, weder bei dem Himmel noch bei der Erde noch mit einem andern Eid. Es sei aber euer Ja ein Ja und euer Nein ein Nein, damit ihr nicht dem Gericht verfallt.

Whoever believes and is baptized will be saved, but whoever does not believe will be condemned.

Wer da glaubt und getauft wird, der wird selig werden; wer aber nicht glaubt, der wird verdammt werden.

If this is so, then the Lord knows how to rescue the godly from trials and to hold the unrighteous for punishment on the day of judgment.

Der Herr weiß die Frommen aus der Versuchung zu erretten, die Ungerechten aber aufzubewahren für den Tag des Gerichts, um sie zu strafen.

I have fought the good fight, I have finished the race, I have kept the faith. Now there is in store for me the crown of righteousness, which the Lord, the righteous Judge, will award to me on that day—and not only to me, but also to all who have longed for his appearing.

Ich habe den guten Kampf gekämpft, ich habe den Lauf vollendet, ich habe Glauben gehalten; hinfort liegt für mich bereit die Krone der Gerechtigkeit, die mir der Herr, der gerechte Richter, an jenem Tag geben wird, nicht aber mir allein, sondern auch allen, die seine Erscheinung lieb haben.
But the Lord is faithful, and he will strengthen you and protect you from the evil one.
Personal Bible reading plan
Create an account to configure your Bible reading plan and you will see your progress and the next chapter to read here!
Read more...