Bible Verses about Judgment
«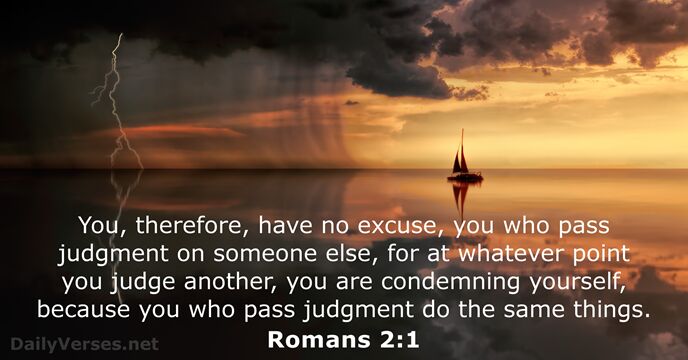 »
You, therefore, have no excuse, you who pass judgment on someone else, for at whatever point you judge another, you are condemning yourself, because you who pass judgment do the same things.

Por tanto, no tienes excusa tú, quienquiera que seas, cuando juzgas a los demás, pues al juzgar a otros te condenas a ti mismo, ya que practicas las mismas cosas.

Do not judge, or you too will be judged.

No juzguen a nadie, para que nadie los juzgue a ustedes.

A person may think their own ways are right, but the L

ord

weighs the heart.
A cada uno le parece correcto su proceder, pero el S

eñor

juzga los corazones.

Therefore let us stop passing judgment on one another. Instead, make up your mind not to put any stumbling block or obstacle in the way of a brother or sister.

Por tanto, dejemos de juzgarnos unos a otros. Más bien, propónganse no poner tropiezos ni obstáculos al hermano.

But I tell you that everyone will have to give account on the day of judgment for every empty word they have spoken.

Pero yo les digo que en el día del juicio todos tendrán que dar cuenta de toda palabra ociosa que hayan pronunciado.

Why do you look at the speck of sawdust in your brother's eye and pay no attention to the plank in your own eye?

¿Por qué te fijas en la astilla que tiene tu hermano en el ojo, y no le das importancia a la viga que está en el tuyo?

Do not judge, and you will not be judged. Do not condemn, and you will not be condemned. Forgive, and you will be forgiven.

No juzguen, y no se les juzgará. No condenen, y no se les condenará. Perdonen, y se les perdonará.

Who are you to judge someone else's servant? To their own master, servants stand or fall. And they will stand, for the Lord is able to make them stand.

¿Quién eres tú para juzgar al siervo de otro? Que se mantenga en pie, o que caiga, es asunto de su propio señor. Y se mantendrá en pie, porque el Señor tiene poder para sostenerlo.

"No weapon forged against you will prevail, and you will refute every tongue that accuses you. This is the heritage of the servants of the L

ord

, and this is their vindication from me," declares the L

ord

.
No prevalecerá ninguna arma que se forje contra ti; toda lengua que te acuse será refutada. Esta es la herencia de los siervos del S

eñor

, la justicia que de mí procede —afirma el S

eñor

—.

All who sin apart from the law will also perish apart from the law, and all who sin under the law will be judged by the law.

Todos los que han pecado sin conocer la ley también perecerán sin la ley; y todos los que han pecado conociendo la ley por la ley serán juzgados.

Marriage should be honored by all, and the marriage bed kept pure, for God will judge the adulterer and all the sexually immoral.

Tengan todos en alta estima el matrimonio y la fidelidad conyugal, porque Dios juzgará a los adúlteros y a todos los que cometen inmoralidades sexuales.

There is only one Lawgiver and Judge, the one who is able to save and destroy. But you—who are you to judge your neighbor?

No hay más que un solo legislador y juez, aquel que puede salvar y destruir. Tú, en cambio, ¿quién eres para juzgar a tu prójimo?

For God did not send his Son into the world to condemn the world, but to save the world through him.

Dios no envió a su Hijo al mundo para condenar al mundo, sino para salvarlo por medio de él.

Therefore do not let anyone judge you by what you eat or drink, or with regard to a religious festival, a New Moon celebration or a Sabbath day. These are a shadow of the things that were to come; the reality, however, is found in Christ.

Así que nadie los juzgue a ustedes por lo que comen o beben, o con respecto a días de fiesta religiosa, de luna nueva o de reposo. Todo esto es una sombra de las cosas que están por venir; la realidad se halla en Cristo.

The one who eats everything must not treat with contempt the one who does not, and the one who does not eat everything must not judge the one who does, for God has accepted them.

El que come de todo no debe menospreciar al que no come ciertas cosas, y el que no come de todo no debe condenar al que lo hace, pues Dios lo ha aceptado.

And I saw the dead, great and small, standing before the throne, and books were opened. Another book was opened, which is the book of life. The dead were judged according to what they had done as recorded in the books. The sea gave up the dead that were in it, and death and Hades gave up the dead that were in them, and each person was judged according to what they had done.

Vi también a los muertos, grandes y pequeños, de pie delante del trono. Se abrieron unos libros, y luego otro, que es el libro de la vida. Los muertos fueron juzgados según lo que habían hecho, conforme a lo que estaba escrito en los libros. El mar devolvió sus muertos; la muerte y el infierno devolvieron los suyos; y cada uno fue juzgado según lo que había hecho.

Therefore, there is now no condemnation for those who are in Christ Jesus, because through Christ Jesus the law of the Spirit who gives life has set you free from the law of sin and death.

Por lo tanto, ya no hay ninguna condenación para los que están unidos a Cristo Jesús, pues por medio de él la ley del Espíritu de vida me ha liberado de la ley del pecado y de la muerte.

No, I strike a blow to my body and make it my slave so that after I have preached to others, I myself will not be disqualified for the prize.

Más bien, golpeo mi cuerpo y lo domino, no sea que, después de haber predicado a otros, yo mismo quede descalificado.

My soul yearns for you in the night; in the morning my spirit longs for you. When your judgments come upon the earth, the people of the world learn righteousness.

Todo mi ser te desea por las noches; por la mañana mi espíritu te busca. Pues, cuando tus juicios llegan a la tierra, los habitantes del mundo aprenden lo que es justicia.

Whoever believes in him is not condemned, but whoever does not believe stands condemned already because they have not believed in the name of God's one and only Son.

El que cree en él no es condenado, pero el que no cree ya está condenado por no haber creído en el nombre del Hijo unigénito de Dios.

For the wages of sin is death, but the gift of God is eternal life in Christ Jesus our Lord.

Porque la paga del pecado es muerte, mientras que la dádiva de Dios es vida eterna en Cristo Jesús, nuestro Señor.

Above all, my brothers and sisters, do not swear—not by heaven or by earth or by anything else. All you need to say is a simple "Yes" or "No." Otherwise you will be condemned.

Sobre todo, hermanos míos, no juren ni por el cielo ni por la tierra ni por ninguna otra cosa. Que su «sí» sea «sí», y su «no», «no», para que no sean condenados.

Whoever believes and is baptized will be saved, but whoever does not believe will be condemned.

El que crea y sea bautizado será salvo, pero el que no crea será condenado.

If this is so, then the Lord knows how to rescue the godly from trials and to hold the unrighteous for punishment on the day of judgment.

Todo esto demuestra que el Señor sabe librar de la prueba a los que viven como Dios quiere, y reservar a los impíos para castigarlos en el día del juicio.

I have fought the good fight, I have finished the race, I have kept the faith. Now there is in store for me the crown of righteousness, which the Lord, the righteous Judge, will award to me on that day—and not only to me, but also to all who have longed for his appearing.

He peleado la buena batalla, he terminado la carrera, me he mantenido en la fe. Por lo demás me espera la corona de justicia que el Señor, el juez justo, me otorgará en aquel día; y no solo a mí, sino también a todos los que con amor hayan esperado su venida.
Therefore keep watch, because you do not know on what day your Lord will come.
Personal Bible reading plan
Create an account to configure your Bible reading plan and you will see your progress and the next chapter to read here!
Read more...