102 Bible Verses about the Law (3/5)
«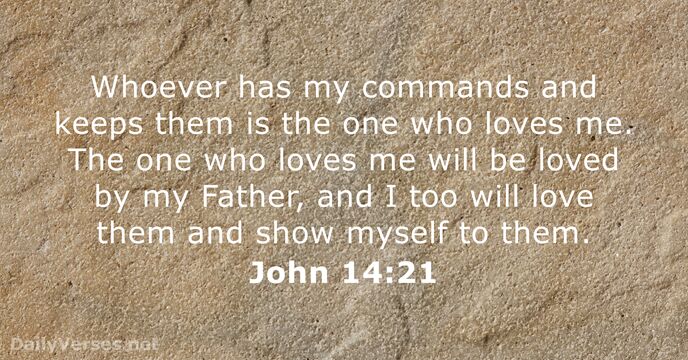 »
Whoever has my commands and keeps them is the one who loves me. The one who loves me will be loved by my Father, and I too will love them and show myself to them.

I will hasten and not delay
to obey your commands.

So again I ask, does God give you his Spirit and work miracles among you by the works of the law, or by your believing what you heard?

I rejoice in following your statutes
as one rejoices in great riches.
Praise the L

ord

. Blessed are those who fear the L

ord

,
who find great delight in his commands.
If you listen carefully to the L

ord

your God and do what is right in his eyes, if you pay attention to his commands and keep all his decrees, I will not bring on you any of the diseases I brought on the Egyptians, for I am the L

ord

, who heals you.

But now apart from the law the righteousness of God has been made known, to which the Law and the Prophets testify. This righteousness is given through faith in Jesus Christ to all who believe. There is no difference between Jew and Gentile.

All your words are true;
all your righteous laws are eternal.
Whoever keeps commandments keeps their life,
but whoever shows contempt for their ways will die.

We who are Jews by birth and not sinful Gentiles know that a person is not justified by the works of the law, but by faith in Jesus Christ. So we, too, have put our faith in Christ Jesus that we may be justified by faith in Christ and not by the works of the law, because by the works of the law no one will be justified.

For truly I tell you, until heaven and earth disappear, not the smallest letter, not the least stroke of a pen, will by any means disappear from the Law until everything is accomplished.

For this is the message you heard from the beginning: We should love one another.

But whoever looks intently into the perfect law that gives freedom, and continues in it—not forgetting what they have heard, but doing it—they will be blessed in what they do.

Therefore anyone who sets aside one of the least of these commands and teaches others accordingly will be called least in the kingdom of heaven, but whoever practices and teaches these commands will be called great in the kingdom of heaven.

Moses was there with the L

ord

forty days and forty nights without eating bread or drinking water. And he wrote on the tablets the words of the covenant—the Ten Commandments.

Oh, that their hearts would be inclined to fear me and keep all my commands always, so that it might go well with them and their children forever!

I will never forget your precepts,
for by them you have preserved my life.
Yes, L

ord

, walking in the way of your laws,
we wait for you;
your name and renown
are the desire of our hearts.
Listen, my son, accept what I say,
and the years of your life will be many.
Now all has been heard;
here is the conclusion of the matter:
Fear God and keep his commandments,
for this is the duty of all mankind.
Hear, O Israel: The L

ord

our God, the L

ord

is one. Love the L

ord

your God with all your heart and with all your soul and with all your strength.

Now may the God of peace, who through the blood of the eternal covenant brought back from the dead our Lord Jesus, that great Shepherd of the sheep, equip you with everything good for doing his will, and may he work in us what is pleasing to him, through Jesus Christ, to whom be glory for ever and ever. Amen.

There is only one Lawgiver and Judge, the one who is able to save and destroy. But you—who are you to judge your neighbor?

Do not think that I have come to abolish the Law or the Prophets; I have not come to abolish them but to fulfill them.

I will walk about in freedom,
for I have sought out your precepts.
Dear friends, if our hearts do not condemn us, we have confidence before God and receive from him anything we ask, because we keep his commands and do what pleases him.
Though you have not seen him, you love him; and even though you do not see him now, you believe in him and are filled with an inexpressible and glorious joy, for you are receiving the end result of your faith, the salvation of your souls.
Read more
Dear friends, if our hearts do not condemn us, we have confidence before God and receive from him anything we ask, because we keep his commands and do what pleases him.
Personal Bible reading plan
Create an account to configure your Bible reading plan and you will see your progress and the next chapter to read here!
Read more...