«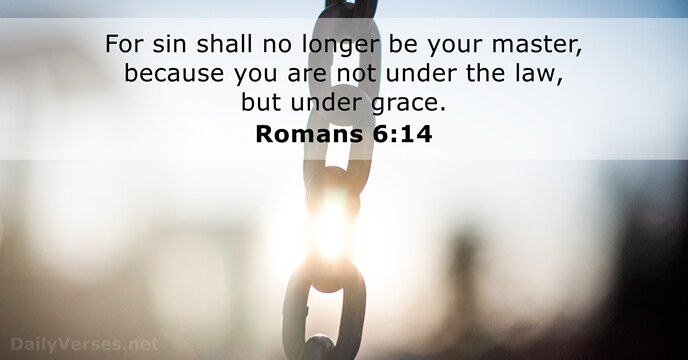 »
All who sin apart from the law will also perish apart from the law, and all who sin under the law will be judged by the law.

What shall we say, then? Is the law sinful? Certainly not! Nevertheless, I would not have known what sin was had it not been for the law. For I would not have known what coveting really was if the law had not said, "You shall not covet."

For sin shall no longer be your master, because you are not under the law, but under grace.

If you love me, keep my commands.

Christ is the culmination of the law so that there may be righteousness for everyone who believes.

The wise in heart accept commands,
but a chattering fool comes to ruin.
Observe what the L

ord

your God requires: Walk in obedience to him, and keep his decrees and commands, his laws and regulations, as written in the Law of Moses. Do this so that you may prosper in all you do and wherever you go.

The commandments, "You shall not commit adultery," "You shall not murder," "You shall not steal," "You shall not covet," and whatever other command there may be, are summed up in this one command: "Love your neighbor as yourself."

Love does no harm to a neighbor. Therefore love is the fulfillment of the law.

The sting of death is sin, and the power of sin is the law.

Do not judge, or you too will be judged.

Blessed are those whose ways are blameless,
who walk according to the law of the L

ord

.
Great peace have those who love your law,
and nothing can make them stumble.
I am the L

ord

your God; follow my decrees and be careful to keep my laws. Keep my Sabbaths holy, that they may be a sign between us. Then you will know that I am the L

ord

your God.

Therefore, my friends, I want you to know that through Jesus the forgiveness of sins is proclaimed to you. Through him everyone who believes is set free from every sin, a justification you were not able to obtain under the law of Moses.

My son, do not forget my teaching,
but keep my commands in your heart,
for they will prolong your life many years
and bring you peace and prosperity.

'You shall not murder, you shall not commit adultery, you shall not steal, you shall not give false testimony, honor your father and mother,' and 'love your neighbor as yourself.'

So again I ask, does God give you his Spirit and work miracles among you by the works of the law, or by your believing what you heard?

Know therefore that the L

ord

your God is God; he is the faithful God, keeping his covenant of love to a thousand generations of those who love him and keep his commandments.

But whoever looks intently into the perfect law that gives freedom, and continues in it—not forgetting what they have heard, but doing it—they will be blessed in what they do.

For this reason Christ is the mediator of a new covenant, that those who are called may receive the promised eternal inheritance—now that he has died as a ransom to set them free from the sins committed under the first covenant.

Therefore, there is now no condemnation for those who are in Christ Jesus, because through Christ Jesus the law of the Spirit who gives life has set you free from the law of sin and death.

Your statutes are my heritage forever;
they are the joy of my heart.

But now apart from the law the righteousness of God has been made known, to which the Law and the Prophets testify. This righteousness is given through faith in Jesus Christ to all who believe. There is no difference between Jew and Gentile.

All your words are true;
all your righteous laws are eternal.
Therefore keep watch, because you do not know on what day your Lord will come.
Personal Bible reading plan
Create an account to configure your Bible reading plan and you will see your progress and the next chapter to read here!
Read more...