«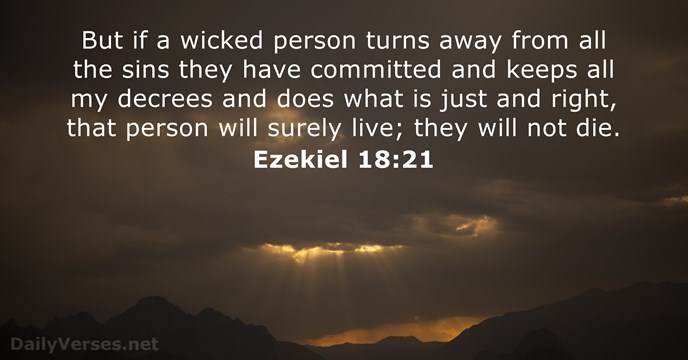 »
But if a wicked person turns away from all the sins they have committed and keeps all my decrees and does what is just and right, that person will surely live; they will not die.

Moses was there with the L

ord

forty days and forty nights without eating bread or drinking water. And he wrote on the tablets the words of the covenant—the Ten Commandments.

A new command I give you: Love one another. As I have loved you, so you must love one another.

We have sinned and done wrong. We have been wicked and have rebelled; we have turned away from your commands and laws.

I will walk about in freedom,
for I have sought out your precepts.

I will make your descendants as numerous as the stars in the sky and will give them all these lands, and through your offspring all nations on earth will be blessed, because Abraham obeyed me and did everything I required of him, keeping my commands, my decrees and my instructions.

I do not set aside the grace of God, for if righteousness could be gained through the law, Christ died for nothing!

I rejoice in following your statutes
as one rejoices in great riches.
Keep my commands and follow them. I am the L

ord

.
I will praise you with an upright heart
as I learn your righteous laws.

There is only one Lawgiver and Judge, the one who is able to save and destroy. But you—who are you to judge your neighbor?

I will hasten and not delay
to obey your commands.

And the second is like it: 'Love your neighbor as yourself.'

He declared to you his covenant, the Ten Commandments, which he commanded you to follow and then wrote them on two stone tablets.

'Honor your father and mother,' and 'love your neighbor as yourself.'

Be sure to keep the commands of the L

ord

your God and the stipulations and decrees he has given you.
Do not add to what I command you and do not subtract from it, but keep the commands of the L

ord

your God that I give you.
The way of the L

ord

is a refuge for the blameless,
but it is the ruin of those who do evil.

If you follow my decrees and are careful to obey my commands, I will send you rain in its season, and the ground will yield its crops and the trees their fruit.

The L

ord

said to Moses, "Come up to me on the mountain and stay here, and I will give you the tablets of stone with the law and commandments I have written for their instruction."

Do not make any gods to be alongside me; do not make for yourselves gods of silver or gods of gold.

I have not departed from the commands of his lips;
I have treasured the words of his mouth more than my daily bread.
You shall not misuse the name of the L

ord

your God, for the L

ord

will not hold anyone guiltless who misuses his name.
You will have these tassels to look at and so you will remember all the commands of the L

ord

, that you may obey them and not prostitute yourselves by chasing after the lusts of your own hearts and eyes.
Keep his decrees and commands, which I am giving you today, so that it may go well with you and your children after you and that you may live long in the land the L

ord

your God gives you for all time.
Taste and see that the Lord is good; blessed is the one who takes refuge in him.
Personal Bible reading plan
Create an account to configure your Bible reading plan and you will see your progress and the next chapter to read here!
Read more...