Bible Verses about Repentance
«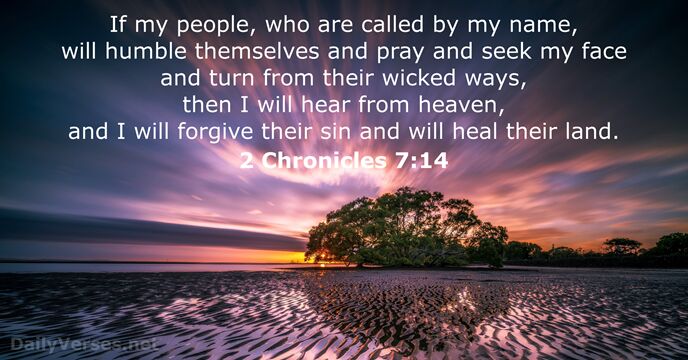 »
If my people, who are called by my name, will humble themselves and pray and seek my face and turn from their wicked ways, then I will hear from heaven, and I will forgive their sin and will heal their land.

Als de mensen van mijn volk dan laten zien dat ze spijt hebben, dan zal ik vanuit de hemel naar hen luisteren. Ik zal naar hen luisteren als ze tot mij bidden en mij zoeken. Als ze weer gaan leven zoals ik het wil. Dan zal ik hun zonden vergeven en hun land weer vruchtbaar maken.

If we confess our sins, he is faithful and just and will forgive us our sins and purify us from all unrighteousness.

Maar als we onze zonden eerlijk aan God vertellen, zal hij ons vergeven. Hij zal al het kwaad uit ons weghalen, zodat we helemaal rein worden. Want God is trouw en rechtvaardig.

Repent, then, and turn to God, so that your sins may be wiped out, that times of refreshing may come from the Lord.

Nu moeten jullie je leven veranderen en weer doen wat God wil. Dan zal hij jullie alles vergeven wat jullie verkeerd gedaan hebben.

Whoever conceals their sins does not prosper, but the one who confesses and renounces them finds mercy.

Als je je fouten niet toegeeft, krijg je ellende, maar als je echt spijt hebt, krijg je vergeving.

Produce fruit in keeping with repentance.

Jullie moeten goede dingen doen. Dan zullen jullie lijken op een boom met goede vruchten.

For the L

ord

your God is gracious and compassionate. He will not turn his face from you if you return to him.

Als jullie weer trouw zijn aan de Heer, jullie God, dan zal hij ook trouw zijn aan jullie. Dan zal hij ervoor zorgen dat de Assyriërs medelijden krijgen met de Israëlieten die zij gevangengenomen hebben. En dan zullen die Israëlieten weer naar Israël mogen teruggaan. Want de Heer is goed, en vol liefde.

The Lord is not slow in keeping his promise, as some understand slowness. Instead he is patient with you, not wanting anyone to perish, but everyone to come to repentance.

De Heer houdt zich echt aan zijn belofte, ook al beweren sommige mensen van niet. Hij wacht omdat hij geduld heeft met jullie! Hij geeft iedereen de kans om een nieuw leven te beginnen. Want hij wil dat iedereen gered wordt.

But go and learn what this means: 'I desire mercy, not sacrifice.' For I have not come to call the righteous, but sinners.

Toen Jezus dat hoorde, zei hij: 'Een dokter is er niet voor gezonde mensen, maar voor zieke mensen. Met mij is het net zo. Ik ben er niet voor goede mensen. Maar ik ben gekomen om aan slechte mensen het goede nieuws te vertellen. Denk eens goed na over deze woorden van God: «Ik wil geen offers, maar ik wil dat jullie goed voor elkaar zijn.»'

From that time on Jesus began to preach, "Repent, for the kingdom of heaven has come near."

Vanaf dat moment begon Jezus het goede nieuws te vertellen aan de mensen. Hij zei: 'Dit is het moment om je leven te veranderen, want Gods nieuwe wereld is dichtbij.'

Come near to God and he will come near to you. Wash your hands, you sinners, and purify your hearts, you double-minded.

Luister goed, jullie slechte mensen, jullie die twijfelen aan Gods macht! Doe het kwaad weg uit je hart, en ga een heilig leven leiden.

Those whom I love I rebuke and discipline. So be earnest and repent.

Ik houd van jullie, en daarom straf ik jullie. Zo wil ik jullie leren goed te leven. Dus ga je best doen en verander je leven!

Rend your heart and not your garments. Return to the L

ord

your God, for he is gracious and compassionate, slow to anger and abounding in love, and he relents from sending calamity.

Jullie moeten naar mij luisteren. Dat moeten jullie niet alleen beloven, maar ook echt doen. Misschien krijg ik medelijden, en zal ik mijn plan veranderen. Dan zal ik weer iets op het land laten groeien, en dan hebben jullie weer graan en wijn om te offeren. Want ik ben een goede God. Ik ben vol liefde en geduld. Ik ben trouw, en ik houd er niet van om mensen te straffen.

I tell you that in the same way there will be more rejoicing in heaven over one sinner who repents than over ninety-nine righteous persons who do not need to repent.

Luister naar mijn woorden: Zo is het ook met God in de hemel. Hij is heel blij met één slecht mens die zijn leven verandert. Meer nog dan met 99 goede mensen die hun leven niet hoeven te veranderen.

For I take no pleasure in the death of anyone, declares the Sovereign L

ord

. Repent and live!

Want de dood van een mens maakt mij niet blij. Ga dus op een goede manier leven, zodat jullie in leven blijven!

In the past God overlooked such ignorance, but now he commands all people everywhere to repent.

Paulus eindigde zijn toespraak met deze woorden: 'Lange tijd leefden de mensen zonder God te kennen. God heeft hen daar niet voor gestraft. Maar nu wil God dat alle mensen gaan doen wat hij wil. Iedereen moet een nieuw leven beginnen.'

"The time has come," he said. "The kingdom of God has come near. Repent and believe the good news!"

Gods nieuwe wereld is dichtbij. Geloof dat goede nieuws! Dit is het moment om je leven te veranderen.

I have not come to call the righteous, but sinners to repentance.

Met mij is het net zo. Ik ben er niet voor goede mensen. Ik ben juist gekomen om slechte mensen te vertellen dat ze een nieuw leven moeten beginnen.

'Return to me,' declares the L

ord

Almighty, 'and I will return to you,' says the L

ord

Almighty.

Maar nu moet jij namens mij tegen het volk zeggen: 'Ik ben de machtige Heer. Jullie moeten weer gaan leven zoals ik het wil. Dan zal ik bij jullie terugkomen.'

I tell you, no! But unless you repent, you too will all perish.

Nee, dat is echt niet zo. Jullie moeten je leven veranderen. Anders zullen jullie allemaal op die manier sterven.

In the same way, I tell you, there is rejoicing in the presence of the angels of God over one sinner who repents.

Luister naar mijn woorden: Als één slecht mens zijn leven verandert, zijn de engelen van God net zo blij als die vrouw.

Peter replied, "Repent and be baptized, every one of you, in the name of Jesus Christ for the forgiveness of your sins. And you will receive the gift of the Holy Spirit."

Petrus zei: 'Jullie moeten allemaal je leven veranderen, en je laten dopen in de naam van Jezus Christus. Dan zal de Heer, onze God, jullie zonden vergeven. En hij zal de heilige Geest aan jullie geven.'

Repent at my rebuke! Then I will pour out my thoughts to you, I will make known to you my teachings.

Luister goed en doe wat ik jullie zeg. Dan zal ik jullie leren wat wijsheid is, dan zal ik mijn kennis aan jullie doorgeven.

If your brother or sister sins against you, rebuke them; and if they repent, forgive them. Even if they sin against you seven times in a day and seven times come back to you saying 'I repent,' you must forgive them.

Stel dat een andere gelovige iets verkeerds doet. Vertel hem dan wat hij verkeerd gedaan heeft. Als hij spijt heeft, moet je hem vergeven. Zelfs als hij zeven keer op een dag iets verkeerds doet tegen jou. Als hij dan ook zeven keer spijt heeft, dan moet je hem vergeven.
For the entire law is fulfilled in keeping this one command: "Love your neighbor as yourself."
Personal Bible reading plan
Create an account to configure your Bible reading plan and you will see your progress and the next chapter to read here!
Read more...