25 Bible Verses about 'Judgment'
«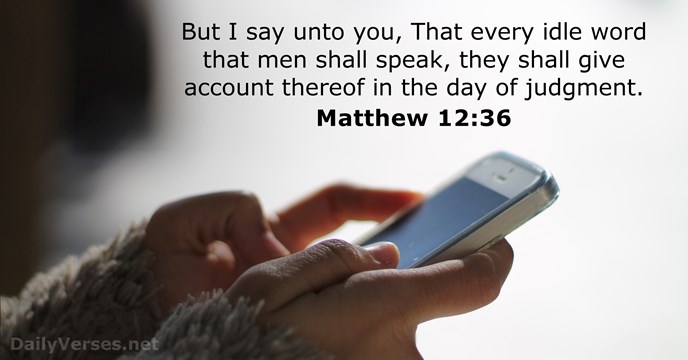 »
But I say unto you, That every idle word that men shall speak, they shall give account thereof in the day of judgment.

The Lord knoweth how to deliver the godly out of temptations, and to reserve the unjust unto the day of judgment to be punished.

He keepeth the paths of judgment,
and preserveth the way of his saints.
But let judgment run down as waters,
and righteousness as a mighty stream.
To do justice and judgment
is more acceptable to the L

ord

than sacrifice.
He loveth righteousness and judgment:
the earth is full of the goodness of the L

ord

.
Then shalt thou understand righteousness, and judgment,
and equity; yea, every good path.
Learn to do well; seek judgment,
relieve the oppressed,
judge the fatherless,
plead for the widow.

Touching the Almighty, we cannot find him out: he is excellent in power, and in judgment, and in plenty of justice: he will not afflict.

For the L

ord

loveth judgment,
and forsaketh not his saints;
they are preserved for ever:
but the seed of the wicked shall be cut off.

Now I beseech you, brethren, by the name of our Lord Jesus Christ, that ye all speak the same thing, and that there be no divisions among you; but that ye be perfectly joined together in the same mind and in the same judgment.

No weapon that is formed against thee shall prosper; and every tongue that shall rise against thee in judgment thou shalt condemn. This is the heritage of the servants of the L

ord

, and their righteousness is of me, saith the L

ord

.
Good and upright is the L

ord

:
therefore will he teach sinners in the way.
The meek will he guide in judgment:
and the meek will he teach his way.

Now I Nebuchadnezzar praise and extol and honour the King of heaven, all whose works are truth, and his ways judgment: and those that walk in pride he is able to abase.

Commit thy way unto the L

ord

;
trust also in him; and he shall bring it to pass.
And he shall bring forth thy righteousness as the light,
and thy judgment as the noonday.

Therefore thou art inexcusable, O man, whosoever thou art that judgest: for wherein thou judgest another, thou condemnest thyself; for thou that judgest doest the same things.

And therefore will the L

ord

wait,
that he may be gracious unto you,
and therefore will he be exalted,
that he may have mercy upon you:
for the L

ord

is a God of judgment:
blessed are all they that wait for him.
Thus speaketh the L

ord

of hosts, saying, Execute true judgment, and shew mercy and compassions every man to his brother: And oppress not the widow, nor the fatherless, the stranger, nor the poor; and let none of you imagine evil against his brother in your heart.

Let us not therefore judge one another any more: but judge this rather, that no man put a stumblingblock or an occasion to fall in his brother's way.

For if ye throughly amend your ways and your doings; if ye throughly execute judgment between a man and his neighbour; If ye oppress not the stranger, the fatherless, and the widow, and shed not innocent blood in this place, neither walk after other gods to your hurt: Then will I cause you to dwell in this place, in the land that I gave to your fathers, for ever and ever.

For I say, through the grace given unto me, to every man that is among you, not to think of himself more highly than he ought to think; but to think soberly, according as God hath dealt to every man the measure of faith.

Let not him that eateth despise him that eateth not; and let not him which eateth not judge him that eateth: for God hath received him.

But above all things, my brethren, swear not, neither by heaven, neither by the earth, neither by any other oath: but let your yea be yea; and your nay, nay; lest ye fall into condemnation.

Who art thou that judgest another man's servant? to his own master he standeth or falleth. Yea, he shall be holden up: for God is able to make him stand.

Let no man therefore judge you in meat, or in drink, or in respect of an holyday, or of the new moon, or of the sabbath days: Which are a shadow of things to come; but the body is of Christ.
The grace of our Lord Jesus Christ be with you all. Amen.
Truly my soul waiteth upon God:
from him cometh my salvation.
Read more
The grace of our Lord Jesus Christ be with you all. Amen.
Personal Bible reading plan
Create an account to configure your Bible reading plan and you will see your progress and the next chapter to read here!
Read more...