«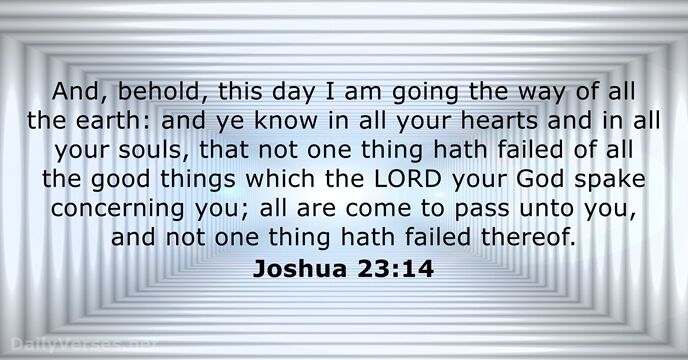 »
And, behold, this day I am going the way of all the earth: and ye know in all your hearts and in all your souls, that not one thing hath failed of all the good things which the L

ord

your God spake concerning you; all are come to pass unto you, and not one thing hath failed thereof.

Therefore, my beloved brethren, be ye stedfast, unmoveable, always abounding in the work of the Lord, forasmuch as ye know that your labour is not in vain in the Lord.

Hereby perceive we the love of God, because he laid down his life for us: and we ought to lay down our lives for the brethren.

Know ye not that the unrighteous shall not inherit the kingdom of God? Be not deceived: neither fornicators, nor idolaters, nor adulterers, nor effeminate, nor abusers of themselves with mankind, Nor thieves, nor covetous, nor drunkards, nor revilers, nor extortioners, shall inherit the kingdom of God.

The heart is deceitful above all things,
and desperately wicked: who can know it?
I the L

ord

search the heart,
I try the reins,
even to give every man according to his ways,
and according to the fruit of his doings.

Call unto me, and I will answer thee, and show thee great and mighty things, which thou knowest not.

Forasmuch as ye know that ye were not redeemed with corruptible things, as silver and gold, from your vain conversation received by tradition from your fathers; But with the precious blood of Christ, as of a lamb without blemish and without spot.

And if a soul sin, and commit any of these things which are forbidden to be done by the commandments of the L

ord

; though he wist it not, yet is he guilty, and shall bear his iniquity.

And I knew him not: but he that sent me to baptize with water, the same said unto me, Upon whom thou shalt see the Spirit descending, and remaining on him, the same is he which baptizeth with the Holy Ghost.

Shew me thy ways, O L

ord

;
teach me thy paths.
So shall the knowledge of wisdom be unto thy soul:
when thou hast found it, then there shall be a reward,
and thy expectation shall not be cut off.

And we have known and believed the love that God hath to us. God is love; and he that dwelleth in love dwelleth in God, and God in him.

But he that knew not, and did commit things worthy of stripes, shall be beaten with few stripes. For unto whomsoever much is given, of him shall be much required: and to whom men have committed much, of him they will ask the more.

Wherefore, my beloved brethren, let every man be swift to hear, slow to speak, slow to wrath.

For if we have been planted together in the likeness of his death, we shall be also in the likeness of his resurrection: Knowing this, that our old man is crucified with him, that the body of sin might be destroyed, that henceforth we should not serve sin.

And how I kept back nothing that was profitable unto you, but have shewed you, and have taught you publicly, and from house to house.

And not only so, but we glory in tribulations also: knowing that tribulation worketh patience; And patience, experience; and experience, hope.

We who are Jews by nature, and not sinners of the Gentiles, Knowing that a man is not justified by the works of the law, but by the faith of Jesus Christ, even we have believed in Jesus Christ, that we might be justified by the faith of Christ, and not by the works of the law: for by the works of the law shall no flesh be justified.

That the God of our Lord Jesus Christ, the Father of glory, may give unto you the spirit of wisdom and revelation in the knowledge of him.

Then went in also that other disciple, which came first to the sepulchre, and he saw, and believed. For as yet they knew not the scripture, that he must rise again from the dead.

Hast thou not known?
hast thou not heard,
that the everlasting God, the L

ord

,
the Creator of the ends of the earth,
fainteth not, neither is weary?
there is no searching of his understanding.
For thou hast possessed my reins:
thou hast covered me in my mother's womb.
I will praise thee; for I am fearfully and wonderfully made:
marvellous are thy works;
and that my soul knoweth right well.

That their hearts might be comforted, being knit together in love, and unto all riches of the full assurance of understanding, to the acknowledgement of the mystery of God, and of the Father, and of Christ.

And whatsoever ye do, do it heartily, as to the Lord, and not unto men; Knowing that of the Lord ye shall receive the reward of the inheritance: for ye serve the Lord Christ.

Be it known unto you therefore, men and brethren, that through this man is preached unto you the forgiveness of sins: And by him all that believe are justified from all things, from which ye could not be justified by the law of Moses.
Wherefore, my beloved brethren, let every man be swift to hear, slow to speak, slow to wrath.
Personal Bible reading plan
Create an account to configure your Bible reading plan and you will see your progress and the next chapter to read here!
Read more...