Bible Verses about 'Man'
«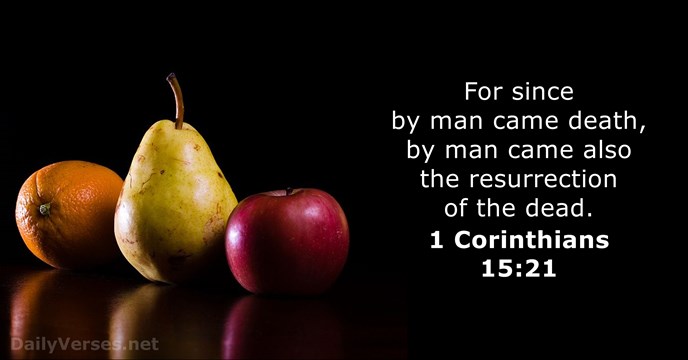 »
For since by man came death, by man came also the resurrection of the dead.

For the Son of man is come to seek and to save that which was lost.

As in water face answereth to face, so the heart of man to man.

And the rib, which the L

ord

God had taken from man, made he a woman, and brought her unto the man. And Adam said, This is now bone of my bones, and flesh of my flesh: she shall be called Woman, because she was taken out of Man. Therefore shall a man leave his father and his mother, and shall cleave unto his wife: and they shall be one flesh.
The desire of a man is his kindness:
and a poor man is better than a liar.
What is man, that thou art mindful of him?
and the son of man, that thou visitest him?
This poor man cried, and the L

ord

heard him,
and saved him out of all his troubles.

For what man knoweth the things of a man, save the spirit of man which is in him? even so the things of God knoweth no man, but the Spirit of God.

Happy is the man that findeth wisdom,
and the man that getteth understanding.

For there is one God, and one mediator between God and men, the man Christ Jesus.

The fear of man bringeth a snare:
but whoso putteth his trust in the L

ord

shall be safe.

Be not deceived; God is not mocked: for whatsoever a man soweth, that shall he also reap.

Therefore be ye also ready: for in such an hour as ye think not the Son of man cometh.

Let no man seek his own, but every man another's wealth.

For as by one man's disobedience many were made sinners, so by the obedience of one shall many be made righteous.

And the L

ord

God said, It is not good that the man should be alone; I will make him an help meet for him.
Thou shalt also consider in thine heart, that, as a man chasteneth his son, so the L

ord

thy God chasteneth thee.

For even the Son of man came not to be ministered unto, but to minister, and to give his life a ransom for many.

Even as the Son of man came not to be ministered unto, but to minister, and to give his life a ransom for many.

A good man out of the good treasure of his heart bringeth forth that which is good; and an evil man out of the evil treasure of his heart bringeth forth that which is evil: for of the abundance of the heart his mouth speaketh.

But thou, O man of God, flee these things; and follow after righteousness, godliness, faith, love, patience, meekness.

Greater love hath no man than this, that a man lay down his life for his friends.

For what is a man profited, if he shall gain the whole world, and lose his own soul? or what shall a man give in exchange for his soul?

The L

ord

is on my side; I will not fear:
what can man do unto me?
It is better to trust in the L

ord


than to put confidence in man.
Love not the world, neither the things that are in the world. If any man love the world, the love of the Father is not in him.
Personal Bible reading plan
Create an account to configure your Bible reading plan and you will see your progress and the next chapter to read here!
Read more...