«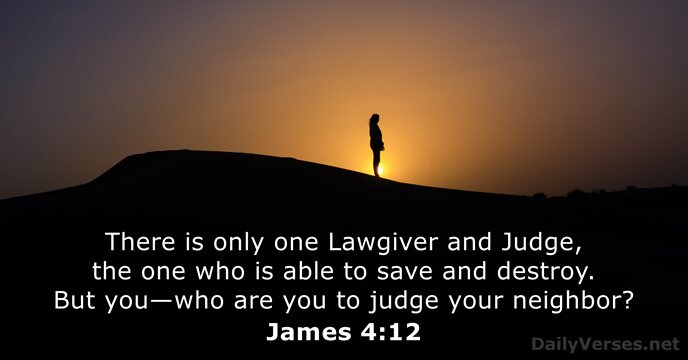 »
There is only one Lawgiver and Judge, the one who is able to save and destroy. But you—who are you to judge your neighbor?

I have fought the good fight, I have finished the race, I have kept the faith. Now there is in store for me the crown of righteousness, which the Lord, the righteous Judge, will award to me on that day—and not only to me, but also to all who have longed for his appearing.

Not everyone who says to me, 'Lord, Lord,' will enter the kingdom of heaven, but only the one who does the will of my Father who is in heaven.

Do not let any unwholesome talk come out of your mouths, but only what is helpful for building others up according to their needs, that it may benefit those who listen.

The lips of the righteous know what finds favor,
but the mouth of the wicked only what is perverse.
Keep falsehood and lies far from me;
give me neither poverty nor riches,
but give me only my daily bread.

If I speak in the tongues of men or of angels, but do not have love, I am only a resounding gong or a clanging cymbal.

The L

ord

will be king over the whole earth. On that day there will be one L

ord

, and his name the only name.
For his anger lasts only a moment,
but his favor lasts a lifetime;
weeping may stay for the night,
but rejoicing comes in the morning.

However, I consider my life worth nothing to me; my only aim is to finish the race and complete the task the Lord Jesus has given me—the task of testifying to the good news of God's grace.

A mediator, however, implies more than one party; but God is one.

Fools find no pleasure in understanding
but delight in airing their own opinions.
Where there is strife, there is pride,
but wisdom is found in those who take advice.

But who am I, and who are my people, that we should be able to give as generously as this? Everything comes from you, and we have given you only what comes from your hand.

In peace I will lie down and sleep,
for you alone, L

ord

,
make me dwell in safety.

Enter through the narrow gate. For wide is the gate and broad is the road that leads to destruction, and many enter through it. But small is the gate and narrow the road that leads to life, and only a few find it.

One thing I ask from the L

ord

,
this only do I seek:
that I may dwell in the house of the L

ord


all the days of my life,
to gaze on the beauty of the L

ord


and to seek him in his temple.

But when you fast, put oil on your head and wash your face, so that it will not be obvious to others that you are fasting, but only to your Father, who is unseen; and your Father, who sees what is done in secret, will reward you.

We have come to share in Christ, if indeed we hold our original conviction firmly to the very end.

He humbled you, causing you to hunger and then feeding you with manna, which neither you nor your ancestors had known, to teach you that man does not live on bread alone but on every word that comes from the mouth of the L

ord

.

Therefore do not let anyone judge you by what you eat or drink, or with regard to a religious festival, a New Moon celebration or a Sabbath day. These are a shadow of the things that were to come; the reality, however, is found in Christ.

It is to one's honor to avoid strife,
but every fool is quick to quarrel.

One Sabbath Jesus was going through the grainfields, and as his disciples walked along, they began to pick some heads of grain. The Pharisees said to him, "Look, why are they doing what is unlawful on the Sabbath?" He answered, "Have you never read what David did when he and his companions were hungry and in need? In the days of Abiathar the high priest, he entered the house of God and ate the consecrated bread, which is lawful only for priests to eat. And he also gave some to his companions." Then he said to them, "The Sabbath was made for man, not man for the Sabbath. So the Son of Man is Lord even of the Sabbath."

Oh, that their hearts would be inclined to fear me and keep all my commands always, so that it might go well with them and their children forever!

If you really change your ways and your actions and deal with each other justly, if you do not oppress the foreigner, the fatherless or the widow and do not shed innocent blood in this place, and if you do not follow other gods to your own harm, then I will let you live in this place, in the land I gave your ancestors for ever and ever.
So that, just as sin reigned in death, so also grace might reign through righteousness to bring eternal life through Jesus Christ our Lord.
Personal Bible reading plan
Create an account to configure your Bible reading plan and you will see your progress and the next chapter to read here!
Read more...