Bible Verses about 'Stand'
«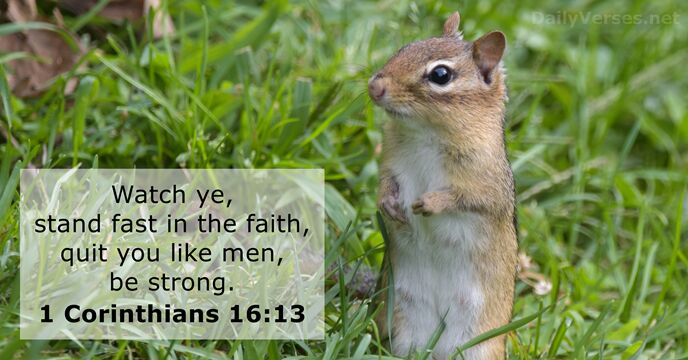 »
Watch ye, stand fast in the faith, quit you like men, be strong.

For I know that my redeemer liveth,
and that he shall stand at the latter day upon the earth.

Put on the whole armour of God, that ye may be able to stand against the wiles of the devil.

Who art thou that judgest another man's servant? to his own master he standeth or falleth. Yea, he shall be holden up: for God is able to make him stand.

There are many devices in a man's heart;
nevertheless the counsel of the L

ord

, that shall stand.

Wherefore take unto you the whole armour of God, that ye may be able to withstand in the evil day, and having done all, to stand.

Stand fast therefore in the liberty wherewith Christ hath made us free, and be not entangled again with the yoke of bondage.

The grass withereth, the flower fadeth:
but the word of our God shall stand for ever.

And when ye stand praying, forgive, if ye have ought against any: that your Father also which is in heaven may forgive you your trespasses.

Behold, I stand at the door, and knock: if any man hear my voice, and open the door, I will come in to him, and will sup with him, and he with me.

Thus saith the L

ord

,
Stand ye in the ways, and see,
and ask for the old paths,
where is the good way, and walk therein,
and ye shall find rest for your souls.
But they said, We will not walk therein.

Moreover, brethren, I declare unto you the gospel which I preached unto you, which also ye have received, and wherein ye stand; By which also ye are saved, if ye keep in memory what I preached unto you, unless ye have believed in vain.

And while they looked stedfastly toward heaven as he went up, behold, two men stood by them in white apparel; Which also said, Ye men of Galilee, why stand ye gazing up into heaven? this same Jesus, which is taken up from you into heaven, shall so come in like manner as ye have seen him go into heaven.

No man, when he hath lighted a candle, covereth it with a vessel, or putteth it under a bed; but setteth it on a candlestick, that they which enter in may see the light.

Having therefore obtained help of God, I continue unto this day, witnessing both to small and great, saying none other things than those which the prophets and Moses did say should come: That Christ should suffer, and that he should be the first that should rise from the dead, and should shew light unto the people, and to the Gentiles.

And I saw the dead, small and great, stand before God; and the books were opened: and another book was opened, which is the book of life: and the dead were judged out of those things which were written in the books, according to their works. And the sea gave up the dead which were in it; and death and hell delivered up the dead which were in them: and they were judged every man according to their works.

Neither do men light a candle, and put it under a bushel, but on a candlestick; and it giveth light unto all that are in the house. Let your light so shine before men, that they may see your good works, and glorify your Father which is in heaven.

Can any man forbid water, that these should not be baptized, which have received the Holy Ghost as well as we?

Ye are of your father the devil, and the lusts of your father ye will do. He was a murderer from the beginning, and abode not in the truth, because there is no truth in him. When he speaketh a lie, he speaketh of his own: for he is a liar, and the father of it.

Except the L

ord

build the house,
they labour in vain that build it:
except the L

ord

keep the city,
the watchman waketh but in vain.
Blessed is the man
that walketh not in the counsel of the ungodly,
nor standeth in the way of sinners,
nor sitteth in the seat of the scornful.

Therefore, my beloved brethren, be ye stedfast, unmoveable, always abounding in the work of the Lord, forasmuch as ye know that your labour is not in vain in the Lord.
Lead me in thy truth, and teach me: for thou art the God of my salvation; on thee do I wait all the day.
Personal Bible reading plan
Create an account to configure your Bible reading plan and you will see your progress and the next chapter to read here!
Read more...