26 Bible Verses about 'Though'
«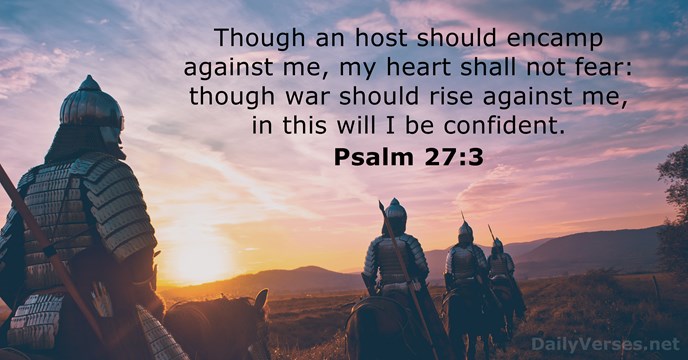 »
Though an host should encamp against me,
my heart shall not fear:
though war should rise against me,
in this will I be confident.

For though we walk in the flesh, we do not war after the flesh.

Come now, and let us reason together, saith the L

ord

: though your sins be as scarlet, they shall be as white as snow; though they be red like crimson, they shall be as wool.

And though I bestow all my goods to feed the poor, and though I give my body to be burned, and have not charity, it profiteth me nothing.

For which cause we faint not; but though our outward man perish, yet the inward man is renewed day by day.

And though I have the gift of prophecy, and understand all mysteries, and all knowledge; and though I have all faith, so that I could remove mountains, and have not charity, I am nothing.

Yea, though I walk
through the valley of the shadow of death,
I will fear no evil:
for thou art with me;
thy rod and thy staff they comfort me.

Whom having not seen, ye love; in whom, though now ye see him not, yet believing, ye rejoice with joy unspeakable and full of glory: Receiving the end of your faith, even the salvation of your souls.

And if a soul sin, and commit any of these things which are forbidden to be done by the commandments of the L

ord

; though he wist it not, yet is he guilty, and shall bear his iniquity.

Though I speak with the tongues of men and of angels, and have not charity, I am become as sounding brass, or a tinkling cymbal.

Jesus said unto her, I am the resurrection, and the life: he that believeth in me, though he were dead, yet shall he live: And whosoever liveth and believeth in me shall never die. Believest thou this?

And I will strengthen the house of Judah,
and I will save the house of Joseph,
and I will bring them again to place them;
for I have mercy upon them:
and they shall be as though I had not cast them off:
for I am the L

ord

their God, and will hear them.

And if one prevail against him, two shall withstand him; and a threefold cord is not quickly broken.

Although the fig tree shall not blossom,
neither shall fruit be in the vines;
the labour of the olive shall fail,
and the fields shall yield no meat;
the flock shall be cut off from the fold,
and there shall be no herd in the stalls:
Yet I will rejoice in the L

ord

,
I will joy in the God of my salvation.

And an highway shall be there, and a way, and it shall be called The way of holiness; the unclean shall not pass over it; but it shall be for those: the wayfaring men, though fools, shall not err therein.

For as the body is one, and hath many members, and all the members of that one body, being many, are one body: so also is Christ.

To him that is afflicted pity should be shewed from his friend;
but he forsaketh the fear of the Almighty.

For as we have many members in one body, and all members have not the same office: So we, being many, are one body in Christ, and every one members one of another.

For scarcely for a righteous man will one die: yet peradventure for a good man some would even dare to die. But God commendeth his love toward us, in that, while we were yet sinners, Christ died for us.

Go, gather together all the Jews that are present in Shushan, and fast ye for me, and neither eat nor drink three days, night or day: I also and my maidens will fast likewise; and so will I go in unto the king, which is not according to the law: and if I perish, I perish.

Wisdom is the principal thing; therefore get wisdom:
and with all thy getting get understanding.

For the prophecy came not in old time by the will of man: but holy men of God spake as they were moved by the Holy Ghost.

Who, being in the form of God, thought it not robbery to be equal with God: But made himself of no reputation, and took upon him the form of a servant, and was made in the likeness of men: And being found in fashion as a man, he humbled himself, and became obedient unto death, even the death of the cross.

If ye then, being evil, know how to give good gifts unto your children: how much more shall your heavenly Father give the Holy Spirit to them that ask him?

For the mountains shall depart,
and the hills be removed;
but my kindness shall not depart from thee,
neither shall the covenant of my peace be removed,
saith the L

ord

that hath mercy on thee.
Let no man deceive himself. If any man among you seemeth to be wise in this world, let him become a fool, that he may be wise.
No weapon that is formed against thee shall prosper; and every tongue that shall rise against thee in judgment thou shalt condemn. This is the heritage of the servants of the L

ord

, and their righteousness is of me, saith the L

ord

.
Read more
Let no man deceive himself. If any man among you seemeth to be wise in this world, let him become a fool, that he may be wise.
Personal Bible reading plan
Create an account to configure your Bible read plan and you will see your progress and the next chapter to read here!
Read more...