Bible Verses about 'Was'
«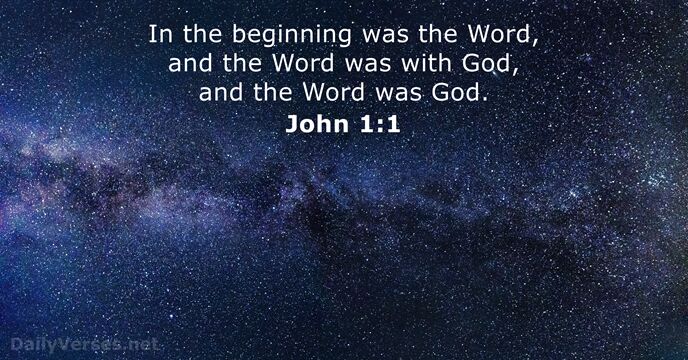 »
In the beginning was the Word, and the Word was with God, and the Word was God.

So Peter was kept in prison, but the church was earnestly praying to God for him.

But he was pierced for our transgressions,
he was crushed for our iniquities;
the punishment that brought us peace was on him,
and by his wounds we are healed.

And God said, "Let there be light," and there was light.

Through him all things were made; without him nothing was made that has been made.

And by faith even Sarah, who was past childbearing age, was enabled to bear children because she considered him faithful who had made the promise.

In the beginning God created the heavens and the earth. Now the earth was formless and empty, darkness was over the surface of the deep, and the Spirit of God was hovering over the waters.

I cried out to him with my mouth;
his praise was on my tongue.
Beyond all question, the mystery from which true godliness springs is great:
He appeared in the flesh,
was vindicated by the Spirit,
was seen by angels,
was preached among the nations,
was believed on in the world,
was taken up in glory.

Then what if you see the Son of Man ascend to where he was before!

This is how the birth of Jesus the Messiah came about: His mother Mary was pledged to be married to Joseph, but before they came together, she was found to be pregnant through the Holy Spirit.

Jesus, full of the Holy Spirit, left the Jordan and was led by the Spirit into the wilderness, where for forty days he was tempted by the devil. He ate nothing during those days, and at the end of them he was hungry.

He was despised and rejected by mankind,
a man of suffering, and familiar with pain.
Like one from whom people hide their faces
he was despised, and we held him in low esteem.
I revealed myself to those who did not ask for me;
I was found by those who did not seek me.
To a nation that did not call on my name,
I said, 'Here am I, here am I.'

When he had led them out to the vicinity of Bethany, he lifted up his hands and blessed them. While he was blessing them, he left them and was taken up into heaven.

May the L

ord

our God be with us as he was with our ancestors; may he never leave us nor forsake us.

After he said this, he was taken up before their very eyes, and a cloud hid him from their sight.

So Joseph also went up from the town of Nazareth in Galilee to Judea, to Bethlehem the town of David, because he belonged to the house and line of David. He went there to register with Mary, who was pledged to be married to him and was expecting a child.

After the Lord Jesus had spoken to them, he was taken up into heaven and he sat at the right hand of God.

"I am the Alpha and the Omega," says the Lord God, "who is, and who was, and who is to come, the Almighty."

When all the people were being baptized, Jesus was baptized too. And as he was praying, heaven was opened and the Holy Spirit descended on him in bodily form like a dove. And a voice came from heaven: "You are my Son, whom I love; with you I am well pleased."

For what I received I passed on to you as of first importance: that Christ died for our sins according to the Scriptures, that he was buried, that he was raised on the third day according to the Scriptures.

John's clothes were made of camel's hair, and he had a leather belt around his waist. His food was locusts and wild honey.

"Don't be alarmed," he said. "You are looking for Jesus the Nazarene, who was crucified. He has risen! He is not here. See the place where they laid him."

It was not by their sword that they won the land,
nor did their arm bring them victory;
it was your right hand, your arm,
and the light of your face, for you loved them.
Give proper recognition to those widows who are really in need.
Personal Bible reading plan
Create an account to configure your Bible reading plan and you will see your progress and the next chapter to read here!
Read more...